Spark Plug Identification For Outboard Motors

<![if !supportEmptyParas]> <![endif]>

Spark plugs are the heart of having any motor run well. Outboards are even more so important if you have a Dead In The Water situation at a critical time. Understanding their numbering system can be confusing to the uninitiated.
Any old plug will fire and run, maybe not well, EXCEPT if you put a longer reach plug in a head that requires a shorter reach. This will allow the piston to , on its upstroke hit and collapse the gap, creating a dead motor or at best one that does not run well.
Spark plugs are relatively cheap, purchase and carry spares of the proper version for your application. It's rather hard to justify a week's vacation to a remote Canadian lake only to have your spark plugs foul, leaving you sitting on the shore wishing, and for only the cost of a few dollars.
To check the recommended spark plug for your OMC outboard, CLICK HERE.
Standard Electrode L77JC4
Surface Gap L78V

The above illustrations came from Champion

Spark Plug's website
Shown below is the Champion spark plug code system. This can help you identify what you have, and suitable replacement spark plugs
Shown below is a cross reference to other spark plug brands for heat ranges
<![if !vml]>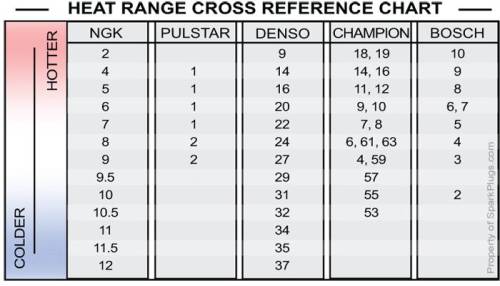 <![endif]>

CLICK HERE to view of NGK coding

Another thing to be aware of is that the non American made plugs "Reach" length will be in millimeters and can be slightly different than the American made versions. This may become a problem IF the foreign plug is long enough to protrude inward to where the top of the piston will hit the electrode, smashing it closed.
2014 LeeRoy Wisner
Originated 07-07-2013, Last updated 12-12-2014
Contact the author