Restoration & Outfitting
a 35+ Year Old
14' Fiberglass Boat
BEFORE
AFTER
New Boat to Me ;
OK, if you have read the previous restoration article on the 12' Columbian Tri-Hull boat, here is the sequel for it's bigger brother. This boat which was made in 1980, by the same company, but later in their manufacturing life, and then named the Olympian. They increased the length by 2' over the 12'er, raised the sides about 2 1/2" at the rear to accommodate a 20" transom, raised the bow section about 5" and made it another 6" wider, producing a considerably more stable boat than it's car topper little brothers.
I had been interested in this make and size for a number of years, but never had the cash in hand at the time one became available, OR the price was way out of my range (not necessarily overpriced and/or possibly not the motor configuration that I really wanted), OR that I had other boats, and that my wife would not understand why I needed another one at that time. The one impressive thing on this boat is all the floatation, under all of the seats and sealed in the 4" lower side full length shelf also has foam flotation inside. It is not clear to me who was the forerunner here, this model, or the Boston Whaler in the same size.
This article is my journey of getting it into my small fishing machine in over a 3 year period.
My timing here was about perfect as my son-in-law immediately wanted my 12'er, thinking it would be better for he and my daughter as compared to the 8' and 10' Columbian car toppers that he now owned that do not really accommodate two fisherpersons (and she does like to fish). OK, so sell them and buy dad's 12'er.
This 14' boat that I found was on Craig's List, but it was a 4 hour plus drive into eastern Washington to get there, (I live in western Washington). They (the owner and his fishing buddy) had it posted for over 2 months with no takers and they wanted it gone as another boat had already taken it's place. The asking price was $750, for boat, 18HP Mercury motor, 28# thrust Minn Kota trolling motor and the trailer, but was negotiable. OK, this Minn Kota is minimal thrust, but for what I wanted, (side drifting on a river or lake trolling with a side wind) it should work quite well and it was just a bonus.
As I was really only interested in the boat and trailer, the Mercury outboard that needed repairs was not an issue. This boat looked like it had been put together by a couple of Red-Necks as it's "REMOTE" control steering was a "Johnson bar" steering (cable steering) that consisted of a 6" die cast Vee belt pulley with a 1/2" stainless steel shaft mounted on the pulley with U bolts and steel plastic steel weld compound. Going straight forward, the steering shaft was straight up, right was this shaft being forward, with left being rearward. This was mounted on the port side of the hull near the front seat. The throttle/shift controls were on the opposite side, requiring a LONG armed skipper to operate both at the same time, or a co-skipper.
Across the rear of the boat and in front of the motor was bolted a plastic pickup bed tool box as seen in the LH photo below. The bow deck consisted of rotting 3/4" plywood carpet covered unit that was the mounting platform of a remote controlled electric trolling motor. But the fiberglass hull seemed to be pretty structurally sound, OR repairable.
It had no spare wheel/tire, and one of the tires was so badly side checked that it was not in the cards for me to even try to use it for the distance I needed to travel to get it home. So I discounted the price by $100 and a trip to the local nearby Wal-Mart where I purchased a new tire/wheel assembly for $85. The trailer was an EZ Loader roller bunks, made the same year as the boat, but appeared to have been rebuilt in a well equipped fabrication shop using a lot of heavy aluminum, with new fenders and lights that actually worked (somewhat) once we twisted together one broken wire and bolted the ground wire to the trailer.
In talking to them at purchase time, they were among other things, fishermen and archers, and they used this boat for night hunting Carp with a bow. They apparently would stand on the rear tool box and with a large powerful spotlight to locate the fish, then using the foot controlled electric trolling motor on the bow, to then back the boat near (over the fish) and while standing on this tool box, were able to at close range, shoot pretty well straight down on the target.
As seen in the RH photo below, you will notice sections of black rubber tubing on the tiller pulley. This apparently was wrapped around the pulley at the location where the rotation will be stopped for the cable from jumping off the pulley.
The hull had been patched crudely on the bow at the waterline, and the guess is that it had seen "Rock Rash" in connection with jagged rocks similar to what they said happened to the motor's prop.
| | |
| --- | --- |
| Here we see their Carp shooting platform | Here was their steering system |
| | |
Inspect and Decide ;
After I got it home, my first order of business was to take numerous photos of this gem and it's modifications, as being able to accurately describe it to anyone would be a challenge.
The next order of business was to strip it down to more of a conventional hull as my plan is to use it for a totally different (more conventional) type of fishing that it had been exposed to for the last few years. First was to remove the pickup bed toolbox, then the motor, steering apparatus and controls. Then I removed the rotted forward deck and the carpet that had been contact cemented onto the seats. It also then became obvious that the center floorboard fiberglass was cracked in numerous places, possibly from them jumping off the forward deck and the high rear tool box. I should have tumbled that something was wrong here because of the sheet of 1/2" plywood on the floor between the seats.
The transom was originally designed for a 20" (long shaft ) outboard motor, but someone had cut it down about 2 1/2". And then with the motor that I picked up being a 15" short shaft, so the plan was to ultimately build a Jack Plate which would allow me to find the sweet spot as far as engine height, along with possibly being able to raise it higher if running shallow river waters.
I was not really sure of what I wanted in this boat, (1) leave the inner configuration with the cross seats and run a tiller control OR (2) strip out the cross seats and install a center console, but I had to wait until I could actually look at the hull layout and physically do some measurements. A plan evolved as to what I could actually do to it to make it function and how I needed to go about it. That plan was option #1, as I seem to always need more room for STUFF and in doing to #2 would limit my gear, along with removing over 1/2 of the safety floatation foam.
I really wanted it to become a combo lake boat and also to be used in lower rivers/bays where I could function with a prop. One consideration was so I could operate it on certain sections of the lower Cowlitz River or possibly part of the lower Chehalis River above tidewater. Therefore my ultimate goal (as mentioned above) is to fabricate an manual adjustable Jack Plate where I may be able to raise the motor if need be when encountering shallow gravel bar riffles or at a low water flow. And if this was going to be possible, I needed to stay with option #1.
With this new boat to me, I would also need a larger motor than my proven 9.9HP OMC motors which I normally used on the 12'er, so I began looking for something in the 20 to 25HP range. This boat was rated for a 30HP. I did find a 1996 25hp Johnson, but it was a 5 hour drive in the same direction as the boat. The wife and I both had doctors appointments and could not make that drive for 4 days, I even offered the seller another $100 if he held it for me. Well he must have thought a bird in the hand is better than two in the bush and sold it the day before I was ready.
OK, more looking, and on Craig's list again, I found another but newer motor, (it seemed as though used motors in the size and age that I was looking for are somewhat scarce in my area) and this on was another 2 hour drive in northern direction. This motor was a bit newer than I was looking for, and was being sold by a large marine dealer north of Seattle who had taken it in trade on a repower job, it is a 2012 (sold in 2013), 25hp Evinrude E-Tec short shaft, with very little usage, as it looks like it is new, it has the appearance of never been in saltwater as the zincs have no corrosion at all. My timing was that it being right after salmon season ended, and they did not want to carry it over until next boating season so they discounted the price. This final price was still a little more than I had hoped, but the value/benefits were there, so dig deeper (a lot deeper) in the piggy bank.
The main drawback on this motor was that it is manual rope start only, (which may have been the reason for the trade) but these motors do start within one revolution (by design) and if later on I decide to add a electric start, that is possible by purchasing a factory electric starter kit. I am more than a little acquainted with these fuel injected two stroke motors as I have it's bigger 75HP brother on my 18' Aluminum North River boat, so that had some influence on my decision.
Also one of the main reasons for putting this boat together, is that my wife had been diagnosed with PLS, (Primary Lateral Sclerosis), a slower but rare version of ALS nerve disorder very similar to a Spinal Cord injury, where the nerves to parts of her body, her legs and arms, diaphragm, jaw and tongue deteriorate, thereby also effecting those muscles that they control. This in turn greatly effects her ability to walk without aids, which continue to go down hill and has also effected her arms/hands. Now, 3 years later her voice has changed greatly and she has problems swallowing because of this which prompted having a stomach feeding tube installed. She has fallen numerous times, breaking one arm bone twice in 5 months. Therefore she has also spent numerous trips to the ER for the broken bones and a night in the hospital when she fell and hit her back and head. It is getting to the point where we recognize the doctors and nursed in ER. And she now gets tired a lot, requiring her to lay down part of the day. It has gotten to the point that I have became her 24 hour care-giver. I have made the house as safe and grab bar friendly as possible. My hope is that I may be able to occasionally sneak out to a local river/lake, if I can find a sitter, or possibly on one of her better days, or during her laying down/resting time. And maybe when I get this boat up and going, my son may decide to borrow it to teach my 13 year old grandson the benefits of being on the water trying to drown a worm instead of playing his electronic games.
OK, the game plan changes slightly. Yes, I will in all probability have to resort to having a electric starter kit installed. My physical/medical condition has changed dramatically since this project started. A year ago I fell, an ultimately had the left rotator cuff shoulder surgery performed. But for some reason, the surgeon ALSO relocated my left bicep tendon, (a new idea originated in Europe he said) why, I do not understand as they had already told me over a year before when I pulled the right one loose that surgery at my age was not recommended because of a low success rate. However during this rotator cuff surgery, they cut this bicep tendon and relocated it, which was the limiting factor in all my physical therapy, as it was what was always the painful area, then 10 months after the surgery, it pulled loose also.
I am also blind in my right eye (a prosthesis), so in order to be able to see a wider unrestricted forward vision, with a tiller motor, I have to sit on the port side of this boat and steer with my right hand which forces me to rotate slightly to the right to see more of a center focused view, and which makes me now have to reach around and pull the manual starter with my left hand. And I recently spent 5 days in the hospital being diagnosed with an Asthma attach and COPD. Then my wife reminded me my next birthday I will be 80. The clock is ticking, so being what I consider a practical person who tries to envision obstacles before they happen, I should really consider having a electric starter kit added if I intend to fish rivers where instantaneous starting is an absolute must and my potential limited physical ability could lead to a disastrous situation if TSHTF.
Now the Work Starts ;
Once I got the boat stripped down, then cleaned things up, I did body putty patching of the many holes that were used for attaching their add ons over the years. My first project was to build a new 1/2" plywood forward deck, with a hinged lid in the center. There is, as factory original to this boat, really a shallow sealed seat here with floatation foam under it, so now with the storage above that seat, where this deck is now, this storage would only be about 5" deep. On top of this deck I made a base or the bow mounted electric trolling motor that was a bonus that came with the boat. This deck also provided location for a bow roller and Vee wedge type anchor chock, and on the rear face, along with a removable bow light base.
On this deck's rear plywood vertical support is now installed a heavy duty face mounted male quick disconnect electric trolling motor coupler along with waterproof toggle switches for the bow and stern light, plus a cigarette lighter receptacle for additional docking or spot light if needed, plus a single plastic rod rack on each inner corner. Also a mooring cleat for the anchor line is in the center aligned with the roller and chock. Inside this deck box and near the trolling motor connector is a high amperage terminal block and small fuse block for the lights and lighter receptacle.
On this deck, was made a wooden 2" X 8" base to accommodate the Minn-Kota front mount, foot operated electric trolling motor. Provisions were made to secure this motor on the port side when raised and laid over for running, as this older unit apparently had no provisions for this type of securement. This motor was wired by the previous owners using the original #10 size wires at the motor, down to #12 wire a few feet and then they went to about 10 feet of #18 wire, which was the same that you find in a hardware store and that is normally used as a wire to replace your 75 watt bedside night stand light. It should have been the heavier #10 wire all the way from the battery as I now have it.
When finished, in the shallow compartment here is enough space to hold to a 25# lead pyramid driftboat anchor and 4' of chain, two #G1 Polyfoam bumpers, a 25' bow line and a 75' anchor line, both the removable navigation light units, a flat bottomed cattle feed scoop for a bailer on this flat bottomed boat, a 1,000,000 watt 12 volt spotlight. I did cut a shallow notch on the forward starboard part of the hinged lid so the electric trolling motor's electrical power cord can be tucked in and out of the way into this compartment when not in use and allow the lid to still close.
| | |
| --- | --- |
| Here we see the forward deck in it's initial development stages | Here is a peek at the original layout of work in progress of the skipper's station |
| | |
In the LH photo below of the power distribution center, you can see the incoming power from the battery which is the red/black with white sheath coming up between the bulkhead and carpeted top of the foam filled bow seat. Seen here are the light switches on the left, junction block made of white Nylon, trolling motor receptacle and fuse block. The wires are attached to the bulkhead with low voltage insulated staples. And the wire to the bow light and cigarette lighter receptacle are also stapled to blocks of wood that is liquid nailed to the inside of the fiberglass bow, under the deck. The bow light, being attached to the deck, uses insulated wire spade connectors so the whole top/deck can be removed (by unscrewing) without disrupting any of the wiring.
More Ideas ;
Also after looking at the 13' Boston Whalers, (the other boat in the same class as this one) many of these have hand rails added to the sides. This looked like an excellent idea for my boat also, so I ordered two 20' sections of 3/4" aluminum 6061 annealed pipe for that project. This railing was bent by hand using an old manual pipe bender and calculating where the bends needed to be, then copying those dimensions off the first one onto the other side so they were close to being an equal bend. This railing is now 8' long, starting at the forward edge of the rear seat and going enough forward to provide a "arm rest" and/or a back rest for the person in the front seat and yet allow enough room to step into the boat in front of this railing and onto the forward floor, and then at the rear onto the rear 1/2 seats. There is one center welded support of the same size pipe on each of these side rails. The bottom ends of this rail are welded onto a 3/16" X 3" X 6" aluminum plate that is bolted directly and sealed to the inside of the hull, using stainless steel bots.
After a few days on the water with this boat, these extended hand rails have proved really beneficial, making this shallow sided boat into a more secure fishing machine.
The excess pipe was used to also make shorter 5' rails on the 12'er before the son-in-law took it and the overage used to make the upright center braces on this boat.
| | |
| --- | --- |
| Here we see the almost finished power panel under the forward deck, just needing inserting a 20 Amp fuse for the electric trolling motor wiring. | Here is the finished boat looking forward |
| | |
Moving this project rearward, I wanted to get the 6 gallon fuel tank and the battery away from the rear, for better balance and away from where I need to sit while running the tiller of this outboard motor. So I built a plywood center hinged lid box that is placed between the front and middle seats to house the gas can and the battery. Here I opted for using the older metal OMC gas can as it was a little over 2" narrower than the newer Polypropylene tanks, (allowing for a narrower console) plus these metal tanks (in my opinion) have a better venting system since I am using it enclosed along with the battery. This box was a divided by a strip placed inside and screwed to the bottom of this box to keep the battery and gas can from shifting. To keep the whole box from shifting, a 1 1/2" X 2" aluminum angle was screwed to the open (Port side) of both front and rear seats. There was no need to do this on the starboard side as you will see below that I have installed a cooler to fill between the console and that side of the boat.
As seen below, is a high amperage manual battery disconnect mounted inside the starboard front side of the box, that protrudes out the side and uses a special on/off key. Also the fuse block visible on upper left above battery box and inline switches controlling the main sonar and bilge pump units. And provisions for the bilge pump.

Here, are the contents of the center box, the main battery & fuel tank, ventilation louvers on the ends, rod holders on the corners, a brass chain attached to the lid, the fuse block, & inline switches at the far upper RH corner of the box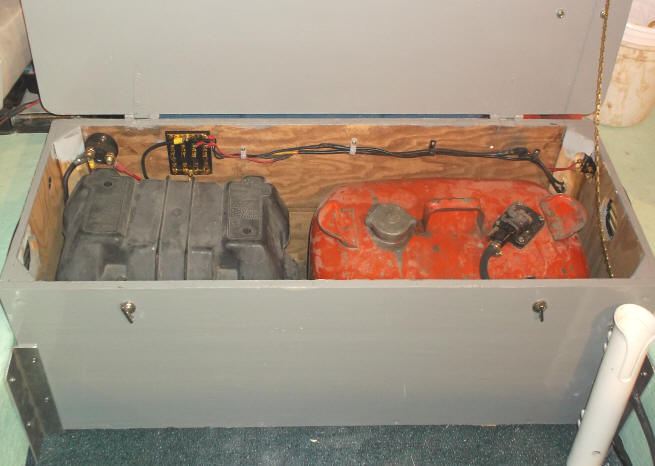 Holes were drilled in this box at appropriate locations for the outgoing fuel line, sonar power (with a inline fuses) and power out to the bow accessories. Mounted in the starboard side, top forward part of this box near the battery, is a key operated HEAVY DUTY main disconnect to the battery. Also attached directly to the battery terminals is a short section of used #12 Siamese wire that on the ends a short piece of brass was soldered on and protected by a red/green Twist-Locks for quick and easy battery charging usage without unsnapping the battery box cover.
On the rear of this box on both sides are single vertical plastic rod racks (same as on the bow bulkhead) to be used for either temporarily storing rods if fighting a fish on the 2nd rod, or for locating other gear (landing net or gaff) while being in a close, but out of the way location. One note on these, is there are no inside support under the mounting screw heads, so if you tighten the two screws down tightly, you very likely will pull the head through the plastic. My solution here was to masking tape up the outer side holes and the inner screw hole, then fill the inner base cavity with Bondo and re-drill the screw hole.
Then on both ends of this box was installed 3 1/2" plastic ventilation louvers because of the close proximity of the battery and the fuel tank.
On the non hinged side of this box I located two twist lock thumb latches to hold the lid down. This required a bit of modification as usually these twist latches are mounted in the doors, not the front panel.
This box was slid about 1" to the port side in order to accommodate a 52 quart Coleman Extreme cooler on the starboard side if the need arose, and as mentioned above.
This boat came with a clamp on front seat, which I had originally intended to use, but with my installing the center console box, this rather compromised using that seat because the console top was an inch or so higher, so I simply replaced it with a new/ slightly used boat seat cushion off another boat project that proved to not be a such a good idea. And here, the required throwable cushion could be slid in between this seat cushion and the hull side/railing to become a backrest. Well that idea went by the wayside when I actually climbed aboard and sat on this cushion type front seat. Not for an old fart, as it was way to low, and if I could not use it, I can not ask someone else (even younger) to do so, so back to plan A (the clamp on seat with some more modifications to raise it 3 1/2" so that it was above the console for rotating clearance if needed) and then secure it in location on the fiberglass cross seat.
For the cracked/broken floorboards, I temporarily fitted and covered them with a section of 1/4" plywood and then covered that with some indoor/outdoor carpet remnant that I somehow acquired years ago for another project and did not get it used. This will get me to the point of being able to do a sea trials test, and to then do more permanent alterations/repairs in the winter downtime.
OK time to do the floorboard repair. These floorboards have no flotation foam under them, just a hollow cavity. The front repair was done first as I wanted to set a 12 Volt group 27 deep cycle battery on it and against the center front of the front seat. I needed a good base to screw the bottom strap loop to. I "glued" the plywood down using a homeowners spray can of foam insulation. This stuff is STICKY and expands once exposed to the air. As soon as I placed the plywood on top of the foam, I sat the 12 Volt battery on top to weight it down. Once cured, I then cut off any excess foam with a sharp knife. Then Fiberglass body putty was applied around the edges, covering and blending this edge to a shallow dished groove. This was then sanded with an orbital sander to remove any rough edges. Then on top of that, fiberglass cloth was cut oversize and overlaid onto the painted on resin, then blend out any bubbles and wait for it to cure. This cloth was ran under the front edge of the seat a couple of inches as was the resin. The cloth was also ran up the front upright support of the seat a couple of inches. Sand it down again to be sure no sharp edges remained and paint on another resin overlay.
Now I wanted to paint this floor and get it underway soon, so as I have found that fresh dried resin is slippery and does not allow paint to adhere well. The cure is to sand it, OR wipe it down a couple of times with a rag soaked in Acetone, which was my method here. Now paint it, and get the carpet back on ready to install the battery strap.
The black patches that you see in the photo below are adhesive anti-slip patches that were there when I purchased the boat, and it seemed like a good idea to leave them there to help keep the carpet from sliding around. The LH photo below shows the front repair, while the RH is the rear repair. Both the center and rear floor repair were done using the same method as the front. However by the time I got around to the center and rear, the weather had changed dramatically becoming colder and rainy. In trying to glass resin over the rear plywood in this colder weather, I tried to heat the resin up by placing the can near my shop wood stove. It worked on the body putty, but not this resin. So, I found that by using a heat gun, and doing numerous passed numerous times over a few day period, that I finally did get it to harden up enough to paint over.
| | |
| --- | --- |
| Here, you see the front floorboard repair. 1/4" plywood was fitted to the contour of the hull, then fiberglass cloth & resin was applied over it all. | Here you see the rear floorboard repair before the painting. Note the deckplate on the Starboard rear seat wall |
| | |
For the floor, I covered it all with a heavy indoor/outdoor carpet.
At the transom and between the rear 1/2 side seats I made a narrow shelf with a forward lip as a catch-all tray and a location under it for the 1/2 height dry box that is filled with emergency gear. Screwed to the underside of this tray on the starboard side is a hamburger relish lid, and the plastic relish jar has become the waterproof boat/trailer registration container, and storage for a spare main battery disconnect key. Above this tray and below the motor transom clamp screws I have mounted a foam roll leader spool. Also, I made and installed a removable 2" X 5" X 12" wooden block with holes drilled 80 % thru to hold scent bottles. In the upper port corner of this tray is a plastic soda/coffee cup holder, also one in the front starboard side near the front seat. On the center inside of the transom above this tray is a Freon PCW water ski horn which is attached using a Velcro strap. And on the rear Port seat, a fire extinguisher is attached behind the skippers seat.
Skipper's Station ;
Also for the skipper's station, I used a swivel seat tubular framed metal chair. In between the inner legs of this chair and up about 4" is welded a 5/8" angle iron frame that holds a section of 3/8" expanded stainless steel, again as a non-rusting, non-water retention catch-all. Behind this expanded metal is an opening to accommodate a tall plastic dry box (which will sit on the boat's floor and against the inner Port side), which provides space for a set of Frog-Togs rain-gear plus a small roll of toilet paper in a waterproof baggie, a VHF handheld radio and a digital fish scale, along with the owner's manual for the sonar units.
This project is moving along well, however sometimes in using some of the parts or accessories that I already had, but wanted to match the size or brand, it took some traveling and looking at different marine supply stores to find the match or size that I wanted. I finally gave up on one, and had the dealer order the additional mooring cleats of the right size to match the ones I already had. Yes, I am rather picky, but know what I want, and do not really want to settle for less even if the price is slightly higher. Then I had to make NUMEROUS trips to our local True Value hardware store to purchase many different sizes/lengths of stainless steel bolts and nuts. Baydos RV was another business that I have found non boat items that work, as the console's lid thumb latches, of which I had to fabricate my own adjustable lid latch to fit into the thumb latch's locking arm. I have been lucky as all the plywood used so far has been left over surplus found in my barn's overhead.
As an interim, I just mounted the motor on the transom and hoped for the best.
| | |
| --- | --- |
| Here we see the finished skipper's station | Here is the layout of the sonar/plotter units & manual downrigger with rod holder |
| | |
Detour ;
One mistake I made, was NOT to inspect the inside of this metal gas can which I somehow accumulated, as it looked good on the outside. It apparently had sat for a NUMBER of years about 1/4 full, but It was rusty enough on the inside that all the gas had leaked out. And I already had the console box made. So I removed the gas pickup tube/connector base from this can, and borrowed about 3 hand-fulls of abrasive tumbling stones from my son's machine shop. Add these stones into the tank with about 1/2 a gallon of water. I then made a gasketed cover plate for the connector base and replaced the filler cap.
I placed it in the center of my shop and every time I walked by it for over a week, I would shake this can for a few minutes in all directions until I got tired, allowing the stones to wear off the internal rust. I was amazed at how well these stones removed most of that rust. In the end when I was satisfied with the rust removal, with the cover plate removed and just shaking it upside down did not allow all of the stones to fall out. So a long handled mechanics pickup tool along with a flashlight was used to individually remove the few remaining stones. Then also with the pickup tool and paper towels, and try to remove the balance of any water that remained. Then I dumped about 1/2 a cup of Denatured Alcohol in to absorb the water and again shake it to disperse the alcohol. Again the pickup tool and paper towels to remove as much alcohol as possible. Then I built a fire in my shop's wood stove, set the can on top and dried out the alcohol. Now wire wheel the bottom of this can and apply a liberal amount of soft solder the area where the leak was.
Then the fuel gage in this tank did not work, even after I cleaned everything up made new gaskets and repainted it. What I found was that the float cork on the end of the gage rod apparently was so soaked with fuel over the years that it did not float. Well a wine cork replaced that gauge float.
Other Gear ;
As for the motor mounted accessories, I had a left over (removed from my 18' North River when I purchased it used) a Happy Troller plate that bolts onto the motor's cavitation plate that by pulling a cord, you can go from full power unrestricted prop mode with this plate being locked straight rearward, to a spring loaded, dropped down and locked in position behind the prop restriction situation, allowing you to troll at a lower speed but with a higher HP motor. With this unit mounted on this 25HP motor it appeared to be slightly oversize, but after installing a prop guard (mentioned below) and then being able to visualize the relationship of the guard to the trolling plate. I cut 2" off the bottom and had 2" on each side bent rearward forming fins which may help give steerage when in the trolling position. It is now just slightly larger than the size the factory lists as "small", designed for this size a motor, however it appears that I guessed pretty close because of the SLOW speed that was achieved on the Sea trials when this plate is activated in the down operation.
Here the trip cord to activate this plate is a lawnmower starter rope, including the rubber handle that is attached to the motor's port motor clamping bracket. Also on the design board (a CAD drawing) was a 3/16" thick X 2 1/2" wide aluminum prop guard that encompasses the prop and it will also have on the lower forward edge of this guard, a small Vee shaped skeg guard was welded onto the lower portion (vertical support) of the prop guard designed to help raise the motor up out of gravel instead of digging in if I get into shallow water.
Also mounted on the motor under the cowling, out of the way but readily readable is a Sendex hour meter that operates the sensor off a wire that just wraps around one spark plug wire.
For my depth-finder, I had a used Lowrance HDS-5 second generation sonar/GPS unit (taken off my 18'er when I upgraded to a newer HDS-7) and in it, I had added the inland fresh water chart chip into. This unit is mounted on the seat immediately in front and on the opposite side of the skippers station. The transducer cable is run through the upper side of the hull by using a PVC valve grommet off a early General Motors vehicle (pre 1980s), this grommet was selected because of it's large outer size (1 3/16") to allow the transducer power cable end to pass through the hull. The cable was then ran inside a thick rubber washer that was ground down to fit the inner hole of the grommet and the cable, making it secure and waterproof. This cable is then run under the upper outside lip of the gunnel and using plastic P clamps bolted onto the outer fiberglass gunnel about 16" apart to hold it in place to the rear where it goes across and below/behind the top of the transom and down to the transducer. The extra lengths of wire and cable are simply tucked under the rear seat's 2" clearance space below the sonar units.
As per factory Lowrance instructions, I mounted a simple waterproof toggle switch inline of the sonar unit's power, with the switch readily available at the outer upper rear of the console.
After reading a comprehensive sonar book, I used one of their ideas for making a Side-Scan sender unit and attach it to the bow mounted electric trolling motor, by building an aluminum adapter and then attaching the transducer off the Humminbird sonar unit that came with this boat. This transducer is a 455 KHz and 20 degree cone angle. Here I may have lucked out with this frequency being different than the 50/200 KHz of my main Lowrance unit, eliminating any interference.
In use, I mounted the transducer on this electric trolling motor body outside but angled about 20 degrees down using with two 4" Dia. hose clamps. Using this method, I do not need to really run the motor here, but just rotate it, using the remote foot controls. And by watching the top of this unit, (and knowing the side where the transducer is attached) I can tell which way this transducer is pointing. It will not give a depth reading of the fish, but will give me an idea of what is in the water around me. This was installed using an In-Line fuse holder near my regular sonar fuse holder inside the console. This second sonar screen will then be my side-finder.
The rear boat tie down strap is simply a long 1" Nylon ratchet strap with eyes on the end of the straps that attach to a couple of chain link eyes bolted onto the rear frame.
On this boat, I will use a hand-held VHF radio for emergency communications or weather information, which will be carried in the large dry box with the rain gear.
Hand Rails and Consequences ;
I have done some Heliarc welding on the fixtures here, but where two different thicknesses of material exist as on the railing bases Heliarcing could be a challenge, so I made arrangements to have my friend who owns a sheet metal fabrication shop to weld the railing to the bases with his wire feed electric welder. And while he was at it, to do the rolling of the prop guard and it's associated small welding job. I still did some of the TIG aluminum welding on the downrigger bases and fine tuning the shape of the skeg shoe.
After bolting the pipe railing in place and figuring out the approximate locations for the rod holders, they were clamped onto this railing using standard hardware cadmium plated 1/4" U bolts (which are cheaper and more secure than the plastic factory railing backers). These locations I picked were pretty close to what was needed once we got a few fishing trips in.
Since here I am also using rod holder bases for the downriggers, I decided to place those bases as dedicated on the inside of the pipe railing and the actual rod bases on the outside. This creates the need for more bases, but moves the crank handle of the downrigger a few inches inward and easier to operate from this smaller boat. Now when using the rod holders bolted to the outside of the pipe railings, this creates another problem of now having the rod holder stop stud in the wrong place if you position the holder so the retainer notch of the holder lined up with the retainer nub of the base, thereby possibly loosing the holder over the side when you remove the rod in a hurry (Been there-Done that). So I removed the plastic nub molded inside the base and relocated it in a different position (on the outer rear 45 degree side of the base) with a short 10-24 screw that protrudes inward the same distance as the original nub protrusion. Since this new retainer nub is not centered in the rear of the base hole (making it universal as the original was), the modified bases need to be side specific, as now on these, both RH and LH bases have screws now needing to point rearward. The rod holders themselves are still universal to any base, just the inserting them initially into the base at a different location is different.
I did have a small Cannon lake troll downrigger unit, but I let it go with the 12'er. But I was then able to locate a pair of used, discontinued Scotty Compact lake trolls (again on Craig's List) for $100. The bases for these are obsolete, so instead of fabricating something to match, and I lathe turned 1" aluminum rod to match the Fish-On rod holder stud, then with my milling machine, machined a hexagon section copy of the rod holder stud to fit the Fish-On base. Now I made a aluminum adapter plate and Heliarc welded the machined stud to it, which now can be used in the Fish-On rod holder bases that will be mounted on the pipe railing. I did find out later when using them, if I drug bottom and hung the weight up, the whole base slipped AND the plastic mating notches of the rod holder hex started to disengage. So I simply drilled and tapped the aluminum center shaft that I made so a 1/4" bolt ran up from the bottom to secure it once positioned.
Everything is coming together, now just need to buff out some of the scratches and divots that got in during the bending of the pipe railings. Hey, I'm getting stoked.
Here, still in transformation, we see the downrigger and the rod holders mounted onto the railing. If you look close at the rod holder base you can see the shiny new retainer screw head, mentioned above.

With this railing now installed, the skippers seat's folding backrest (when up) was rubbing the railing if the seat legs were up against the inside of the hull's sides. To remedy this, a couple short pieces of 3/4" electrical conduit was brazed onto the seat's rear legs horizontally about 4" up from the floor. Chair/crutch tip cushions were used on the outer ends to prevent the tubing from cutting the fiberglass hull. The front stand-off was longer by about 1 1/2" than the rear, which now twists the seat inward and back on the front, providing a tad bit more foot-room between this chair and the rear of the fiberglass cross-seat.
Since I fish alone a lot, I have became accustomed to used to using a "Tether" on my larger boat, which is a 1' Nylon strap, 10' long with loops sewed on each end. One end loop is smaller and attached to a quick release type safety snap that I snap onto my Off-Shore inflatable PFD vest "D" rings and the other larger looped end is attached to the center post of the Port handrail. Using this, I can maneuver about anywhere in the boat, yet still have the security if I happen to fall overboard. OK, so I made another similar tether to be used on this new boat to me that we are discussing here.
There are now two cup holders placed near the seats, (which were derived from non-functioning plastic sewer lift station float switches) but it did not take long (like the drive to have the pipe welded during a rain storm) to decide that there needed to be a few water drain holes to be placed in the bottoms of these holders. So I drilled four 1/8" holes in the bottom about 90 degrees apart, but before reattaching these holders, I placed a large flat stainless steel washer under the holder to ensure these holes did not be blocked when it was screwed down using one in the center.
On each side of the upper outer transom were tow eyes, using regular die cast chrome plated boat bow eyes. One of these shafts was bent to the side considerably, OK, pull it off and straighten the 3/8" bolt. Wow it was rusted so much that in unscrewing the nut, the bolt twisted in two pieces and the inner piece was seized. Luckily the new replacement bow eyes are identical. On occasion, I have had to have been towed in a couple of times because of mechanical failure, and I have also towed others in, so salvaging these eyes and making up a small tow bridal was no large undertaking.
Then I had to come up with some sort of a method to secure the paddle and boat hook, which was the cheap hardware type spring clips designed to hold broom handles in a broom closet.
I kind of hate to admit this, but sometimes the chase is almost as good as the catch, where I do enjoy these type of restoration/projects and seeing everything come together is almost as much fun as the fishing/using it in the long run. However in this case, it is my pop valve in relieving some of the stress of taking care of my disabled wife 24 hours a day and she can contact me by texting if need be.
I pretty well knew what I wanted in this boat, but had to wait until I could actually look at the hull layout and physically do some measurements. A plan evolved as to what I could actually do to it to make it function and how I needed to go about it. As mentioned above, I really wanted it to become a combo lake boat and also to be used in lower rivers/bays where I could function with a prop. One consideration was so that I could operate it on certain sections of the lower Cowlitz River or possibly part of the lower Chehalis River above tidewater. Therefore my thoughts were to later possibly fabricate an adjustable Jack Plate where I may be able to raise the motor if need be when encountering shallow gravel bar riffles at a low water flow. Also since the transom has been cut down about 2" and my motor's shaft is the short 15" version, the motor may need to be lowered slightly. But with a Jack Plate, I may accomplish two things, (1) Being able to adjust the motor to the most optimum height when running normally. (2) Being also able to have an adjustment for shallow water operations if desired.
Trailer Repairs ;
On the trip home after purchasing this boat, I stopped and checked/greased the wheel bearings through the axle's Bearing Buddys just for good measure. On one spindle, I got a small amount of water out but could not tell if it was just trapped behind the outer plastic cover or not, so during the winter the wheel bearings will need to be removed and inspected, re-greased or replaced. However the spindle bearings did not feel rough when both the new tire/wheel and the repainted wheel and new tire were mounted, but a check-out will follow
The odd thing about this trailer, even though it uses a 1" dia. spindle shaft, it uses 4.80" X 12" tires on 5 lug wheels. Whereas most of the 12" wheels seem to use the more common smaller 4 lug wheel.

Earlier, I mention the lights worked SOMEWHAT, well, in further checking out them out, yes the directional lights worked, but the tail lights did not. It was obvious that the light installation was done by someone totally different than who had done the trailer repairs. With this project still being in my barn, I hooked up a spare battery using light jumper wires with alligator clip ends and traced the wiring out touching connecters and wires individually while watching which lights came on. Both the tail lights did not function even though I moved rearward and applied power to the crimp-spliced wire at the light unit itself. This must be that both the bulbs have that filaments burned out, unlikely, but possible. OK check the bulbs. Guess what, these light units are so cheap that you can not even remove the rear lens to replace a bulb, and they have no screw holding the lens on, with the whole thing (housing and lenses) being all glued together. However after thinking about it a while, maybe the whole clear bottom section is removable WITH the light bulbs, YEP, but to the point of almost breaking things trying to get it out. Finally got them out and found that both the tail light wires were cut inside this housing. These units also have a side indicator light, where it's terminal base also acts as a 2nd wire power feed. They left side power to the small side bulb but cut and removed the output power wire to the main bulb. With these brown wires being cut, no power was transmitted to the tail light bulbs.
Looking farther, these Red-Necks must have not understood wiring color codes as they cross wired the tail light wire to the LH stop light wire at the location where the wires crossed over from the RH side, into the rear trailer cross-frame feeding power to the LH light unit. So, apparently what was probably happening was with this crossed wiring, they blew vehicle fuses when stepping on the brakes or were signaling. Not finding the problem, but just eliminated that light bulb's incoming wiring. OK, I streamlined the wiring a bit, cutting out excess and crimped/heat shrink sealing wires and tie taped wires up creating a more tidy/secure wiring job.
However after making the sea trials and couple of fishing trips, both of these light units began falling apart, so another trip to Wal-Mart where I have found the cheapest prices for older style (non LED) trailer lights. These are Blazer brand. Do not get the $8.97 units that the rear lens is not removable and the light brackets are removed by a clear plastic section that snaps into from the bottom like the ones that I had just removed. But get the cheaper regular units (with a 4 screw removable rear lens and has a smaller side lens that sells for $6.87 each. There are two of this style, one with a clear lens in the bottom to illuminate the license plate (#BW83) and the other without this feature for the right hand side (#BW93). These is not waterproof, but have a small hole in the very bottom for any accumulated water to drain out.
In the light replacement project, I made a new heavy aluminum angle adapter that bolted to the rear fender bracket coming from the frame. When bolting the new right hand bracket to the fender bracket, something was loose. Upon inspection, I found the two 3/8" bolts that hold the rear spring mount and the fender bracket to the trailer frame were loose. In trying to tighten them, they were so worn that I could not tighten the nuts, much less even loosen them. So another small repair job was in order.
This trailer winch needed to be replaced as it was very rusty, the ratchet latch spring was missing and part of the teeth on the pinion gear were about 1/2 worn off. However the winch rope happened to be good enough to be used again. Hey, I salvaged something. This trailer is a roller bunk type trailer which initially seems to function fine, only needing the mid/forward center roller to be adjusted upward for more support of the forward keel. And I have become accustomed to have a trailer with rear side padded loading guides that help greatly in loading/centering a boat if in a side wind or current (also saving the trailer lights from being crashed into). So a set of these guides extending about 1/2 the way up on the sides of the boat were crafted out of used 1/8" x 2 1/2" angle iron with a carpet padded stapled to a 2" X 4" bump/rub pad. This angle iron framework was installed and clamped under one of the rear frame outer crossbar U bolts.
And I just happened to have an unused 13" section of 6" aluminum expanded metal walkway that is now attached on the trailer tongue behind the winch's upright for a secure stepping pad that greatly assists when loading this boat if it is not power-loaded.
Then since there was no mounted spare tire/wheel, I now made a large 1/2" threaded U bolt and attached it to the trailer winch support to hold the now unsure checked spare tire. The tire was later removed and the wheel was wire brushed to remove the old loosened paint and repainted to match the other side's new wheel. The other trailer tire was replaced with a matching Wal-Mart tire and installed on the trailer, which now has matching new tires, with the mismatched good tire/wheel being mounted as a spare as seen in the LH photo below.
| | |
| --- | --- |
| Here is shown the spare tie mount & the expanded metal foot pad on the trailer tongue | Here, you can see ratchet hold down strap, the newer higher bunk guides, the new lights & the tube to hold the backup flags |
| | |
How about not being able to see an empty trailer when backing down for recovery ?? Here I welded a 5/8" steel tubing at a slight upward angle to a thin steel plate that was bolted to the loading guide brackets, which I can stick in divers flags that protrude outward, allowing me to see the trailer. This angle prevents them from falling out during the launch/recovery process.
Here, you can see my backup flags in position but unfurreled, as surveyors tapes work fine by themselves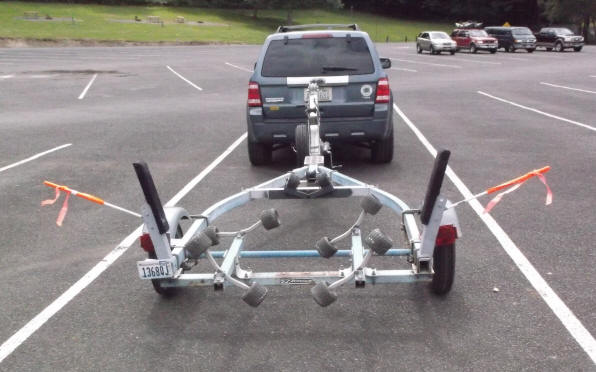 With all the topside work done during the winter, as summer came on me and the weather was warm enough to cure the fiberglass and body putty, the boat emptied of all topside everything, and was pulled outside my barn, turned upside down and brought back inside, being placed on saw-horses in readiness to do the bottom fiberglass repairs. At this time, I used the cure time for the body putty to recondition the trailer. I found a rattle spray can of X O Rust paint that was a exact match for the original light blue color. Using a angle head grinder with a wire wheel, I removed all (or most) of the rust, and had the grandson help me tip it on it's side so I could do that there also and painted the bottom while it was tipped up.
I also straightened the fender and license plate brackets, and replaced ALL the wheel bearings and axle seals. And at the same time, added side clearance lights on the trailer frame at the junction of the tongue.
And also replaced the center and front OLD rubber rollers with non marring Poly Vinyl. I left the 8 original rubber rollers on the self aligning rear roller arms. (1) these only touch the hull when the boat is almost all the way on and then afterwards, so not a lot of marring of the paint is done from these. (2) the cost would have been about $80 just for replacement plastic/vinyl rollers.
Here, you can see the restored trailer, probably every bit as good as it was when new in 1980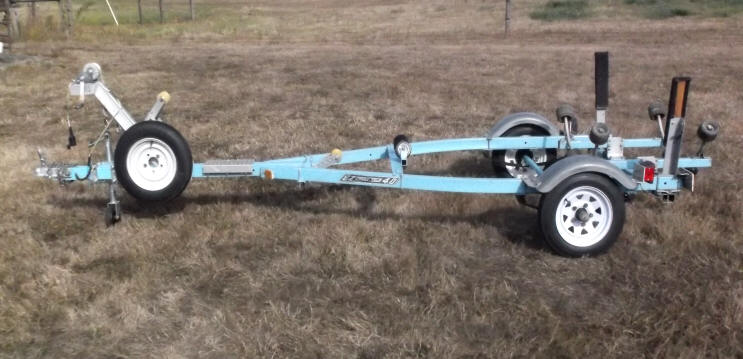 When the boat's outside was done and painted, then reloaded back onto the trailer, I inspected it to see just how well it fit on the roller bunks. NOT WELL AT ALL. Apparently this trailer had never been adjusted to match the boat. So I can see why the bottom was damaged by the rollers and rough roads over the years of use. The rear inner four rollers were only contacting the hull only on the inner edge of the rollers, making a stress point on the hull. These roller bunk assemblies needed to be unbolted from the cross frame and moved outward to better match the bottom contour of the hull, otherwise I would have allowed some of the same issues as before to occur.
Even though this boat was has a very shallow Semi-Vee bottom at the rear, it is a narrow boat in comparison to many of the same size, where the roller bunk units were set too narrow for this hull contour. After moving the rear rollers out on the frame 2" (as far as possible), I even had to remove them off the self aligning arms and lathe turn, beveling/rounding the outer edges slightly to better match the bottom contour, giving better hull support for thqt location. This in turn changed the fit of the mid rollers, requiring them to also have to have this beveling procedure applied to them. Then the front bottom roller needed to be adjusted upward to share the load after all the others had been reworked.
Emergency Dry Box ;
Shown in the photo below is an example of what I have crammed into the shallow dry box normally stored under the catch all tray at the transom. Most of these items are obvious, however the round orange item in the center is a LED emergency multi-function flashing light. The black plastic bag is a old Yamaha motorcycle tool bag. The black leather case contains a cheap multi-tool. The yellow plastic container is a waterproof mini First Aid kit, and the baggie with the silver cylinders that is it near the bottom, are spare AAA batteries for the small flashlight and LED strobe light. Also shown are spare fuses and spark plugs, spare main power disconnect key, plus a compass just for jollies. And there is still room for a few more items to follow, like a roll of electricians tape and spare prop nut cotter pins to start with.
Here my spark plug and prop nut wrench was originally two Stihl chain saw wrenches. I initially tried to weld the two together so I would have had one single combo wrench to use for both the spark plugs and the prop nut. Here I found using one 21mm (13/16") to fit the old 056 or 090 saw spark plugs for the prop nut and one 16mm (5/8") for the newer smaller saws for the spark plug. This did not work well and I had to make two, the reason was that with this motor, the lower spark plug is buried and there is other stuff near that the combo wrench was too long, so I had to shorten it right near the screwdriver handle. Then I also found that I had to bend this handle out a bit to clear the upper spark plug when loosening or tightening IF the top plug was in place. So my idea would not work here and back to two individual wrenches.
Here is what is in the emergency dry box
Electric Trolling Motor Battery ;
The Min Kota electric trolling motor group 27 deep cycle battery that I used was off my 12'er, but apparently was not as good as I had hoped as it would loose some of the charge after a couple of weeks. I priced new batteries, but then remembered that I had a small onboard battery charger/maintenance unit that I had removed from my North River boat as for some reason it would not work as designed when using two batteries even though I had a two position switch in the line. There were not many places to locate this unit on this boat, but I found a location under the rear of the front seat and near the console/battery box. Before I wired it in, I did a temporary hookup just to see if this used unit would work. The battery was 12.4 Volts before I started, almost immediately after connection, it went to 12.6 and 6 hours later it was up to 13.4 volts. OK, now I wired this trickle charger into the battery for a permanent installation. And for how I will be using this boat, this should keep my battery up for a long time. WOW, and I saved the price of a new battery, over $100.
Here is the onboard battery charger/maintainer tucked behind & under the front seat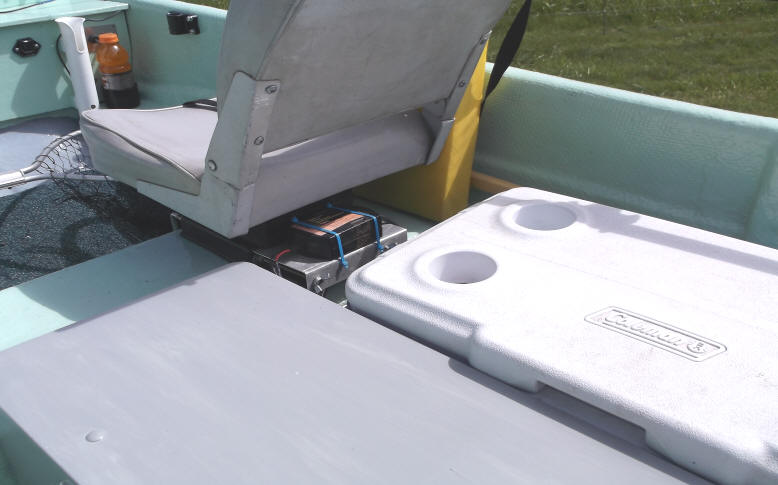 Awaiting Sea Trials ;
After getting a lot of the things that I wanted done, and we had a break in the 2015 mid November Monsoon rains here in Washington State, I got the chance one afternoon to pull it out of the barn and start the motor using a garden hose and muffs. Everything went well, except just a minor fuel leak at the tank connector fitting, which I found out that this coupler was used and the internal O-Ring seal was deteriorated with cracks allowing the leak, OK a new coupler was in installed.
Now it appears we have another 3 weeks of rains coming, (CORRECTION, 12-8-15 MORE rain for an extended period of time and then colder, even snow predicted which happened 01-03-16). IF and WHEN the weather breaks, I will try to do a Sea Trials to see how this boat combo performs and evaluate if my ideas may been worthwhile or absolutely ridiculess, or somewhere in between to where if I might salvage the whole project by making some adjustments/modifications. I almost got close to the chance to use it December 9th when the Chehalis reached 1 1/2' over flood stage at Centralia. It's now clear into mid March and the rain still is coming down, and the lakes are cold.
If this all works out, then I intend to strip down this boat, pull it off the trailer, flop it over and spend some time inspecting and redoing the outside of the hull as I found that it has a slight leak, and I have pretty well now done everything inside, except the floor repairs and a new paint-job. And I would like to get some better photos of this thing, but RAIN in western Washington is forecast about forever, making up for the long hot/dry spell that we had here this summer/fall.
Initial Sea Trials ;
We finally got a break in the weather toward the end of January, and one of the grandsons was visiting, so we made a trip to Mayfield Lake on a sunny Sunday afternoon. We had the boat launch all to ourselves, so I had a chance to put it through it's paces without covering a lot of distance. This boat handled quite well with two of us 250# guys aboard. Balance seemed to be very good, which was my prime concern. Top speed was between 18.5 and 20.5 MPH, (depending on water/wind conditions) slow trolling speed was 1.5 MPH WITHOUT the trolling plate being activated. With it activated and in place behind the prop, speed over ground was lowered to .9 MPH, which may be slower than needed in most cases, so after a lot more time on the water I may just remove the plate but leave the attachment base just in case I want it later.
OK, the Sea Trials worked out quite well, and I am happy with how it handled with the limited exposure that I had at this first outing. It is now the end of January, with time yet to do the finishing of the hull before the main fishing season begins, so I have made arrangements with my marine dealer to do the electric starter conversion installed before I tear things apart and do the outer hull repairs and build the motor's Jack-Plate.
After the trip to the marine mechanic in early February, to have the electric starter and charging kit installed, he also ran a diagnostic history test, which came up with some interesting information. This motor only had 21.5 total hours on it. But it has had two factory warranty recalls. One was to replace the potential leaky oil reservoir, the other was the water pump also being replaced. Both of these were done at about the 15 hour run time period, which coincided with the engine shutting down because of an overheat situation, probably due to a faulty water pump. The printout shows that this motor was used mainly for trolling as evidenced by the recorded RPM from 600 to 1000 being 83% of the total runtime.
The mechanic's thoughts for the trading off was probably since this particular motor was an entry level motor with only a rope starter, short shaft and no power tilt, and the HP size would have indicated it being a secondary motor on a larger boat, that the previous owner may have decided he wanted an upgrade, as it was used obviously connected to a steering wheel which would have created an awkward situation on a larger boat. The motor probably performed fine, but in the suspected situation, electric start and power tilt would have been very preferable.
Here I am on the water posing for a photo, slowly motoring near the dock (No Wake Zone)
during Sea Trials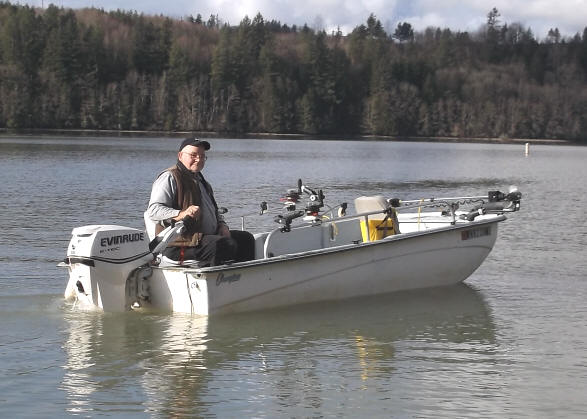 Fishing / Run Time ;
After the trip to the mechanic, I found that there was still 2 months warranty left of the 3 year, plus 2 more years of extended warranty on this motor. This has changed my plans a bit. Now instead of stripping it down and doing some outside hull fiberglass repairs with fishing to come later, maybe I had better do a bit of on the water time (fishing) to see if there may be any other motor issues that would be covered by warranty.
A trip to Mayfield Lake was made the following week-end (early part of February) and we put 2.5 hours on it with no problems. No fish, as the water was 43/44 degrees and chalky colored snow melt. I could see fish on the sonar, but no bitters.
Painting ;
Wanting to cover up the multi color splotched together inside paint job, I first looked at redoing the inside paint. After a run-around at two paint stores, one who only sold gallons but would split it into quarts IF they could get correct bar codes to put on the cans before I could carry them out. But after 2 weeks and the bar codes had not came from Canada yet, which I then canceled the order. Next I stopped at a Ace hardware store but they could not mix the color I wanted because they have abandoned using/mixing oil based paints, and had deleted all oil based info from their computer. So I bought a quart of safety green and some white, deciding to mix it myself, but it was still too dark, so more white, then added some yellow and a few dribbles of black. The final mix ratio was about 1/2 pint of the green and 1 1/2 quarts of white, with a small amount of yellow and a dab of black thrown in. The daughter calls this color Sea Foam. Not the exact color I really wanted, but close, and I had ran out of white again by then.
I then painted the floorboards that showed outside of the carpet with a dark machinery gray color. The console was then painted a light gray, all of oil based gloss enamel.
Broken Plastic Nameplate ;
These plastic "Olympian" nameplates were pop riveted onto both upper rear sides. However both were broken, or had pieces missing. And the manufacturer whose main thrust was making agricultural fiberglass tanks, recently (within the last 2 years) sold out and the new company apparently has discontinued the boat manufacturing division. With this project about finished, my neighbor acquired a 10' model of the same make and year. With my help, we in turn restored his little gem, so in the process, I borrowed an intact nameplate, that I made a Plaster of Paris mould over. From this I was able to make two reproduction nameplates from fiberglass casting resin.
Here you see the process, using a 2 part polyurethane mix, the plaster of Paris mould, a nameplate right out of the mould & a hand painted finished replacement on the bottom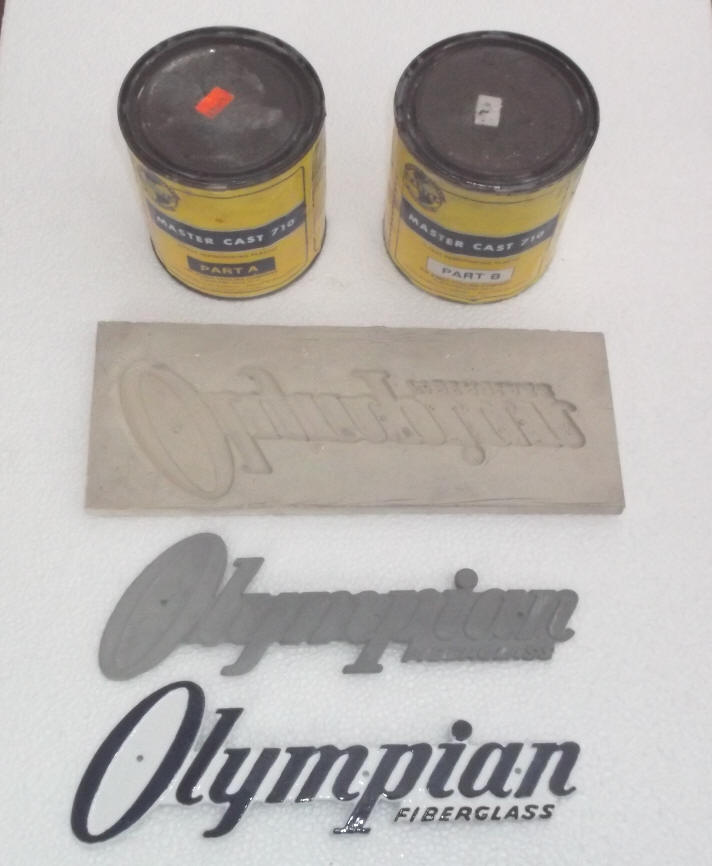 This resin was only 20 years old, something I had ordered years ago but had never used it. It took a LOT of stirring and shaking to get all the particles mixed so that it was usable. It appears to be heavily imbedded with aluminum powder. One thing I found after these has sat for a while, is that they curled slightly from the back side where I had sanded the excess of when casting this resin. After setting a while they were not friendly to even any slight bending, and broke, so I resorted to a heat gun and laid them on a solid piece of wood and did enough pressing by hand to straighten them while warm. The one that broke, I just super glued it back.
I did make a few extras, so I now have some that I might consider selling if you need one or two.
Time to Flop it Over & Repair The Bottom ;
OK, summer warmer weather is upon us, so I can do fiberglass repair. Wow, it is unreal the amount of damage that this boat has seen under the waterline. From the bow to about 1/2 way back, the bottom next to both sides of the keel is so rough, kind of looks like the whole keel may have been torn off and located back in place then patched back in with glass mat and Marine Tex. And they never heard of a orbital, or angle head grinder with a sander disc on it.
Then at the rear, it appears that the tie down strap may have not been firmly attached if used at all, as where all 4 rear rollers came in contact with the hull, there was damage, either the hull distorted upward enough to be visible, or was cracked. And there was a hook in the hull in front of the transom, being raised about 3/8" for about 3'. Lots of automotive body putty was needed.
Here is the evidence of bow damage
Here, you can see the craters after I just cleaned up the
high spots with a angle head disc sander
| | |
| --- | --- |
| Here is the view looking forward, but not showing any of the damage near the transom or much of the damage amidships | Here, you can see the addition of a gallon of body putty (on just one side) to patch the damage & fill the hollows to blend things in |
| | |
Now when I moved to the Port side, other issues were encountered as seen in the LH photo below. Here is where the center bottom rollers support the keel/bottom and it seems that a previous patch, either the old surface was not roughened or it had been waxed at one time and the later fiberglass resin did not bond to the gell-coat. AND/OR the boat was trailered over rough roads without the benefit of a tie down strap. There was no way to see if it was a structural damage, or just the location of the small leak, but I ground it down until I was through 3 layers of repair glass, then laid in a patch of fiberglass matt and resin, which now will be body puttied over to blend in. This rear patch was where the support roller bears, so that is why the larger patch extends up to the keel, just a precautionary move here.
Now moving to the bow, more repairs were needed as seen in the RH photo below, where much of the bow's fiberglass had been repaired, but the finishing touches got lost. Here at the waterline, I made another fiberglass matt/resin patch, which is now pretty much blended in with body putty and sanded down as seen in the RH photo below.
It appears this boat was almost a total loss at one time but the persons repairing it, did an admirable job (to some degree, but they must have ran out of steam, time or money) as also the aluminum rub rail retaining the Vinyl insert on the Port side upper outer edge, that whole side railing had been off and straightened (somewhat).
| | |
| --- | --- |
| Here is the view looking forward, on the Port side, where 2 fiberglass patches were made because of loose bonding of a previous repair & damage from a trailer roller. | Here, you can see some of the evidence of previous bow damage after I disc sanded off the high spots, & made repairs to the waterline & below. |
| | |
Now even though the hull was pretty well complete (using fiberglass patches AND 3 gallons of auto body putty) I wanted to reinforce the keel, not knowing what was hidden under the previous patching. This was accomplished by laying two layers of 4" fiberglass tape down the keel, overlapping by about 2 1/2" for each, with the center overlapping on the second layer from the other side. This gave me a double layer down the center, with a overall width of 5 1/2". It was done in sections of 2' to 4' lengths, so the glass resin did not harden on me prematurely. And when cured and re-sanded, another coat of just resin was added over the top. Once this was hard and sanded again, then more body putty was used to blend the slight over-laps out, making for a smooth bottom. This sanding after each coat, ensured that the next layer achieved a good bonding surface.
In the RH photo below, you can also see a lot of body putty filling in the vertical part of the bow. I do not believe this was caused by any damage, just a defect in how the boat came out of the mould.
All this initial sanding was done with a Makita orbital sander using #80 grit sandpaper, which was coarse enough to allow me to do a lot of leveling of the body putty. For the final sanding the sandpaper grit went to the next finer #100, which was also used after the hull was primed and between final coats of painting. Here a sheet of sandpaper was folded and cut in two, then done again so I got 4 sheets to fit the sander out of one sheet of paper.
| | |
| --- | --- |
| Here is the view looking forward again, but showing the overlapped fiberglass cloth reinforcement over the keel | Here, you can see the bow with most of the patching & keel glass cloth/resin overlay done, now just final body putty smoothing out the overlapping edges |
| | |
One thing that was learned was that to find the humps and hollows when body puttying, it was hard to use a straight edge. OK, yes a straight edge was used initially to find the mayor low spots, but after that, when sanding, (or after) just run your bare hand over the surface. You can feel even very slight humps or hollows (possibly .010"), mark (circle) them with a pencil for identifying later filling or removal.
Here is the final coat of paint on the outer hull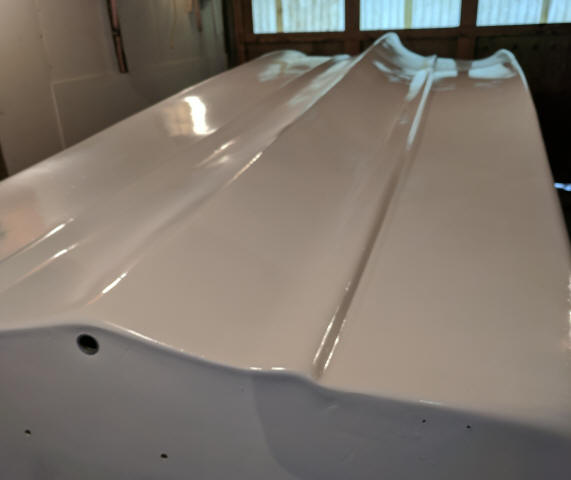 Painting the Exterior ;
This was not being the first boat that I have restored so using pages out of my previous jobs, I again chose Interlux Brightside polyurethane marine paint from West Marine, rather expensive, like $60.00 a quart, but it is VERY HARD and durable when cured. This paint of course needed it's special Interlux Pre-Kote primer also. After all the prepping, I concentrated spraying the 1st coat of primer on basically the areas where all the body putty was used. The second primer coat was done on the whole outer hull.
The the final outer white polyurethane paint was sprayed on in 3 coats. I found that when spraying white paint, that it went a lot better by being in a building with indoor lighting plus being able to open a sliding barn door if needed. By this I mean that if you paint white paint in bright sunlight, it is darned hard to see how thick you are applying the paint and with the subdued light it allows for better eyesight and eliminates many runs. And I found when doing this on a neighbors boat, that if he stood back and watched where I missed, or did not get it thick enough, for me to then re-hit those areas while near there, and that had not started to dry yet. I also found that if it was sanded lightly with 220 grit sandpaper between coats also made it easier to see the new overcoat and it probably adheres better also.
And then tipping it (the boat) back right side up and back on the trailer, the hardware, aluminum railings, seats, jackplate and bow eye bolt were reinstalled along with the replacement the Coast Guard numbers and yearly license tab were all replaced.
As a sidelight, during the mid stages of this project, this well used 20 year plus sander seized up and stopped. Needing it to finish this project, I tore it apart and found the ball bearings in the orbital connection were DRY and gunked up. So I removed and cleaned this bearing, greased it with Vaseline and replaced the outer seals, giving the sander a new life.
This outer hull project initially was a chore trying to get it back inside my barn upside down, taking myself, my son and two neighbors, a hand truck and a 2" PVC pipe as a roller in the middle. Getting it back out was easier, as my son-in-law had rented a small tractor with a front loader bucket, to do some work on his adjacent property. Here we just tied a rope off the boat's front eye, and onto the top of the bucket. And I run the hand cart under the transom, where we simply pulled/moved it out onto the grass field, where we turned it over. Again using the tractor's bucket, he picked the bow up from the side and I slid the trailer under it about 3/4 of the way, then simply winched the boat all the way on and into place.
Repairing the Transom ;
I had ran into an issue of the miss-match of boat transom height vs motor shaft length when I added the jack-plate, needing to gouge out wood in the center of the transom to accommodate clearance of the base of the tiller arm when the motor was raised up and to be locked when tailoring it (something I had not envisioned). OK, this can now be repaired when raising the transom back up to the full 20" height.
As mentioned before, part of this project was to restore the transom back to it's original 20" height. Now with the boat back right-side up and back on the trailer in my barn (just in time as the winter rains are setting in), I got started raising by the transom 2 1/2". I wanted it to be strong and yet look like it was at least somewhat original. With the skill-Saw, I cut down just deep enough to cut through the fiberglass cloth overlay on the front of the transom, carefully removing what glass I could. Then I marked it about 3/8" higher than the outer rear glass, where I cut (routed) out the rear 3/4" piece of plywood with the outer ends extending 2" beyond the opening and being beveled at a 45 degree for a better overlap bonding. Now after making a cardboard template, using it to cut out a new section to fit this rear section. I had a few larger gaps trying to fill this previous center cut-out, so in mixing the resin to glue it together, I added enough Cab-O-Sil (a light fluffy filler/thickener designed for use with fiberglass resin) to make it the consistency of margarine, and pumped this mixture into the holes using a 60 cc medical syringe. I had also added a tad bit more hardener, so that it set up faster.
Then using the same method for the inner plywood section and overlapping it by another 2" from the previous rear piece, which will now laminate the new two pieces in and secured by screwing from the inside and clamping while the resin hardened, gluing these new sections into place. Then sand down any irregularities with the angle head grinder, cut glass matt to fit the new wood addition, then using more resin to glue this matt on and overlay more resin on top of it to match the original glass thickness and finish.
| | |
| --- | --- |
| Here you see the rear plywood patch, glassed in place & 2nd the front piece laying ready to be painted with resin then put in place & screwed/clamped when curing | Here, you can see the beveled & overlapping joints on the outer edges of both boards before final fitting & the glass matt overlay |
| | |
Here you see the both of the rear plywood patches beneath the installed glass matt, with the front reinforcement fitted plywood laying ready to be put in place, once the glass is painted
Here, you can see the rear of the finished transom
with the 2nd Jack Plate installed
This now new raised transom was then painted with fiberglass resin and overlaid a glass matt, let it dry and overlay another coat of matting. This second coating of cloth and resin was needed with to build it up to the approximate thickness of the original glass covering.
Then just as a precautionary move, I did overlay another piece of 3/4" plywood on the front, as when doing this repair, there was evidence that this transom had been wet at one time, BUT there was no evidence of rot. This piece was not glued on, but simply bolted on with four 1/4" stainless steel bolts along with the two top bolts holding the Jack Plate on.
Observations / Repairs ;
After the sea trials and first fishing trip, one of the two drawbacks observed was since this boat AND trailer is so narrow in comparison to my 18' North River, AND the tires/wheels are only 12" dia., placing them under the boat instead of outside like normal 15" tires, therefore not being able to see where the trailer during launch/recovery created a slight problem. With bumpers out on the dock side of the boat, I could barely see them on the boat on launching using the mirrors, and of course recovery was even worse. My pickup is a 97 Ford 150 and I have a aluminum tool box across the bed behind the cab, so lowering the tailgate does not gain me anything.
OK, I then found a section of thin steel tubing (9/16" ID) that I brazed onto a thin steel plate. This tubing was welded on at an angle pointing out and upwards at possibly a 30 degree angle, (just enough to put the weight of divers flags so they would not juggle out at the launch/recovery). These units were then bolted onto my bunk loading guide angle iron at the rear of the trailer, now giving me a better indication where the trailer is during launching/recovery. The flags that I am using are regular diver's flags, being on a 24" 1/2" dia. rod with a 12" square bright orange plastic flag attached to one end. I am using one flag on each side of the trailer and this works great, giving me something to see.
The second drawback was that initially in trying to power load the boat back on the trailer and trying to use the low bunk guides that I had installed that was now so low in the water, and since this boat is a Tri-Hull, I found that the boat had to be pretty well perfectly aligned, (not a lot of margin for error) as there was not a self-alignment feature as compared to using a single bow/conventional hull, otherwise one of the outer hull bows can easily ride on the wrong side of the low guides which were almost buried in the water at the ramp. The next project was be make newer 9" higher guides reaching up to near the gunnels of the boat when loaded, so that I can see them better along with them being higher and wider when entering from the water side when trying to power load. As mentioned, they angle outward slightly, so along with being higher this may help with self-alignment somewhat.
Later, my wife's medical condition has worsened, so we traded her Toyota Camry off on a 2010 Ford Escape SUV so she could have an easier time getting into AND OUT of. This vehicle has now become the towing vehicle for this boat, which is a lot easier to see out of when backing down a launch than my Ford F150.
Jack Plate ;
This was the last item to add after getting it fishable. However this is one piece of equipment that I have never even seen up close and personal, other than photos and reading about them on the internet. But initially for this boat it seemed that I would benefit by not having to either cut the transom deeper OR purchase a long shaft extension to make the motor height compatible to the transom. Plus, as said above, if it can be designed and built to help run this boat in SKINNY WATER, therefore it may be worth a try. And my ability as a machinist allowed me to build one for $75 as compared to $350 for a commercial unit. This price was $50 for the aluminum material and $25 for the bolts and nuts, and the better part of three days in my machine shop.
This unit sets the motor rearward 6 1/2" and allows for 4" of vertical movement.
This took a lot of sleepless nights of designing and by doing a lot of measuring, then a rough drawing, then a CAD drawing so I could be sure things would fit somewhat closely. Then as things progressed, even more slight modifications were needed after I got it partly made because it was hard to foresee just how it fit in with the motor clamping brackets or then having to cut a slot wider in the base so that I could get two end wrenches in to be able to tighten the two sets of 1/2" jam nuts on the lower end of the 1/2" All-Thread vertical adjustment shaft.
This unit was built out of 1/4" X 4" extruded aluminum angle, and 3/16" plates connecting the two outer sides. All the small attachment bolts and nuts are stainless steel. The main vertical adjustment threaded rod and the 4 clamp (locking) bolts/nuts are cadmium plated steel, mainly because they are cheaper and the unsuredness that this thing would really work. If things pan out, and they later start rusting, then maybe I will go to stainless steel shaft/nuts.
I then left spare metal on the front top starboard side, and enough extra angle aluminum to be bolted on the bottom rear side, to be able to later accommodate my idea of a lever arm quick raising for river running.
The wooden motor mounting plate that is bolted onto the top rear of this unit is made of two sheets of 3/4" plywood, screwed and fiberglass glued together. It was also varnished using 3 coats all over before bolting onto the metal.
Prior to installing it, I added a 11" X 28" 3/4" plywood to the front of the transom, which this Jack Plate is now also bolted through. The reason was that since this boat is over 35 years old, and not really knowing the condition of the transom, a little extra support surely was not going to hurt. However when drilling through the transom when installing this Jack Plate, the drill shavings that came, out did not look bad. So maybe I lucked out.
In the photos below you can see the layout of this Jack Plate with the rear section raised about 1/2 of the 4" adjustment. You will notice in the left hand photo, the Starboard front angle plate is 2" taller. This is for my manual lever raising arm to be attached to later if it comes to that. Also there needs to be 1/4" X 1" bearing strips bolted onto each forward side angle to relieve the pressure on just the 1/2" lock bolts/nuts. In the center, the removable threaded plate that the All Thread rod goes through on the upper crossbar is for two things, (1) it gives a slight bit of compensation (non binding) if things did not totally align. (2) By removing the two 5/16" Allen head screws holding this machined nut, this will disconnect the threaded rod manual adjustment, allowing me (after loosening the 4 larger lock nuts) when I want to over-ride and raise it rapidly as if in shallow water or shooting a riffle if I ever got that design functioning.
| | |
| --- | --- |
| Here you see the front top view of my version 1 Jack Plate | Here is shown the left side, rear corner view of the Jack Plate |
| | |
After installing this unit on this boat, with the motor raised as high as possible (4"), the distance from the skeg to the bottom of the boat is 11", not as shallow as a jet, but maybe doable with this lighter boat without going to the hand lever quick height adjustment. In retrospect, maybe I should have made it a couple of inches higher. However when I take the motor off to do the bottom repair, I might as well disassemble the Jack Plate also and re-cut the slots about 3/4" of an inch more. Then the thought is to unlock the tilt lock on the motor when near using the lever unit so that if I hit anything, the motor may tip up AND the boat may raise enough to clear. So later this summer will be showdown time when the water levels are down in the rivers, so see if my plan is anywhere workable.
A problem arose in when trying to bolt the two rear lower motor mount bolts to the mount pad of the Jack Plate because of me not calculating exactly where these bolts would come through on the inside, being so close to the 1/4" attachment bolts that no nut could be used. So I drilled the double thickness aluminum under the wood and tapped this metal allowing that method of securement, which could also help deter theft, which would take more time to remove.
Another problem that I did not foresee, was that with this motor now moved rearward it did not have enough clearance for the base of the tiller handle to clear the top of the transom so that the motor could be raised and locked during transport.
Finally Finished (Or Closer To It For 1st Sea Trials);
After a lot of work, things are almost together. Shown in the photo below is the short-shaft motor mounted on the Jack Plate (which has a set-back of 5" plus the two 3/4" plywood motor clamp plate for 6 1/2"), and with it set at about the midway point of the 4" height adjustment. Also seen is the prop guard and the skeg guard shoe, along with the trolling plate.

As of today, the middle of April, the basic boat is ready to fish. It still needs to be stripped down, removed from the trailer and bottom fiberglass repair done, but that can be done later as there is only a minimal leak (about 2 cups) and that only shows after the boat is pulled out of the water and sits for a while.
Here you can see the original short-shaft motor, the installation of the original Jack Plate, the prop guard/ skeg guard & trolling plate
Alterations to the Jack Plate ;
At the time of redoing the boat's bottom, I had originally planned to make a new Jack Plate that extended another 2 " rearward, but with all the alterations being made, and wanting this prop higher than normal for running shallow river water, it had to be right this time. I was kind of shooting in the dark or unknown on this. So once the transom was done (raised to 20") enough to bolt the existing Jack Plate back on, and with the motor temporarily mounted to see just what we had, measurements could be done to ensure I had it right, (or close enough to accomplish my mission) this time.
From this inspection, it looked like the easiest thing to do was to just replace the rear movable 1/2 of the existing Jack Plate, using new 4" X 6" aluminum angle as compared to the 4" X 4" of the original model, extending it rearward 2" for clearance and 4" taller to match the new longer motor shaft. And the good part is that now I have an exact rear 1/2 pattern to copy onto the new material, while making slight alterations to improve the motor's mounting. I also bolted a 1/4" X 1" strip to the outer front section as a wear/pressure strip for the rear section to bear against instead of relying on the four 1/2" locking bolts within the adjustment slots. This version now has 8 1/2" of total setback.
Here the version 2 Jack Plate is shown with the new rear section added & you can also see the pressure strip in place on the left.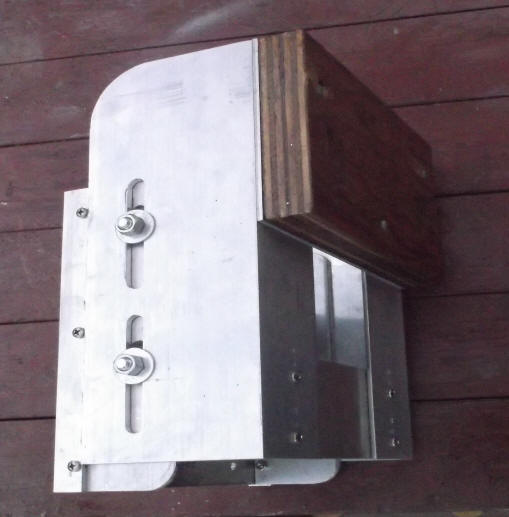 Other than accomplishing my two objectives of raising the transom and getting the long shaft motor conversion done, this work also gave me more room under the tiller handle unit base, for access of the up/down tilt of the tiller and access to the motor's pivot friction adjustment lever.
| | |
| --- | --- |
| Here you see the finished long shaft conversion installed & the new Jack Plate before the prop guard/ skeg guard & trolling plate were reinstalled | |
| | |
Motor Issues ;
Other issues were there that I wanted to rectify, was mentioned above that I wanted to return the boat transom back to a 20" longshaft motor, for a couple of reasons while the boat was in it's final stages of restoration. (1) The transom needed to be restored to the original height for aesthetic reasons. (2) For safety reasons if for some reason that I got into a bad weather situation and had to run with the wind at lower speeds, that the higher transom also meant less of a chance of taking water over the stern of a lower transom.
And I also wanted to convert my shortshaft (15") motor to a longshaft (20") motor to match the new transom height. But now I ran into problems of the Evinrude factory discontinuing the needed 5" housing extension. CLICK HERE for this episode.
Here you can see the initial finished boat, well, all but the outside hull repairs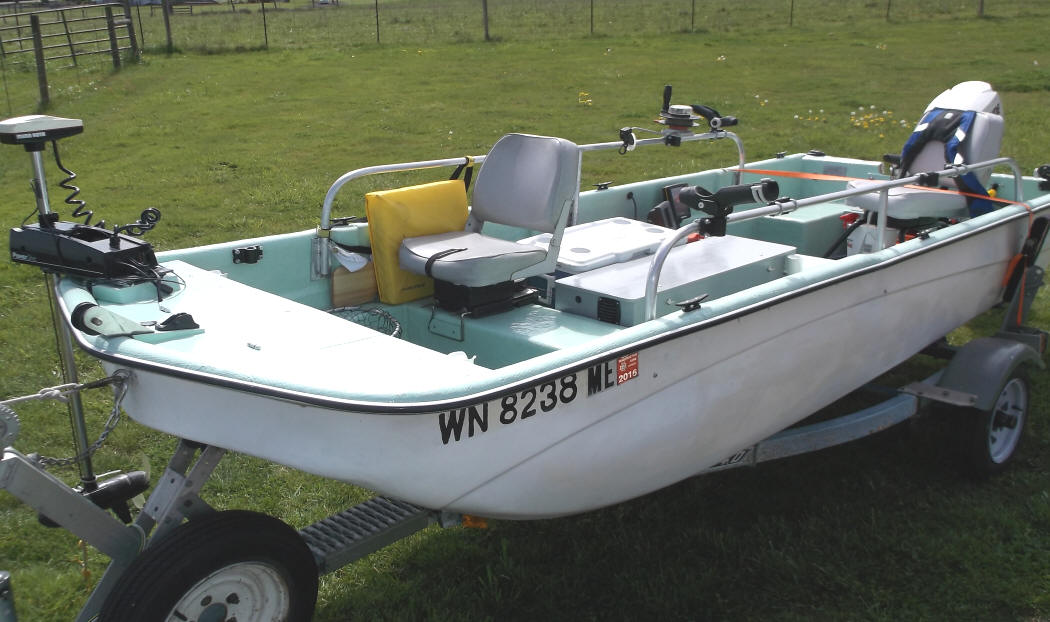 OK, I had a chance to take my neighbor to Riffe Lake on 4-20-16. I got skunked, but he got a 13" hatchery Steelhead, however we were high boat on the lake with one fish, so, not sure why they were not biting. However we had enough time on the water to wring a few things out of the outfit. We found that this early in the year, that there was a lot of floating wood/logs on the water. I ran over one beaver stick that was about 1 1/2" in dia. and 3 feet long that was so waterlogged that it was just barely floating vertically and my prop-guard totally protected the prop.
I have to admit this outfit seems to be working great as a lake boat, even after the wind picked up a considerably, it took wind chop waves of 8" to 12" without throwing much spray when quartering into them, plus being a pretty smooth ride while running at about 13 MPH.
I did find that my side-finder idea may have merit, but not with this old monochrome sonar unit in bright sunlight, so next I will try to make a hood for the screen. A update here -- this used monochrome unit that the screen faded out that it was impossible to see anything on the screen in bright daylight, so I replaced it with a new Lowrance HOOK-3X color unit.
I also found that I needed to make my downrigger snap/clip length longer in order to be able to attach the clip the the fishing line without having to worry about breaking the rod tip. And to tighten the transducer better. Also the trailer extended side rails/loading guides are now just tall enough that I can see them over my aluminum pickup bed toolbox when backing the empty trailer down the launch for recovery if using the F150.
The trolling plate worked great. We used it in the down position most of the trip but then later in the day when the wind picked up, with us heading into it, I had problems controlling the steering, but the speed had dropped to less than 1 MPH, so simply pull the release cord and speed up to over 1.6 MPH which gained control again, plus put us back in the proper speed range.
So a few more of these trips and I may get the Jack Plate adjusted enough to see how it functions.
More Add Ons ;
After talking to guys who fish the larger rivers, one strongly suggested that I add a small outboard motor as an insurance policy, noting that my electric bow mount motor would probably not cut it in a current. So I requested my loaner 1985 6hp Johnson back from my Son-In-Law after he bought my 12'er and 9.9hp motor. There is just enough room to mount it on the Starboard side of the transom. I will not use it for trolling as the 25hp does just fine, which I would also have more control with, but will use this 6hp only as an emergency motor to keep out of trouble, get to shore / OR back to a boat launch, IF I have problems with a damaged prop on the main motor.
Here my insurance policy motor is mounted & you can see my "Catch All Tray".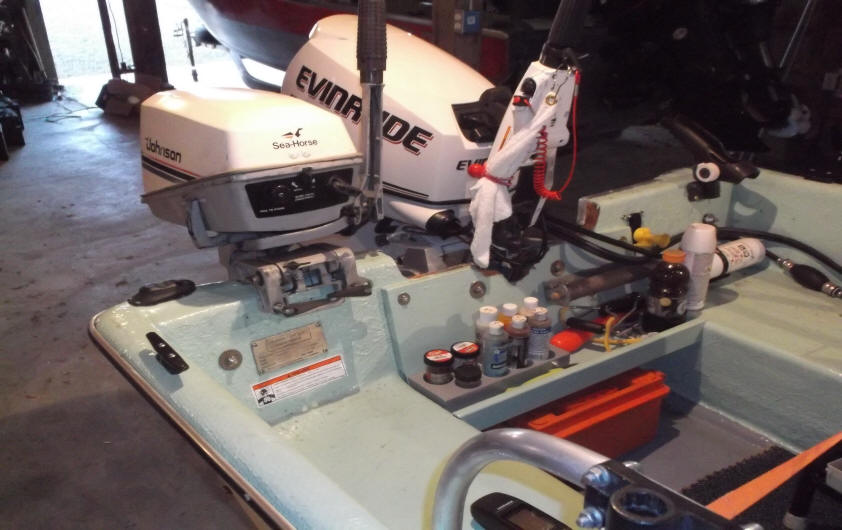 Fuel Can For Kicker Motor ;  OK, now I created a situation where the question is just where do I place the fuel can for this smaller motor? Since this older motor uses a mixed 2 cycle fuel that would not be possible to tap into the main motor's unmixed tank. Here even a gallon of fuel would be plenty, which with that small a can could be fit in nearly anywhere.
OK, I hatched the idea of using a 1 gallon plastic gas can that I had been using for my chainsaw gas, but modify the gas cap for marine use and the quick connect coupling to the fuel line. I disassembled the cap/nozzle unit and using dimensions off the nozzle base, lathe turned a 3/4" thick Nylon unit that the existing Neoprene U shaped gasket fit over. I drilled and tapped for 1/4" National Pipe thread near one side for the OMC fuel coupler and on the other side threaded a 1/4" course hole for the vent as seen in the photo below.
I did screw up as the outer cap hole was larger than the inside, (I did not measure and assumed they were the same). The outer hole was larger, which was needed to align this unit correctly. So I found a section of 1 1/2" aluminum pipe that I lathe turned as a sleeve and pressed over the outer Nylon part. I purchased an aftermarket tank coupler of the proper make as many manufacturers use different sizes. The vent was simply a 1/4" stainless steel Allen bolt that I Dremel tooled a slot lengthwise of the threads with a slitting wheel. To get right up under the head, I used a dental burr again in the Dremel tool. Then under the bolt head was placed a 1/4" X 3/8" neoprene O-Ring. Now with the knurled bolt head, by tightening it down, keeps it from leaking, and 1/2 a turn open gives me a vent to the can.
Under this unit I found that I could just barely twist a 1/4" automotive fuel line onto the bottom end of fuel coupler far enough to secure it in place with a Zip Tie, and cut the line off long enough to rest on the bottom of the can for a pickup tube.
Using this idea you could use about any size a gas can for an extra emergency can, or like in my case a smaller fuel supply.
Here you see the fruitation of my idea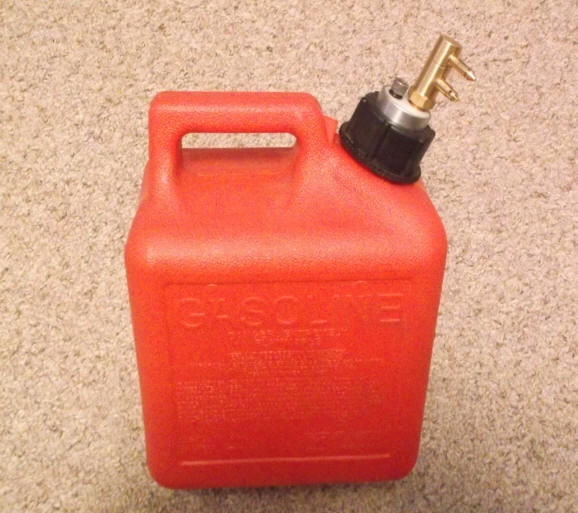 Floatation Chambers ;
While moving this hull inside to do the outer repairs, we found that it seemed a lot heavier than we had thought it should be. So, as I found on the other boats of this maker that I had owned, there was a distinct possibility that the inner foam inside the rear seats may have been compromised (water soaked). I therefore did the same by cutting an opening using a Saber "Jig" Saw on the inner sides of the seats and installing 6" deck plates. These bases can be caulked to the fiberglass inner seat wall before being Pop Riveted to it. The center cap of this deck plate unscrews allowing access if needed, but is sealed using a large Neoprene O-Ring.
Yes, inside this foam was wet. It was made about 2" X 6" and as long as the seats. To get it out, I could reach in and break it into pieces small enough to be removed through the holes that were sawed in for these access holes.
Now, I did not replace this foam, as my thinking was that a sealed air chamber would be way better than one filled with waterlogged foam. But I had to plug a single drain hole at the rear of the seats with body putty. AND inside these cavities, will also provide extra storage of seldom used items, like a bungee cord bank type mooring system, along with extra line if needed for this mooring or an occasional river anchoring.
Here you see one of the two deck plates installed on the inside of the rear seat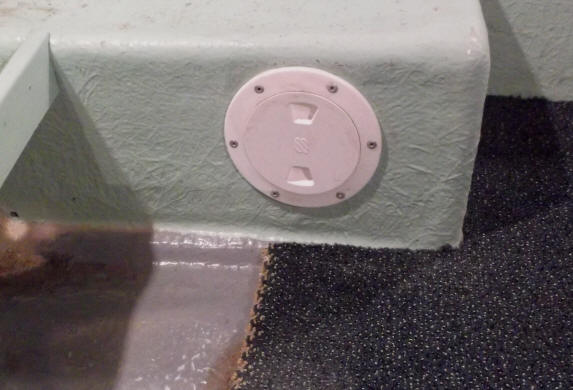 Well, in my previous 12'er boat, I experienced rainwater build up during a downpour while fishing. It is rather hard to efficiently bail water out of a flat bottomed boat with a round bucket, so while doing the final reassembly after the outer bottom repairs, my thoughts were that it might be well to install a bilge pump. But there were constraints, because of the boat design and my need to outfit it to my needs. I had a live well pump that was not being used, so OK figure out how to do this. This pump does not have a lot of suction, so I installed a inline check valve in the suction line below the pump. And to fabricate a mounting bracket turned out in using the garden hose outlet of the pump as the mount into the side of the rear seat. And I did not have a lot of room under my catch all shelf on the transom, so I had to cut and glue a new PVC Ell to fit the contour of the bottom. MY Thanks go to the little white haired lady at Ace Hardware in trying to find the fittings I needed to make this happen.
Here you see my modified live well pump to function as a bilge pump
Conclusions ;
After more than a couple of these boat restorations, or actual building boats from scratch, I have learned a few things.
(1) These restorations can get more expensive than you realize, so be careful how much you are willing to initially pay AND just how far you want to go on an OLD boat.
(2) Nothing is square on a boat. And dimensions from one side may not be the same as the other.
(3) Do not start cutting wood, fiberglass or metal until you have made a cardboard template. And then cut the material oversize so you can do a final trim/fit.
(4) Think and re-think your ideas, have alternatives, even though not what you originally thought you wanted. Make notes and sketches. Do not jump right in and start a project, sometimes you can combine ideas. There may be a simpler or cheaper method of accomplishing what you had originally thought. I have gotten many "bright" ideas, or solved an issue in bed at 2AM.
(5) Listen to others comments, they may not be as enthusiastic as you, or may not want to sound as they are condemning your idea, so ask theirs, you may be over thinking, and simpler is always better if the outcome will be the same.
(6) Do one project at a time, not multiple sections of the main one, where you may loose sight of the goal and do shortcuts in your haste to see it to completion.
(7) If something needs to be done and you do not have the expertise or the equipment to do, hire it done, so you will have the project you envisioned, not a Jury Rigged contraption, like the aluminum welding being one.
(8) As mentioned in #7, try to do a professional job, as sometime later, you, or your heirs, will more than likely want to sell your creation. Try to keep your ideas along with regular marine/boating standards, or at least something that looks like it belongs on a boat. Real odd-ball ideas/construction may function, but lower the value appreciably no matter how much it cost you.
(9) Keep a note pad list, with want/needed parts, but write down what those screws are for (memory fails us at times). Scratch off items on your list as they are purchased/or completed, otherwise you may purchase some parts, but have forgotten what they were to be used for later on.
(10) Take photos. This will document your progress along with the finished project in case it gets stolen, where you have positive ID instead of just being able to define "a 16' fiberglass boat with a 30hp motor on a blue trailer".
(11) Be sure the ID pate AND serial numbers are readable and correct, otherwise you may have issues in licensing the boat, or the trailer. And some states require the serial number of the motor also.
(12) Read & understand the Coast Guard rules for placement of the boat's registration number. There needs to be a space between certain numbers/letters to be legal.
(13) Use stainless steel bolts/fittings if the boat may be exposed to saltwater, even slightly.
(14) If you intend to paint it, use a good grade marine paint, as house paint doesn't really cut it. Porch and Deck oil base gloss would be about as close as you can get other than regular marine paint.
(15) You WILL HAVE COMPLICATIONS involving some of your ideas when you actually put them to work, which may take more head scratching to solve.
I have found that with the set-back of the jackplate, that the motor will not cavitate when set with the cavitation plate set 3 1/2" ABOVE the hull's keel line and still push the boat quite well. And all I have is about 12" protruding below the keel.
Other Similar Boats ; The photo below was sent to me by a fisherman from California of his fishing machine. It is powered by a 15hp Yamaha 4 stroke and is used extensively on waters of the California Delta. He says his top speed is just over 21 MPH with 2 fishermen aboard, however it appears he does not load it down with a lot of gear like I do. You will notice the inside hull design is very close to my boat, but is a later production version, being made with a different rear seating arrangement.
Here is another same make/model boat, rigged up for California Striper & Salmon river/bay fishing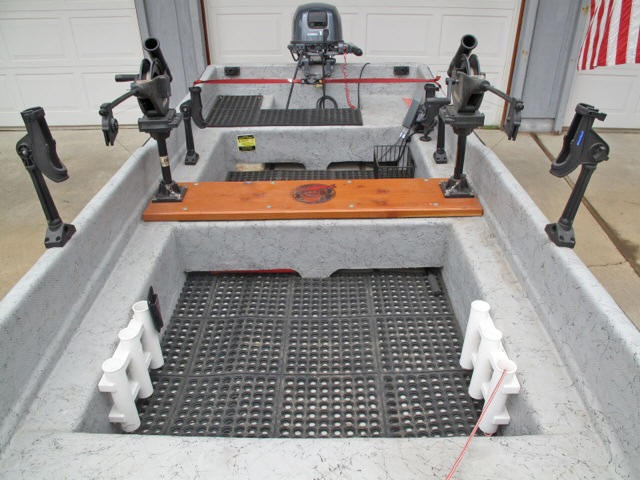 This size of Boston Whalers (shown below) has apparently been discontinued, making them now desirable, and out of reach financially for the average fisherman. And most of them seem to be used as a runabout instead of a fishing boat. But look at the shallow hull, there is not a lot of freeboard here.
Here we see a typical 13' Boston Whaler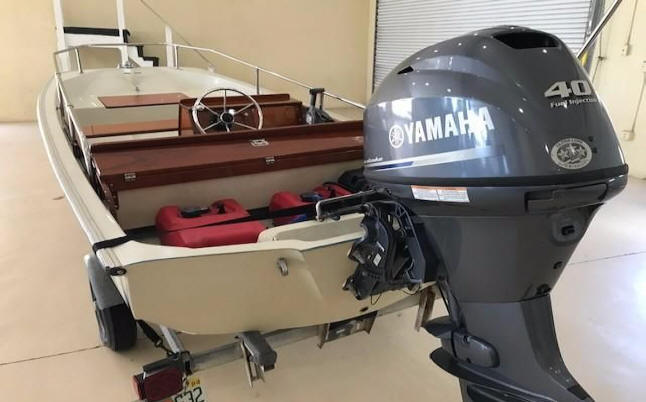 Copyright © 2015 & 2018 LeeRoy Wisner All Rights Reserved
Originated 11-12-2015, Last updated 01-09-2018
to contact the author click here