| | | |
| --- | --- | --- |
| | Creating a Small, Go To Tackle Bag, For Invites on Friends Fishing Boats | |
The one thing that a skipper cringes at in the morning is when an invitee shows up for a day's fishing trip and brings enough tackle, gear, food and clothes to outfit him/her for two weeks. Most small, or even many large recreational fishing boats, do not have room to handle this situation. You are not going on a Caribbean cruise.
If you, as a fisherperson do get a boat fishing invite, and you are intending on bringing your own gear/tackle, go through it and downsize. Most of the time, even if the skipper gave you detailed information on how he rigs his terminal tackle, even the most ardent fisherperson does not really grasp a clear picture of what it looks like. So, many times the skipper could prefer to supply the rod/reel and possibly even the tackle because he understands better what catches fish for his style of fishing than trying to "Make Do" with something that is inferior, or just is not right for the job. I have had numerous guests bring Uncle Charlie's inherited, old salmon rod for a day's fishing. Many times the rod is too short or too heavy an action to effectively fish out of my boat with the methods that I use, AND the reel may not have seen any maintenance for 40 years. Also the mainline could be the same the came with the reel originally and of unknown quality. This could limit the outcome for that fisherperson for the day, even though the skipper puts him onto fish, that he does not know that he had a strike, thereby does not hook or land any. Along with the fact that they probably are not a fisherperson, and does not have a clue, as a rod is a pole, and they all serve the same purpose of holding a reel don't they?
When asked, I tell them what I use and recommend, but many times, their perception of being close only pertains to horseshoes and hand grenades. There is a real difference in a steelhead rod and a sturgeon rod, not even taking into account of the different reels and line. I have to admit that my rods and reels are not the highest grade, but they are not cheap garbage either. And they are selected to match the fish and or methods being used. Many times, I would rather loan them one of my rods AND tackle than to see them miss strike after strike because of ill fitting tackle and that they have no comprehension what it takes to hook a fish. Why do you think a fishing guide supplies the gear?
Does this look familiar ??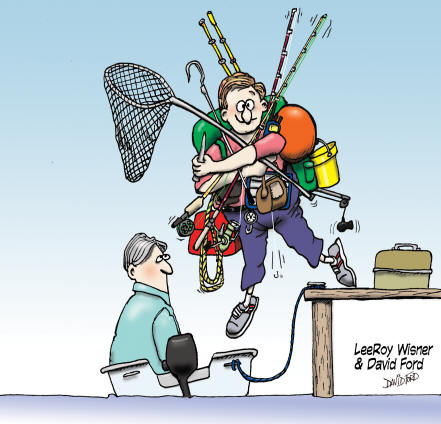 Downsize ; I have developed a "GO TO" gear/tackle bag combo where the main gear bag is a heavy duty airline carry-on bag that is 9" wide by 11" tall and 19" long. It has a zippered top lid, zippered pouches on each end and two small zippered pockets on the front side with front and rear dual carrying handles that are have a top wrap that are Velcroed together in the center. It also has a detachable snap on shoulder carrying strap. The name brand is Western Pack Products style 2018 www.korusco.com that I picked up at a sportsman show a number of years ago. This is the smallest bag of this series that they make.
Inside it, I can get enough clothes and gear for a day's fishing in comfort if I have some idea of what to expect.
In this carry-on gear bag, I can have a set of lightweight Frog Togs raingear, wool gloves, wool skull cap, sunglasses, small LED flashlight, emergency whistle, small side cutting pliers, digital scale, camera, water bottle, lunch, etc. plus a thermos and in addition my small go to tackle bag. The lunch is not in a lunchbox, but the sandwiches are simply in Ziploc baggies, with the apple or orange and thermos in there loose. There also is enough room, (crowded, but doable) to cram in a hooded sweat shirt in the bag if the weather looks the need is there.
When I go with a fishing guide, or on a charter boat, this is my Go To bag, but I may leave out the smaller tackle bag listed below since they usually supply the tackle. Prior to finding this bag, I used the backpack that was my pack-in river salmon and steelhead bag. That worked well for years, but this new bag is more convenient and easier to access for boat usage.

Recently, I just spent some time at the local Cabela's store and found their deluxe gear bag on sale for $39.99 marked down from $59.99 and it just happened to jump under my arm and beg to be taken to a new home. This bag is very close in size to my old carry-on gear bag, being 10" wide by 12" tall and 16" long, but with many more internal pouches and both internal and external pockets while also being insulated. In measuring, the overall dimensions come in with slightly more capacity, but subtracting the insulation thickness, it should be very near the same total inside capacity.
One thing I like a bit more about it is that in the largest front zippered pocket, there is enough room to stash two 4" X 6" plastic tackle boxes which supplement my tackle bag. The one thing different is that the lid, which has the single handle on it is laid over the bag and uses quick release buckles on the front to secure it. The inner lid cover has a zippered mesh pouch, and the outer lid cover has another zippered pouch for papers or charts if you desire. Gear can be organized a bit better than the older carry-on bag, allowing an emergency whistle and small flashlight and a current tide book can be stored inside the inner lid's zippered mesh pouch for better accessibility. And my small tackle bag still fits inside and on top of my rain gear.
One thing I did find was that this new bag was not anywhere near water resistant as the older one, so I used a spray can of silicone water repellant on the whole outer part of the bag, which should help.
Now the old bag will be used as my designated "Go To" hunting bag instead of having to empty it every year after the fishing season ends.
| | |
| --- | --- |
| My old Go To carry-on fishing gear bag | My new Go To carry-on Cabela's fishing gear bag |
| | |
Inside either of the above gear bags are also space for my small fishing tackle bag that is also pretty compact, yet complete.
For this small tackle bag, I have a Flambeau 4" X 8" X 11" padded cloth bag that has a heavy duty zipper going endwise from the bottom, up to the top, across, and down the other side and a carrying handle on top, allowing it to open up like a clamshell. Inside this bag, one side has a net mesh type pouch. Loose inside the bag, I have a fillet knife, small pliers, and a hook remover and a Flambeau 1 1/2" X 4 1/2" X 9" #3003 plastic tackle box.
In the bag's pouch are an 8" Hot Spot flasher, an 8" E-Chip flasher, two 8" Fish Flash attractors, a small Deep Six diver, leader material, a hook remover and a couple of Colonel Sanders KFC small plastic gravy container of cannonball weights. Not shown here is usually a jar or bottle of scent, but it was taken out after the season and placed in my refrigerator.
In this plastic box, as you can see in the photo below, it is crammed with salmon tackle in this case. Not a lot, but selected proven terminal tackle along with swivels/snaps for the intended outing. If the outing was for a different specie, the contents of both the bag and this box would be changed for what may be more appropriate for that particular outing.
On one of the outsides of this tackle bag is another mesh bag with a elastic top strap. In it I have more tackle as seen in the RH header photo above. This normally includes two more 6" Fish Flash, Les Davis size 0 dodger, another small LED flashlight, an Apex and Brads Super Cut plug lure, cork bobber and a rigged #0 Spi-N-Glo hook setup. OH yes, a pair of surgical gloves are in there somewhere also.
| | |
| --- | --- |
| My small tackle bag opened up | Here it is closed ready to travel |
| | |
Utilizing either of these two bags forces me to minimize the gear that I take along if I happen to be invited for an outing on a friends boat. But as you can see from the photos above, I still have a pretty full tackle arsenal at my disposal. And sudden weather changes are also covered.
I have been known to do quite well using the tackle I carry here, while the skipper scrambled through his large tackle boxes and bait boxes to find bait or lures that finally equaled my success by the end of the day.
Now for a different type of fishing trip, like a walk-in bank trip, I use a fishing fanny pack. This is a Plano brand fanny pack fishing belt that has three zippered compartments. The center compartment holds two Flambeau 4 1/2" X 9" plastic tackle boxes, these boxes have removable dividers, allowing me to customize them to fit my needs. This along with me wearing a pocketed vest, allowed me to carry all the gear I needed for the day without having to carry a backpack, and if the type of fishing changes so can the plastic tackle boxes. Here, in one side compartments, where I have put together a mini survival gear section like a aluminum cup, fire starting equipment, tea bags, bouillon cubes, a few candy bars, and wool gloves. The other side has a Mini-Mag flashlight, light weight poncho, salmon fish tote rope, leader material spool, clip-on sunglasses and a compass.
This fanny pack also acts as a upper belt for chest waders if those were being worn.


Here is the fishing fanny pack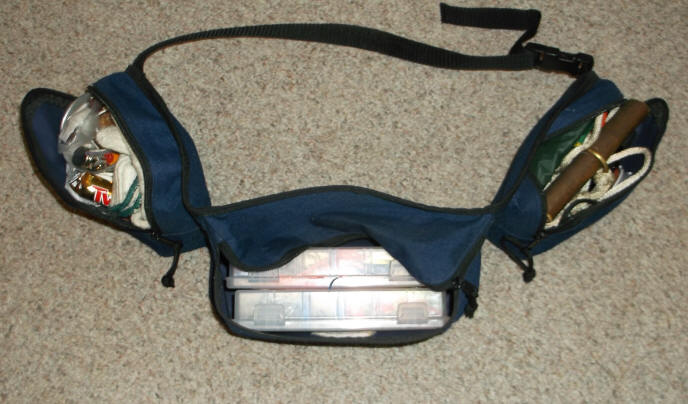 Then one day recently, the wife and I had a few hours to kill between doctors appointments and a fishing club meeting that evening. I never had taken the time to simply explore the whole Cabela's before. And surprisingly, we made it out of there for just under $50. One item I purchased was another fishing gear bag, but slightly smaller than the previous one, having the main bag 5 1/2" X 10" X 6" high. This one has (2) 2" zippered end pouches and a 1" front and rear pouch. The top flap is also zippered, covering a center cavity that can accommodate 4 Plano/Flambeau 4 1/2" X 9" plastic tackle boxes stacked vertically. It has either a top handle when the top is zipped closed or a shoulder strap.
In it I can get a about all the tackle needed for anything other than salmon, plus a lunch and water bottle, even a poncho.
Again depending on the day's fishing, be it Steelheading, lake fishing for trout or Kokanee, or about any other fishing outing, all I need to change is these plastic tackle boxes. This also works great when using my 14' lake boat where I do not want to drag my large tackle boxes along.
Here is the

newer smaller gear bag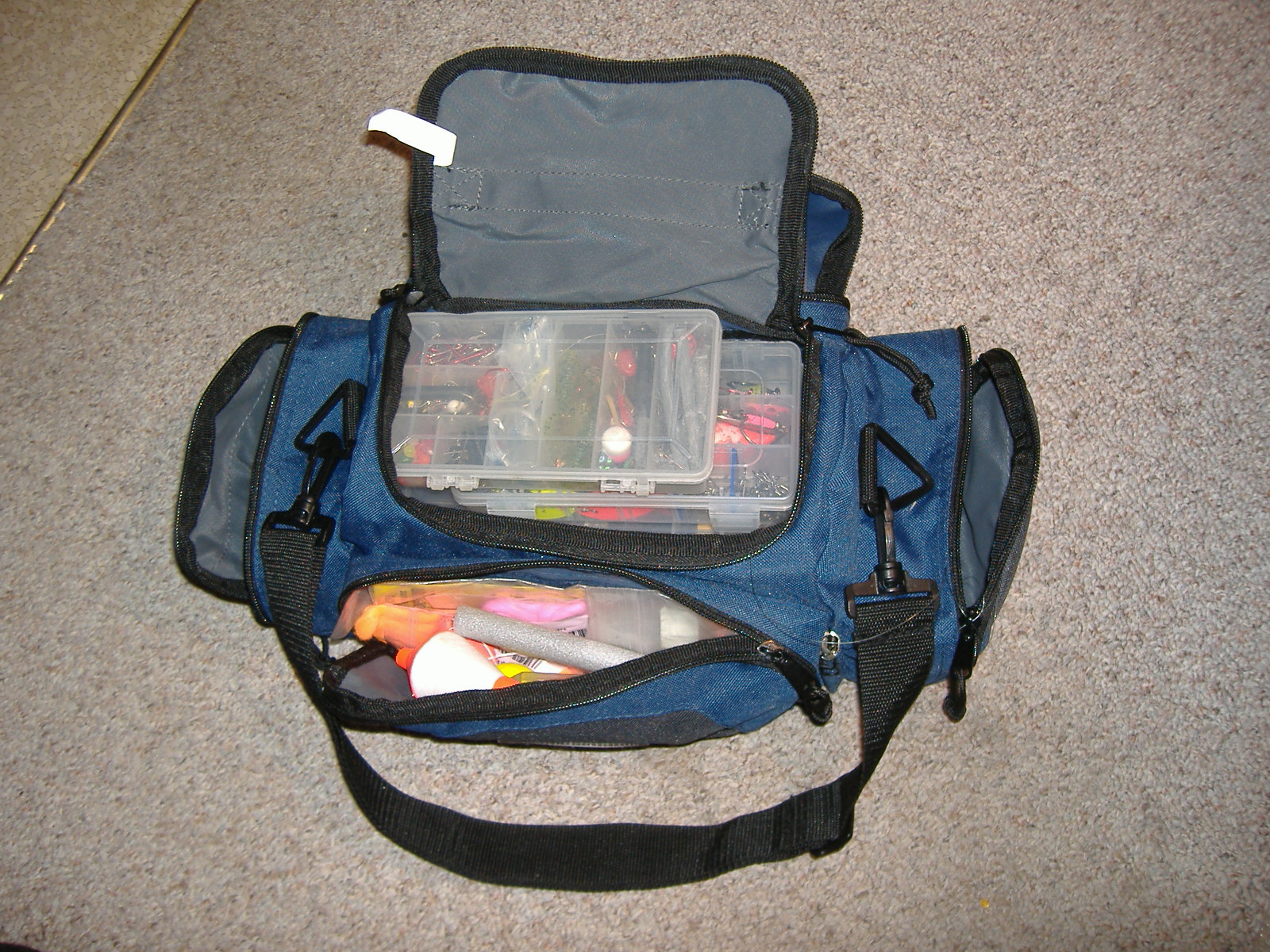 Copyright © 2014 / 2018 LeeRoy Wisner All Rights Reserved

Originated 02-13-2011, Last updated 01-02-2018
Contact the author