History
:
Prior to the early 1920s, automotive fuel was essentially refined crude oil into liquid gasoline, or petrol as it is known in other parts of the world.
Up until this time, gasoline tended to pre-ignite or detonate, causing a metallic 'pinging' sound, a situation called engine-knocking, that could cause engine damage if subject to continued use. The additive of the chemical element in the form of Tetraethyl lead (TEL) gasoline changed that. Not only did leaded gasoline withstand higher compression environments, but also lubricated the inside and valves of the engine, protecting the valve seats from erosion while lubricating the valve stems at the high temperatures that they were subject to. To read the history of automotive fuels
CLICK HERE
.

In the early years, the automotive industry had not developed steel yet that would not gall in a high temperature situation where the valves operate in a engine. So this lead additive accomplished a twofold result of controlling the combustion while lubricating the valve seats and stems.

The leaded fuel also caused problems of it's own. In the past, lead deposits on spark plugs were the main reason to change them so often.

The Clean Air Act Amendments of 1990 mandate the elimination of lead from all U.S. motor fuel by January 1, 1996. This represents the final step in a gradual reduction of lead in gasoline since the early 1970s when the engines were starting to be redesigned with anti-pollution in mind. The use of catalytic converters in the exhaust system probably was the final lead killer. With the inception of this converter, it could digest the leaded exhaust and get plugged up if leaded fuel was used for any length of time.
How Does This Relate to Boaters ? It is not really known as to whether that this lead additive is what caused the varnish in gas tanks and carburetors if let set for a period of time, but since the non-leaded gasoline has became the norm, the varnish or a jellied mass has about vanished from the scene. Thereby indicating to me at least, that the new unleaded gasoline is more stabilized than the leaded.
In accordance with the Federal Clean Air Act (CAA) of the Environmental Protection Agency, (EPA) establishes fuel quality standards to help protect public health and the environment from harmful gas and particulate matter emissions from motor vehicles and engines. here is a link to the Government regulations, - http://www.epa.gov/OMS/fuels.htm
EPA issued standards in 1973 that called for a gradual phase down of lead to reduce the health risks from lead emissions from gasoline. Beginning in 1989, EPA required gasoline to meet volatility standards (in two phases) to decrease evaporative emissions of gasoline in the summer months. Upon passage of the 1990 CAA amendments, EPA began monitoring the winter oxygenated fuels (Ethanol) program implemented by the states to help control emissions of carbon monoxide. It also established the reformulated gasoline (RFG) program, which is designed to reduce emissions of smog-forming and toxic pollutants. EPA also set requirements for gasoline to be treated with detergents and deposit control additives. More recently, EPA has set standards for low sulfur gasoline and low sulfur diesel, which will help ensure the effectiveness of low emission-control technologies in vehicles and reduce harmful air pollution.
Do not use premium fuel in your water cooled 2-stroke boat motor unless it was designed to run on it. Higher octane fuels burn slower and cooler, that's why they're used in high compression engines. Slower and cooler burn rates in low compression 2-stroke engines results in a loss of performance, increased carbon build up, and more expensive exhaust. You gain nothing by using higher octane fuel and may very well add to problems. Spend the money you save by using proper octane fuel on a good fuel stabilizer, better grade oil mix, fresh plugs and an impeller at the recommended interval.
Ethanol Gasoline : From about mid 2000 year, we are seeing most of the fuel being an E10, or 10% alcohol. This formulation is NOT good news for the boating industry/owner. This fuel can effect the older outboard rubber fuel lines by softening them, allowing them to collapse internally. So you may need to replace your fuel lines with the newer alcohol resistant lines. An interesting feature of Ethanol in gas is its cleaning ability. It will over time remove all those old layers of varnish from previous gasoline which then gets deposited in the fuel filter, plugging it and anything that gets thru the filter ends up in the carburetor or injector making life miserable for the boat owner/mechanic.
Gasoline is made without additives and delivered in that form to the distributors. These distributors add the additive depending on who it is sold to. It appears that each state's laws may be different in relationship to Ethanol blended fuel. A few states allow premium gasoline to not be the E10, but most are blended. CLICK HERE for an explanation.
Outboard motor owners who have no choice of gasoline should not try to not use fuel that is over 3 months old, stabilizer will help for another couple of months, but it may be beneficial to drain out the old fuel in the spring of the year, use it for your old truck, lawn mower or something that can be pushed home instead of towed on the water. ARCO brand was the first since about 1999 usually has 10% alcohol in it and is actually called gasohol by some.  As of 2008 about all gasoline companies have added a blended gasoline at the pumps. This is bad news to those of you boaters who refuel at automotive stations may not use enough weekly to keep fresh gas in your tank. This alcohol additive may soften your fuel lines, fuel pump diaphragms, carburetor gaskets and not be compatible with some of the older motors.

Ethanol Detection - Water Extraction Method ; Alcohol can be detected in gasoline using the Water Extraction Method, in which alcohol blended with gasoline will react differently with water then unblended gasoline. A gasoline sample should be taken in a glass vessel, after which water should be slowly added to the container to a level of approximately two inches. Once the gasoline and water have settled and distinctly separated, the container should be marked at the phase separation point. Once the container is clearly marked, it should be agitated for one minute, after which the contents should again be allowed to settle.
An alcohol blended gasoline will show a larger lower phase at this point, due to a phase separation of the ethanol and gasoline. In effect, the lower phase is now water AND ethanol with the upper phase being unblended gasoline. Once the ethanol and gasoline are separated, they cannot be reblended via agitation; this phase separation is a one way process. If the sample taken is pre gasoline, the water will settle at the previously marked level, with no apparent increase in the lower phase of the container.

In the photo below, you can clearly see the milky color of the Ethanol absorbed water. The photo on the right shows what the Ethanol can do the the older style shellacked carburetor float, not to mention all the brown residue from the dissolved shellac left inside the bowl and the plugged jets.

Here is an example of Ethanol fuel that was drained out of a outboard fuel/water separator that had absorbed a goodly amount of water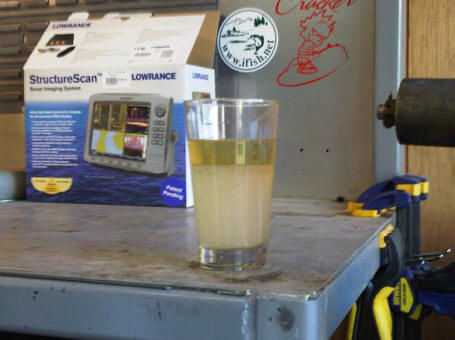 "Marine Grade Gas" sold at marinas, or agricultural gas stations are exempt from having to add this Ethanol to their fuel. Some farm store fuel stations advertise "no ethanol" and may suggest that it remains stable for a year without fuel stabilizers. For a link to fuel locations that sell non-ethanol fuel CLICK HERE. However for the boater, it may be better safe than sorry and add a stabilizer anyway.
There are two things that will deteriorate gasoline rapidly. They are (1) exposure to Oxygen, (2) heat. So if you have to store a amount of gasoline for any length of time, if you can combat these 2 items, your gasoline will last longer even without having to be stabilized. This is fact, but I am not recommending that you go out and purchase 350 gallons of gasoline, store it properly if intend to keep it for future usage if you only use 10 gallons a month even if you add stabilizer.
I have had six 5 gallon cans of gasoline stored in my barn for a year because my boat motor sucked a piston at the start of the fishing season and I did not get it back for 8 1/2 weeks which lost my whole fishing season. I did add the stabilizer additive when I realized I would not be able to use it when I had thought. The next year's fishing season when I used it I could not tell any difference in the boat's performance.
The word is, the longer it sits the worse it gets. However those folks who use their boats more often or are able to store it indoors seem to have far fewer problems than those who don't. Fishing guides don't have issues because their gas never sits for any time, those fishermen who put away a boat outdoors in Sept and don't touch it until April have issues others don't see.
Click HERE for a link to BoatUS Marine Insurance editor's take on ethanol fuel for boaters.