| | | |
| --- | --- | --- |
| | Care & Feeding of an Upcoming Hunter | |


Here we will describe the nurturing of an upcoming hunter, starting with this boy being 9 years old. In the state of Washington all new hunters have to take a hunter education course before they can purchase a hunting license.
I was a Washington state hunter education instructor at the time (for over 25 years) and the grandson Brad wanted to take the course so he could go hunting that year. I had discussed it with the daughter and her husband before the class and made it clear that Grandpa was not going to provide any favors here. They also understood that it was recommended that any young person under 10 years of age was handicapping themselves by the fact that this test was not written for full comprehension for anyone under that age bracket. We instructors tried to discourage participation below this age because of this situation. We also tried to forewarn the parents and student that if they did fail, that it was a learning step and that they could take it again the following year.
Nope, Brad had his mind made up that he was going to take the course when it came up in the fall. I did give him a copy of the previous years course handout manual, and with the help from his step-dad, he studied it during the summer. I had impressed on him that SAFETY in handling of the firearm was NUMBER ONE here whether he passed the course or not.
He had been around guns ever since he was a little boy as his mom was a single parent so Grandma and Grandpa saw a lot of this young boy prior to her later marriage. He probably had a better understanding of guns than many normal boys, as grandpa was a full time gunsmith and Brad had a lot of exposure as illustrated below.
A mechanically inclined inquisitive young boy at work "helping" Grandpa clean a revolver on the kitchen table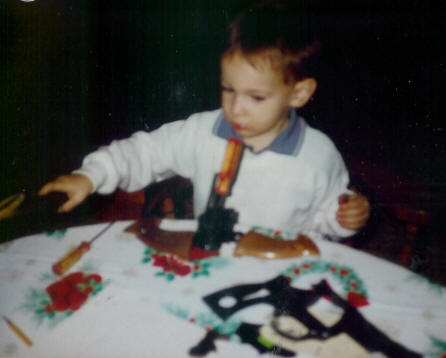 He was the oldest grandson, so my son Jim, (his uncle) had decided to make up hunting rifles for all his nieces and nephews. Jim started on this rifle when Brad decided he would take the hunter education course. This rifle was made on a Swedish model 94 Mauser type action and was barreled in a 308 Winchester caliber in a light weight sporter style. Since Brad was small, (at that time) a temporary stock was made of Alder wood which was quite short in order to fit him properly. An economical 4 power scope was installed on the gun.
We did not want this young boy to become afflicted with a flinching problem, so Jim loaded the 308 with ammo using 130gr lead bullets with 7.5 gr. of Unique powder to a loading equivalent of a 30 M1 carbine. Brad fired this gun and load a lot during the summer, was very good and safety conscience at handling it, his accuracy was quite acceptable. He was told to not shoot at any animal beyond about 75 yards as this bullet would drop considerably, loosing energy beyond that distance.
The scheduled firearm course (Saturdays of 2 consecutive weekends) came and I gave him no favors. I usually had about 35 to 40 youths attend this course ranging in age from 10 to 18, with a few even near the mid 30s. Some mothers even took the course. One third of the course was live firing with 22 RF rifles and 410 shotguns. The other third was a field handling situation. The students had to handle their firearms in a safe manner as observed by the instructors as part of the test. The written part of the test, being multiple choice, was written to a higher age level. For the younger students like Brad, one of my helpers read the tests to the students, and converted some wording into language that they could more easily understand. Another helper graded his test paper. Believe it or not, Brad came out very good in the paper score and better than some 15 year olds. He made grandpa rather proud that day.
Hunting license with a deer tag was purchased and the makings of a deer hunter was forming up. Where they were living at the time, was in a old farmhouse near the river that had a alfalfa field near by. Between the river and this hay field, was probably 5 acres of tall river bottom (Canary) grass and a few thistles. The deer would go from the brushy river bottom thru this grass to the river for water and then feed in the field from just before dark until ? The son-in-law had picked out a vantage spot far enough from the trails to not spook the animals (but close enough for this rifle). Nothing came out before dark the first evening.
But the next morning before school, Brad shot a large spike Blacktail buck. It only went about 75 yards and dropped. A excellently placed lung shot (as seen in the photo below) did the job quite well even for this weakly powered rifle. And a deer hunter was born.
Brad's first deer October 1994
The following year, 1995, he shot small 2 point buck in the same area and with the same loading.
Brad's second deer October 1995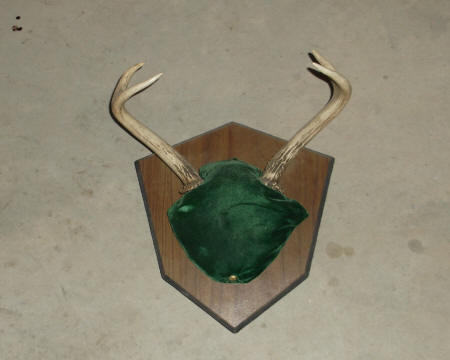 The year following that, the M1 carbine load was replaced by a light 30-30 loading with a 150 grain Speer 30-30 spitzer bullet, giving him a bit studier hunting round but at the same time, not kicking him a lot. That year he again got another spike Blacktail.
And the following year another spike succumbed to this mighty hunter while he was hunting with his biological father.
The next year the loading went up to a moderate 308 load with 165 gr. Speer Hot Core bullets using H335 powder for a reasonable velocity but yet minimal recoil, that accounted for another forked horn buck. The stock was lengthened as needed to match the growing boy. By the time he was 18, uncle Jim made him a permanent stock out of tiger-striped myrtle wood to fit him.
Brad worked as a machine operator in a CNC machine shop run by his grandfather (me) during his junior high and high school years. At his young age, we needed a work permit, on this application to the Dept of Labor & Industries, we listed his duties as cleanup person, doing some maintenance painting and operating computer related equipment. The application was approved, and we always guessed that the state may have considered "operating computer related equipment" as being doing computer inventory or something along that line, while in reality he was operating a CNC milling machine. He graduated in from high school 2003 and continued working in the shop for a couple of more years.
Here Brad is running a CNC metal lathe, making screws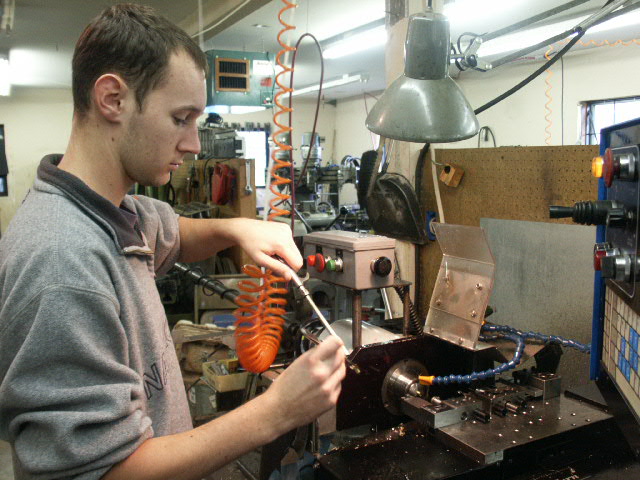 In 2004 his family moved to Montana. He followed them to Montana in the spring of 2005 getting a job as a CNC machine operator in the Bozeman area.
With this move, the hunting changed considerably as in Montana, deer and elk season overlapped in many areas, and depending on the location when deer hunting, elk were also encountered at times and in many areas taking of a cow elk was possible. And there, more open country was the norm in many locations. Yes, some Whitetail deer could be taken at 40 yards, and some mule deer can be taken at closer ranges also, but most shots would be in the 200 to 400 yard range, simply because you could not get closer in that more open country.
2005 he shot a 4X4 mule deer in the National Forest south of Bozeman while driving all alone into the intended hunting area. This area was somewhat timbered, with a few small meadows in the thinned timber. That day snow was on the ground, this deer probably had romance on his mind, at maybe 75 yards standing next to a tree, and partly hidden below the road, staring at Brad's pickup truck as he drove by. Brad stopped and got out of his truck and loaded the 308, with the deer still standing there, dropped his first Montana deer with one shot, breaking it's back. He took another shot in the head as a kill shot when he got up to the deer. He managed to drag the deer uphill to the road and then tied a tow strap onto the deer to finish dragging it up the steep bank and onto the road so he could load it himself (with a lot of grunting) into his Dodge pickup.
This buck is now mounted and hanging on his wall.
| | |
| --- | --- |
| Brad 2005 with a 5X5 Mule deer | Not a bad animal for a first Montana deer |
| | |
In 2006 he shot a decent 2X2 Mule deer in the same area. Once again the deer stood there below the road while Brad got out and loaded his rifle. Fired first shot at about 60 yards, deer ran another 40 yards and at the second shot it went another 20 yards before going down. Now since this all happened on a somewhat steep hillside BELOW the road, he and his step-dad drug the deer a mile and half downhill to a road. Then just another 2 mile hike back up the road to the vehicle.
Brad 2006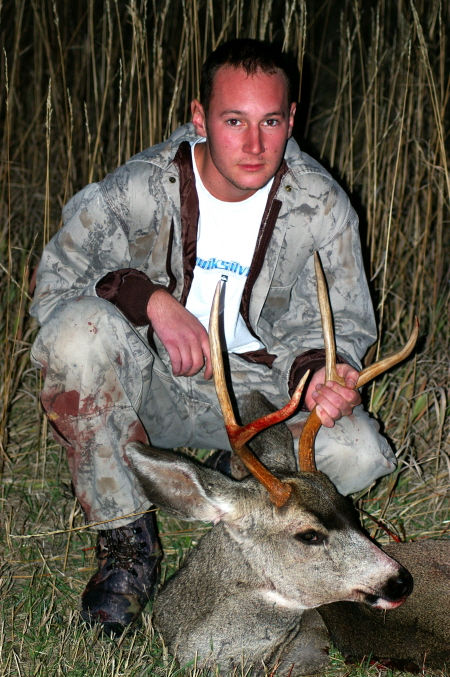 He got married in 2007 and his wife Sara goes along with him on weekends. With the potential longer distances encountered there, he purchased a optical rangefinder.
This year he shot a 3X3 Mule deer near Wilsall. This one he made a stalk from 700 yards to 276, one shot kill with the 308 while it was still bedded. It stood up for 2 seconds then fell back down. This one with the permission of the landowner, he was able to drive to it and load the deer into the vehicle.
His 2007 Mule deer
In 2008 he shot a 5X4 Mule deer on the north-east side of Flathead pass of the Bridger Mountain range. He and his step-dad were setting on a vantage point watching some does and spotted a couple of bucks. They stalked them, he took a shot, missing, the buck ran up the ridge. Brad chased after it, saw it again at probably 400 yards from the first shot, huffing and puffing, he made the offhand shot at about 80 yards for a lung/gut shot and it ran maybe 40 yards and dropped out of sight in a parch of brush, he then heard the deer's horns crashing on branches as it stumbled and went down.
| | |
| --- | --- |
| Brad 2008 (that smile says it all) | B&C final score is 160 7/8 |
| | |
In 2009 he got a 3X4 deer, but would have been a 4x4 if one tine wasn't broken off. This buck was walking at a fast pace thru some scattered timber. He wanted his wife Sara to shoot, but she was not confident with the deer moving and at that distance, so he knelt on a knee, from about 150 yards, dropped it with a lung shot, again with the 308.
This year also saw his wife Sara shoot a small forked horn mule deer, using his 308. This all happened at the location of the photo below. Brad, his step-dad and Sara were dragging his 3X4 buck out during a snow storm. They stopped on the old road when I met them at the location of the photo below. We were talking, and someone saw this small small Mule Deer buck sneaking along the lower part of the hill to the far right, but out of the photo. His step-dad was not interested in this small deer, but Sara said she would like to shoot her first deer. OK, she took Brad's 308, kneeled down, I stood my rifle butt down in the snow, held onto the upper barrel with her resting the 308 barrel over my fist. She hit this buck with one shot, at about 120 yards. The bullet broke the lower front shoulders and heart/lung shot, the deer stumbled for about 20' and went down.
I had just taken a photo of Brad's deer in this location, and between the time Sara shot her deer and we drug it over where I took this photo of both below, the time difference on camera of the two photos was 12 minutes. Her deer was probably bedded down there then when we spent the little time for the hunters resting and me taking a couple of photos, the deer got ancy decided to leave the area.
The next year, I made her a lightweight 243 Win. on a Mauser 95 action, with the stock patterned off a pre-64 Winchester model 70.
Brad & Sara 2009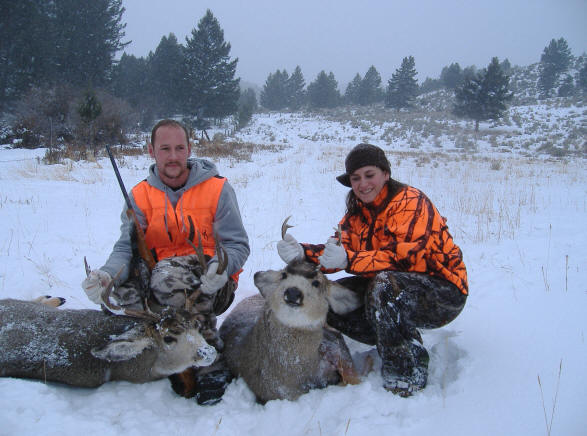 In Montana, certain areas are open for branched antler bulls or antlerless at the same time and they can purchase a separate cow tag in addition to the bull/combo tag.
He shot his first cow elk early in the season with a double lung shot at about 80 yards and it didn't go anywhere, in the small side canyon off the main valley, north of Wilsall. Since he had a second elk tag, an antlerless elk B tag, he filled that tag with a calf, south of Wilsall on the last day of hunting season at around 200 yards or so.
The family photo below pretty well says it all. Grandpa's deer was a Whitetail, the others Mule deer and Brad's calf elk.
Grandpa LeeRoy, Grandsons Kris & Brad, Son-in-law Roy & Sara, late November 2009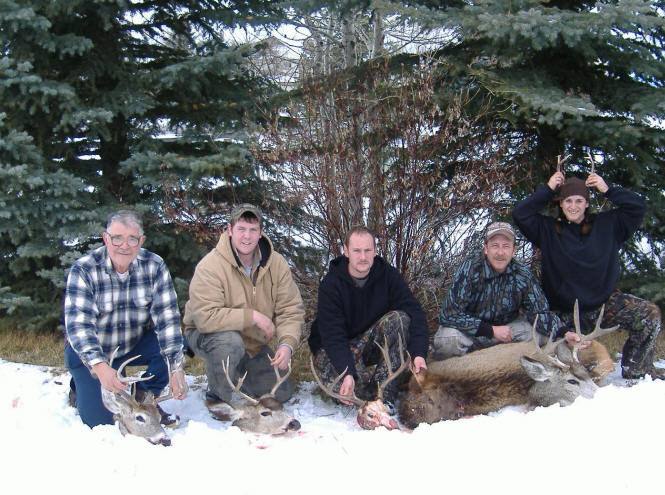 2010 saw Brad somewhat outgrowing the 308, even though it had served him well. But in Montana, some long shots present themselves at times pushing the capabilities of the 308. We discussed his needs in that area and decided that I would make him up a 300 Weatherby magnum. This would be enough gun that if need be, he could make a 500/700 yard shot at deer or elk with a great probability of success if he did his part right.
This rifle was made on a strong military Mauser model 98 action with a 26" Shilen barrel, muzzle break, plus a Kick Eze Trap style recoil pad. A Timney adjustable trigger, new trigger guard/drop box 5 round magazine unit and 3 position model 70 style safety, both built by his uncle Jim, with a 3X9 Bushnell scope rounded out the gun. The stock was a piece of California Claro walnut that we had taken the trees down from a walnut orchard in Red Bluff CA. a number of years before.
Brad had some concern that this rifle would have a lot of recoil in that he was just recovering from a broken collar bone that still has a metal plate in place that was used to hold it in place while it healed. This rifle weighed in with scope at 9 ½# with which he at the range off sandbags, could hold a easy 1 1/4" group at 100 yards. The load was cronographed and the 180 gr. bullet was going 2986 FPS at the muzzle, living up to very close to our expectations of 3000 FPS.
Later during his sight-in and after installing a better Nikon 8 X 16 scope, then using factory ammo, he has fired numerous 2 shot 1/2" groups at 200 yards off a sandbag rest. The design of the rifle, recoil was actually softer than the lighter 308 he had shot for years, but heavier to carry, and he has since added a bipod.
| | |
| --- | --- |
| Here is Grandpa checkering the stock | Here is the finished 300 WBY |
| | |
In 2010 grandpa did not get drawn for a non-resident Montana tags, but went over and did purchase a non-resident Whitetail doe tag then hunted with the the crew for about a week, coming home with some meat.
A week after I left, Brad got a big 2X3 Mule deer in the area we were hunting, that he had seen and had been after it while I was there. The day he got it, Brad saw this deer from about 500 yards, tried getting closer but in sagebrush / juniper hillside when the deer stated getting ancy, he settled down in prone position with the rifle mounted bipod and took a shot at 422 yards. Using the 300 Weatherby, the shot took him low through the neck cutting the main arteries. He ran downhill about 60 yards stumbling and fumbling all the way until it finally expired. Here is an instance where the new rifle proved itself as he would probably have passed on this shot or the deer would have disappeared if he tried to get any closer if he was limited to the trajectory of the 308.
Brad & his 2X3 Mule deer, 2010
A week after the 2X3 deer, in a different area north of Wilsall, Brad took a massive 7X8 bull elk, THE PHOTO BELOW SAYS IT ALL. Here he and Sara were setting back to back on the brow of a finger ridge looking the area over. Sara almost broke Brad's ribs when she jabbed him, pointing to 4 bull elk coming out of a draw below them. This small herd had been spooked by other hunters from a wooded canyon about a half a mile away. There was this bull, a 6X6 and 2 smaller non-legal spike bulls in this bunch.
Brad shot it offhand at about 80 yards while it was running broadside. He kept shooting as long as the bull was moving, hitting it once as a lung shot, and 3 times as a gut shot, again with the 300 Weatherby. He did not want to let this one get a way, so just kept shooting. He found out later that when the rifle had been dropped it was then shooting about 12" off horizontally.
And a happy young man with a elk of a lifetime, 2010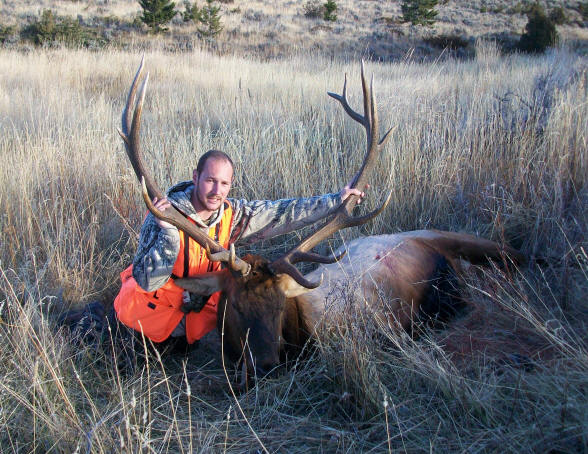 Hunting in these block management areas of Montana, you can not drive beyond the designated parking area, but after the animal is down the ranchers CAN allow permission for a vehicle to be driven in for recovery. This bull was actually in an area that with the help of his step-dad, his wife and brother, that they loaded it whole in the pickup bed, being home about noon.
He and his mother skinned it on the garage floor and quartered it while his step-dad and brother went right back to that same area that afternoon, located and shot the 6X6 bull.
The final Boone and Crocket score for this elk was 343.
Heading for home
Now this may well spoil him, as some of us dream for a whole lifetime of a chance to take an magnificent animal like this elk. And the deer that he has taken are not that shabby either. And he is a young man in his mid/late 20s. What will the future hold ???
2011 he shot a 3X4 Whitetail buck, that had 2 of the tines broken off, again in the Wilsall area. This deer was not into a wall hanger class so he did not even have a photo taken. He did not even save the skull, but only cut off and saved the horns.
Horns off Brad's 2011 3X4 Whitetail deer
2012 opening day saw him and Sara laying in a brushy patch for 4 hours waiting for a 5 X 5 mule deer to get up from a bed in a private property sagebrush hillside and move into a huntable block management land stubble field, hopefully just before dark in the Wilsall area north of Livingston, while a couple of does and a forked horn mule deer fed within 40 yards of them. Then two hunters moved in and shot one of the does right in front of them, of course spooking the big buck. He and grandpa went back four days later, but the buck was not to be seen, only eight mule deer does, which got nervous and moved away even though they were probably near 700 yards away.
A week later Sara and grandpa were with him in the same location and there were 3 or 4 does standing in a swampy area with at least 2 more deer bedded down, but probably 1000 yards away. They got nervous when we neared the top a a open shallow ridge hay field. We initially figured they were the same eight that we had seen there a few days before. But when they finally all got up and slowly moved farther away there were 12 total, with one being this 5 X 5, plus a small forked horn buck. They slowly moved farther way and onto a different parcel of private property.
A decision was made to have Sara and grandpa go back to the pickup and drive around on the other side of the section of farmland, slamming the doors and honking the horn trying to move them back onto the legal open hunting property that we had been on and where Brad was still on. When they got there, the deer had already moved back into a open stubble field and open hunting property. By then however, Brad was still a long way away, so he moved closer into a fence row. He could not get his rangefinder to give him a reading on them, but did get one at a closer range, so guestimated the deer's range at 625 yards, (later found his rangefinder batteries were getting run down and gave false readings) and the distance was closer to 800. He figured the 625 was doable with his 300 Weatherby and the 8 X 16 Nikon scope. However after firing a couple of rounds and not hitting the buck, he concluded that it was farther than he had guessed and he was undershooting.
The distance was so far that the deer could not locate the shooter and actually came a bit closer to him. Brad backed down into a low swale out of sight, and ran to a closer position. This time he got a rangefinder reading of 480 yards. At this distance a little breeze can blow a bullet off the intended impact point. He did hit this buck, but high and a slightly farther back with a liver shot. The buck was sick but tried to follow the rest of the herd which was now moving out, and now again going toward the private non-huntable property. His final shot broke the buck's back, putting it down. This deer's antlers measure about 22" X 20".
The next weekend he shot a Whitetail doe. And the following weekend Sara shot another Whitetail doe, both in the Wilsall area, which then filled the freezer with winter meat.
Here is a decent typical Montana 5 X 5 Mule deer taken in 2012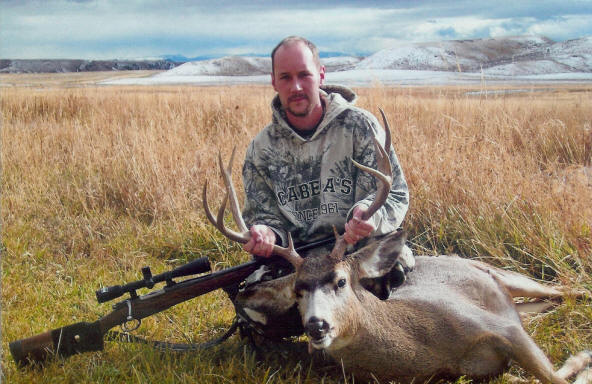 As a sidelight of this hunt, while we were initially watching these deer when they were starting to get up from being bedded, a large dark coyote was heading toward them into this swampy, tall grassy area. It went out of sight of us and about 150 years from the deer. It went into the cover of this grass and we never saw it come out. When Sara and grandpa were on the other road on the back side of this section of land, when Brad started shooting, the coyote came into our view trotting away in the direction the deer were also moving. Every time Brad fired a shot, the coyote found another higher gear, apparently thinking it was the target of the shots being fired.
2013 saw grandpa having low back pain problems all summer, enough that he did not make it to Montana for the early hunt as planned with his nephew, the nephews son and grandson Brad. Hunting was hard as there had been early snow and the deer moved down early. Brad helped them bag a couple of small mule deer however, a 2X2 and small 4X4.
Grandpa did make it there for the last 2 weeks of the season and with a lot of early snow, the animals were driven down into the lower foothills, changing the game plan a little. But with a lot of hunting, both Brad and Grandpa did manage to bring in a couple of Whitetail bucks. Nothing to really brag about, but not bad either.
Hunting Whitetail deer here is mainly in the ranchers Block Management grain stubble fields early in the morning or late in the evening, just before shooting hours ends. These deer come out to feed on the newly sprouted grain that did not get separated in the grain combine. This grain lays on the ground and with a bit of early rain, will sprout and be about 2" tall by the time the snow and freezing weather comes.
Both of these bucks were taken in stubble fields, one just before dark south of Bozeman and the other at 2:30PM in the Wilsall area. The one in the afternoon was following a doe, and when initially seen, was ranged at 450 yards, but went out of sight into a draw, so a stalk was made with the shot taken at 75 yards. Grandpa had seen this buck and the doe in the same field a few days before, but could not shoot as the buck was in line with the ranch house and the doe was too close to the highway.
Here are the
horns of Brad's & Grandpa's Whitetail bucks in 2013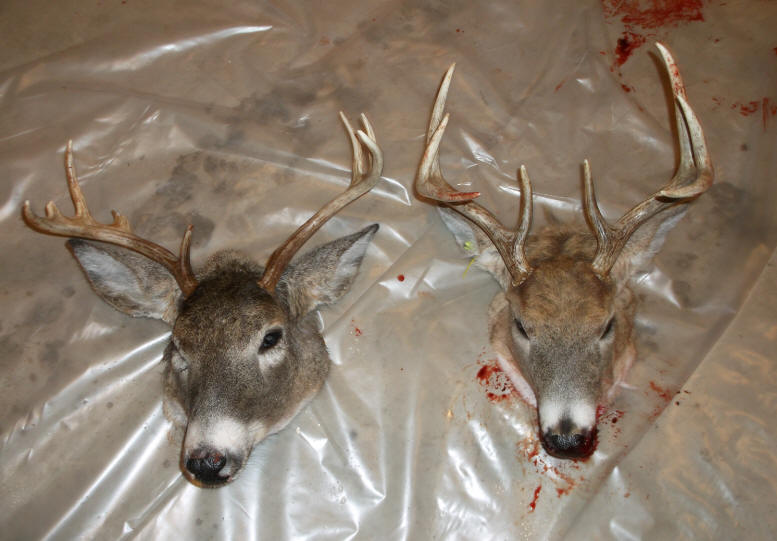 This latest conquest took place in March 2014 when the weather in Montana slightly warmed up for a few days, a ferocious hungry field mouse somehow gained entry into Brad's fenced back yard while he and his wife were enjoying a break in the weather on their deck. Not having time to unlock is gun vault, and armed only with a kitchen steak knife he gallantly defended his wife and himself from an eminent attach by this furry monster. Since he was not sure whether the state had not passed a proposed week long small varmint hunting class, or knowing whether the spear season was open, and with danger fast approaching he did not have time to go through the current game regulations pamphlet, he simply grabbed what weapon that was handy and dispatched the foe, with hopes of proving to a Montana FWP officer that he was protecting himself.
He being so uncertain, that only the photo below was taken of this memorial event before the carcass was destroyed.
Here the ferocious Montana field mouse showing a mortal base of the skull knife wound
2014 saw grandpa again going to Montana and hunt with Brad. Brad likes to explore a new area each year, sometimes the experience proves fruitful, other times not so. This year it was a trip north to Twodot Montana, where there was again a few Block Management Areas. Here the countryside was not as conducive to deer hunting as he had hoped. However it looked like more of a elk area. The road led north through the BMA and into the National Forest.
Our expectations of decent roads in this National Forest was quickly diminished. The roads were not even close to what I as a Washingtonian would call "Logging Roads", but more like "Jeep Roads" in most cases. The only way you knew you were on the right road was that at an intersection, you MAY see a road sign. We covered a lot of country and came out on a different road a number of miles from where we went in. The plan was to camp there for at least one night because of the long drive from his home. This went well as grandpa had made a tarped cover over his pickup bed pipe rack (see this article) . Only one yearling doe was sighted that probably had never seen a person before as she stood near the road staring at the vehicle.
So the next day, back to the regular hunting area in the Willsal area. Here the harvested grain stubble fields were re-growing about 2" of new grain after a slight fall rain. The plan here, since many hunters used this area was to get there early, (like 3PM) and walk out into an area, spreading apart within a couple of hundred yards of where it was known that deer enter, then lay in the stubble waiting for the deer to come in just before shooting hours ended. Here Whitetail and Mule deer usually segregated themselves with one specie usually in one field, while the other in another part of it.
Grandpa missed a Whitetail doe shot at 250 yards prone from a bipod rest. The only conclusion was that the bipod was too short and maybe the bullet hit some stubble close to the barrel. But while waiting before the whitetails came in, we noticed some Mule deer a mile away in the far corner of the field. One of which seemed to be a decent buck. The next night, we were THERE and bedded down in that section of the stubble. About 1/2 hour before shooting hours ended, 4 Mule deer entered the field, one being this buck. The buck was obscured from grandpa in a slight depression, so Brad was obliged in shooting a decent 3 X 4 with about 2" eye-guards at a distance of 173 yards. The shot was low on the right shoulder, obliterating the shoulder/leg socket, clipping the bottom of a lung and part of the heart. The deer went down and never moved.
Next after gutting the deer, it was a mile back across that field to the pickup parked in the parking area. We drug it a few hundred yards, but it was obvious we would have problems if this was going to be the method of getting it out. There the hunters are not supposed to drive beyond the posted parking signs. This BMA we were hunting on was also owned by a ranch that we had hunted on before and had gotten permission to drive out to retrieve a couple of deer before. Here we were not sure where anyone in authority lived. so it was hard to get permission, maybe the permission from one ranch also went for this one. As it was getting dark by now, Brad walked back to the pickup and drove it on the road between the fields and into this far field where we loaded it up. On the way back we were met with a 1 ton farm truck with a welder on the bed, which was the owners of this ranch, (cousins of the other ranch we found out later). After explaining our situation, these young men understood our predicament and said have a good day.
In the photo below, you can see the 1 mile far end of the field behind Brad's right shoulder.
The weather turned into snow and COLD (23 degrees) the next day. Then the following day it was even colder dropping to 8 degrees. Compact snow and ice on the roads and grandpa decided maybe he had better head west and home before the roads became impassable. The following day the temperature was a MINUS 16 degrees.
Here the 2014, 3 X 4 Mule Deer.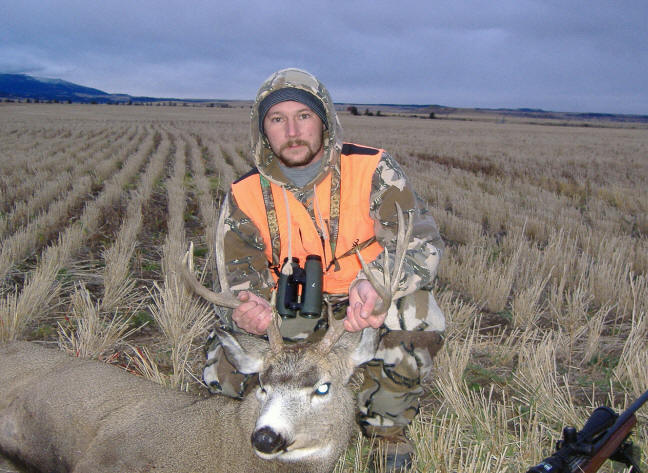 Copyright © 2011 - 2015 LeeRoy Wisner All Rights Reserved
Originated 01-01-2011, Last updated 12-23-2014
Contact the author