Building a Universal Trailer From an
Old Pickup Bed
OK, so you have a pickup camper or travel trailer that you are considering as a base camp for a deer/elk hunting trip you are planning. Either of these will/do work well. But there may become a time where the desired location is so that it may be damaging to get your investment there. Or you may not be sure just where you will be hunting/fishing yet and this sleeping quarters may need to be somewhat of a nomad for a while. And you are resisting tent camping. Here is where this idea may be useful.
Initially I needed a trailer to haul my newly acquired used Suzuki 300 4X4 quad. Do I just buy what is available or do I look around for a used one? At the time I was driving a 1990 Toyota extended cab 4X4 pickup that had a fiberglass canopy that I kept on permanently, so not much chance of using it as a quad hauler. I wanted something that would be universal that could be used additionally to haul firewood or beauty bark for the wife's landscaping. I did not need a large trailer as I already had one that at times I loaded my 8' camper onto and use it basically as a camper trailer if I am going to leave it in one place for a couple of months during fishing season. So a smaller trailer was appealing.
Of course if you already have any existing trailer, it could also be the basis for your unit. Just add some of my ideas to your existing trailer.
Found One : After looking for about 6 months at new and used, but nothing came up I really fell in love with, OR the new ones I found were so flimsily built or had small 12" tires, that I decided to find a wrecked old smaller pickup or the bed off one as the basis for my venture. Finally found one on Craig's List already built at a reasonable price ($200) and within 80 miles of my home. This trailer had been built on a old Mazda pickup bed, frame and axle.
The drive to get it was a reasonable distance and the photo on the add of this trailer had some promise of being able to be remade to do what I wanted. However, when I got there, it appeared this unit had not been used for a number of years and was backed in along side a board fence, so I could not really inspect the tire on that side. I pulled it out in the street and what I could see most of those tires, they were not new by any means, had some checking, but appeared that I could possibly get home since no load would be on it if I took it easy. What I did not see after moving the trailer out was apparently it had sat so long with exposure to the sun that the sidewall was checked quite badly on one location. In moving it, this checked casing had rotated and was up under the wheel-well and out of sight.
Well, you guessed it, I did not make it home on that tire, and this trailer had no spare. However as luck would have it, my Toyota spare wheel fit this Mazda axle. The downside was that the day was HOT, 100 degrees, no shade and I pretty well ruined the rim getting to a place where I could pull off the road.
I then found a set of used car tires and wheels at a wrecking yard at a price of $10 each. Then let's see how the quad fits. Loading ramps was needed to be able to load the quad, so some 2' X 10' planks would work until something better could be made. OH Damn, the fender wheel well covers protruded inward into the bed so far that the quad would have had to have been ridden up and OVER them with the front tires to be able to get it in. Not a good thing, especially during unloading while the rear part of the quad would be on the ramps. I was sure I had measured my Toyota's wheel wells and they would have worked, but maybe not all import pickups are the same. Another mistake on my part, -- DO NOT ASSUME ANYTHING.
Modifications Required : Upon inspection, I concluded that if I cut these wheel wells out and flattened them so they could be reinstalled and bolted to the inside of the bed so it would be completely flat, this would give me what I needed. In doing this, the mid bed side supports had to be replaced and extended to the new lower bottom as seen in the photo below. Plus an angle iron placed inside this outer edge for bed support there. In the photo below, you can see the original position of the existing fender wheel well as evidenced by the gray primer paint and the floor patch.
Here is the modified trailer bed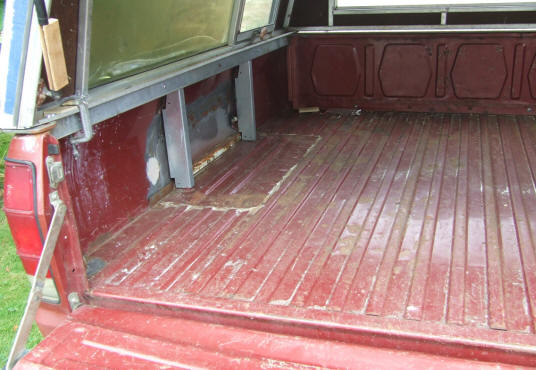 The rubber axle stop on the underside of the frame was lowered so the tires would not rub on this now lowered metal bed floor. This metal work was accomplished and trial runs towing the quad in it after any modifications were done. Not really as good as I had hoped, in that the leaf springs appeared to not be sturdy enough to keep the bed from wobbling sideways considerably with a load on. In addition the car tires were only 2 ply and if I was to be able to haul anything heavier than the quad, this may be a problem. Then trying to find any tires of that size of a heavier ply appeared about impossible.
At this time, trying to decide what to do, my neighbor was putting on a yard sale and had a used Shorelander boat trailer axle for sale. He had just replaced the wheel bearings on it but found that this axle had a spindle size that the MARINE rear axle seal was not made any more in Taiwan and no corresponding marine seal was made in the US. He did not want to use a automotive single lip seal and the shop he went to convinced him that they could build/sell him a new axle at a decent price, and use standard bearings and seals. His used axle did not sell at his garage sale, so he gave it to me to get rid of it. And it came with marine Bearing Buddy grease protectors, a plus for me here. This axle worked better anyway in that I could get rid of the old pickup axle/rear end and loose some of extra weight in the process.
Also at this time another boating friend was having trouble with the tires on his dual axle boat trailer. They seemed to be wearing more on one side than the other. From all indications, his torsion type axle spindles looked to be out of alignment. He took it to the manufacturer 100 miles away to see if it was bad spindles or axles. They assured him the axle spindles were in alignment and that they at the factory never installed any tires other than radials. Two years later one of these new tires is also wearing like the older ones. He is sure that one of the torsion axle spindles has shifted, and will need a new axle at some later date, as the factory says they can not repair it ?????
But two of his tires were worn so bad that he was afraid he would not be able to get home on them. They offered him a deal on new radial tires and wheels. He called me and gave me a price. When he got home, I bought three, two with about 1/2 tread and a third that was worn more on one side to be used as a spare. These were ST205-75D-14R 4 ply trailer tires, which I figured would do anything I wanted for this little trailer for what I would be using it for.
Now with this new axle it was considerably wider than this trailer and original tires, I set about to calculate how wide and how much the spindles needed to be lowered to give enough allowance for any weight to settle the springs, yet keep the tires from rubbing the metal bed. I got the axle width OK the first time, but had to cut the spindles off and re-weld them before the tire clearance was where I wanted it with the weight of the quad on. At this time I also purchased another set of leaf springs from another wrecked pickup the same size, blending 3 of those leafs in with the other 4 of the stack which gave me heavy duty springs, decreasing the bed sway with a partial, not bottomed out load on. I also welded a short section of 4" channel onto the under side of the frame centered over the axle which acted as a stop when the bed came down and the stops came in contact with the rubber stoppers that are on bolted on top of the axle. This now gives me 1" clearance between the tires and the underside of the now flattened underside of the bed when the load bottoms out onto the rubber stoppers.
Needing to tie the quad in when traveling, I used 1/4" X 2"X 2" galvanized angle iron from my scrap pile to build a framework around and on top of the sides and front of the bed. This then had 5/8" holes drilled on all four corners to allow access for ratchet strap tie downs.
I had to replace the actual tongue that came with it with square tubing that I welded into the previously bent inward vehicle frame metal to accept a larger 2" coupler. Also at this time the front of the old vehicle frame that the actual tongue is welded as needed to be reinforced a bit, cleaning up the previous backyard welding job. Also while working on the tongue, the tongue weight was minimal, which is not good, so (2) 5" well casings were cut to fit between the frame just in front of the bed, filled with concrete then welded in place.
This unit needed a tongue jack, but I was not happy with how the factory ones would have to be mounted, which are usually in the way. I designed a folding stand out of 1 1/2" X 4" rectagonal steel tubing that was also in my scrap pile. This "stiff-leg" uses a spring loaded stainless steel plunger to hold it in the rearward UP position when traveling and also when down as shown in the photo below.
All new wiring was pulled in and fastened to the frame while still utilizing the original tail lights.
In the photo below you will notice that this bed is old enough to have Tee type tie downs mounted on the sides of the bed and the tailgate. These work great for tying a 6' X 8' tarp over beauty bark. This trailer now can easily haul 1 1/2 cubic yards of beauty bark heaped above the bed.
There were a few dings and dents, but this is not going to be a showcase unit, so just sand off any rust and leave it in a red primer paint.
Here is the finished trailer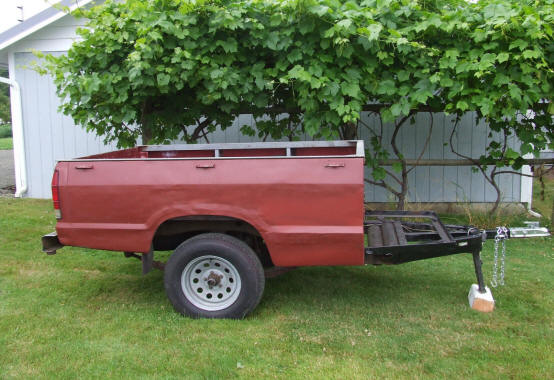 Tool Box : On top of this tongue metal I welded a 2" angle iron frame that later would hold a wooden tool box. It then took 4 years before I got the tool box made. 3/4" plywood bottom was used and 1/2" for the sides, back and front. The lid was also made of 1/2" and two padlock hasps holding the lid to the front of the box. In my mind, in building this box, making a smaller one would be about the same cost and time as building a larger size, if the space is there to accommodate the larger, why not go for the larger. This box is large enough to hold a 110 quart cooler, but will probably be used with a 58 quart cooler, 5 gallons of water plus a propane camp stove along with a sleeping bag and air mattress.

The lid was covered with a 1/16" aluminum diamond plate as a lid protection and 1 1/2" diamond plate angle corners were screwed on, as I did not like just 1/2" plywood butting on edge glued and nailed when being used under any possible bouncy environment. This diamond plate was not what I originally had in mind, but my sheet metal fabricator ran out of enough thin galvanized sheet metal, so he surprised me. I must say, it makes this little trailer rather unique. The hinges and hasps are bolted thru the aluminum top with nuts on the inside, no wood screws here, except on the corner bracing. This box is bolted to the steel angle iron frame that is welded to the trailer frame. Inside the box is primed and painted white, and a boat drain plug sleeve was installed in a front corner.
The two hasps can be secured by identically keyed Master padlocks that are already used on other things around the place.
Here is shown the tool box and the folding tongue support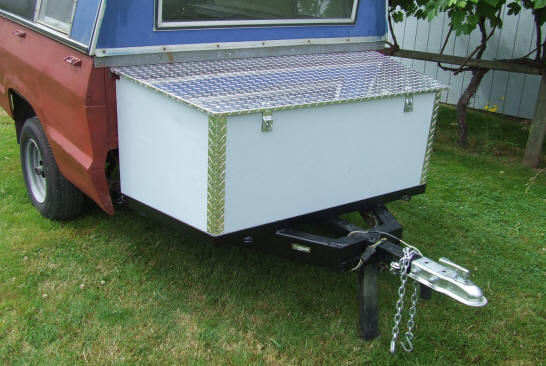 Canopy : To round out this trailer's usefulness, a used aluminum pickup canopy top was located. Again this was at a neighbors garage sale, belonging to his step-son. It did not sell and the reason it did not, that I found out later, was that it was made to fit a smaller import Toyota pickup, BUT with a LONG bed. Not many of those are around anymore. I got it for $35.
This canopy sat behind my barn for a couple of years until I got around to cut 12" off the rear and shorten to fit this shorter bed trailer. This is one project I might consider to put on my "do not do again list", not that it was that impossible, but that my Heliarc welding of THIN 1" square aluminum tubing is not that good. It is now welded securely, but not real pretty. If the canopy could have been laying on a table and being able to weld flatways at a table height instead of in an awkward position or in a overhead corner it might have come out better.
This canopy is insulated by what appears to be a light indoor-outdoor carpet that is glued to the inside of the aluminum skin.
This canopy has windows front and rear, with small side windows forward that are screened and can be cranked open for ventilation, and long opaque plastic side windows. It is just secured by being clamped onto the pickup beds angle iron topping by using (4) 3" C clamps. One good part it is so light that I can load this canopy alone by getting under it, balancing it on my back and walk off with it.
The rear hinged window struts were so old and worn that they had no tension at all, with what little I would be using this unit, instead of buying both new struts, a block of wood on one strut between the base and the strut body works just fine to hold it up.
Since this canopy was used and acquired from a garage sale, no rear door/window key was available. The handle had a key code stamped in it, so a trip to the local locksmith and a couple of new keys were made for $18.50.
Now this trailer, tool box AND the canopy provide the basis for a small camper when the time comes where it could be utilized.
A indoor carpet remnant was cut to fit the floor that will cut out any chill of the metal bed if sleeping in colder weather and an inflatable air mattress rounds out the sleeping quarters.
If this unit is to be used as a stationary unit, and not attached to the towing vehicle, there will be needed some form of support under the 4 corners as the tongue weight is not that great. If you sit on the tailgate while the trailer is not attached to the pickup, the trailer will tip up. The aluminum pyramid type jack stands normally sold for RV usage work well here. They are expensive if bought new, like $39.95 a set, so check garage sales, (where I got 3 for $1.00 each) and I already had the other. This trailer is high enough that 6" X 6" blocking and some 2" X 6" are also needed under some of the jack stands. To help keep the jacks from slipping off the underside of the rear bumper, a 1" section of 2" water pipe was welded to the outer underside of the rear bumper as a pocket for the jack screw pad. There already was similar retaining areas under the front of the trailer frame which were used for a vehicle body mount support, but another piece of pipe was welded there as the original did not have a real secure pocket.
Here, two of the jack stands are in place to show how they function, however in actual use, all 4 are needed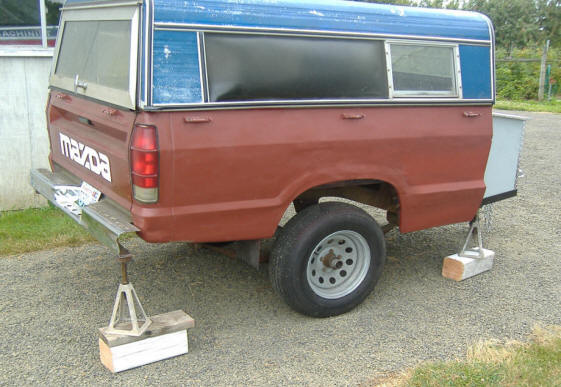 Gas Can Bracket : Just in case extra gas may be needed and not wanted to be carried in the tool box with food or in the main bed, a 1/4 " X 2" X 2" angle iron base bracket was welded on the tongue frame in front of the tool box in which a 5 gallon plastic gas can is able to be strapped down, using a ratchet strap attached to welded on chain links. This being externally mounted, should comply with the DOT regulations.
Shown here, the gas can is in the frame mounted bracket & tied down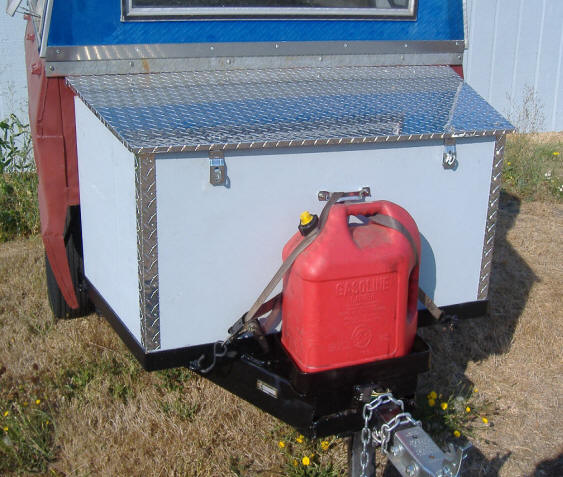 Game Hoist : When hunting and we get an animal, I will also have the game hoist I made previously that fits in the trailer extension on the pickup rear bumper, as seen HERE.
Conclusion : OK, after you read this, maybe I might be considered cheap, but when you are my age and living on a limited fixed income, you have to stretch your money to make it go around to be able to do the things you really want to do. Plus I know what I want, and have in the past because of time constraints, have settled on compromises. Now that I am retired and have the time and ability to make what I want, why not do it my way?? And it only took over 4 years of collecting parts to finish this completed job.
This unit is small enough, and tows as if there was nothing behind you, and is fairly easy to manually move around if need be. This complete unit was designed to be used during a Montana deer hunt in October 2012. The grandson lives there, but would probably not be able to hunt with me during the week as he had only been on his current job less than 6 months. And it is over an hour's drive from his home to where we would be be hunting, so I could use this as a base camp by finding a location on State/Federal Land and parking it for the duration after he goes back to work if need be. From there, I could have a base camp with sleeping quarters and cooking facilities. By propping the tool box lid up enough to make it level, this lid will provide a convenient table.
Shown here is the finished product with the tool box & canopy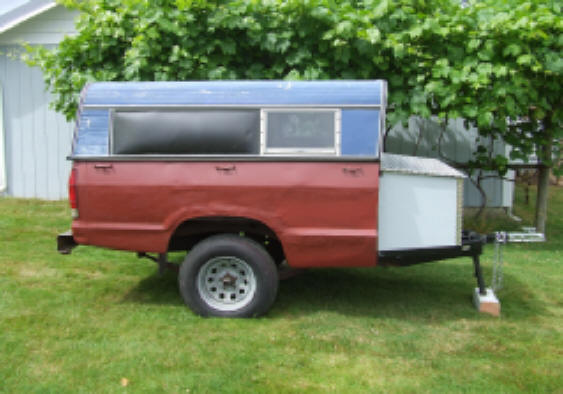 Afterthoughts : OK, now another idea is floating through my mind, why not take a tarp and cover the front 1/3rd of this trailer/canopy and extend the tarp forward onto a metal frame to provide shelter for a cooking area?
Copyright © 2010 - 2016 LeeRoy Wisner All Rights Reserved

Back to Ramblings
Originated 10-29-2010, Last updated 12-17-2016
Contact the author