Winchester Model 88


Actual load times may take a while as these scanned pictures may be large, & depending on the speed of your computer & server
The drawings listed below are scanned off existing factory catalogs, or existing books
These Illustrated parts Drawings are shown only to help you identify needed parts, they ARE NOT parts that are made or supplied by the host of this website

Most of these illustrations will be from factory catalogs, however some are taken from Frank de Haas's Single Shot Rifle book & are for identification only, & ARE NOT factory part numbers unless identified as such. This is important as about all obsolete parts suppliers use ONLY factory or closely associated numbers where ever possible so everyone is on the same page.
Note, for some of the older firearms, many over 100 years old, the factories never used what we now know as assembly drawings, but just views of many of the component parts & possibly randomly placed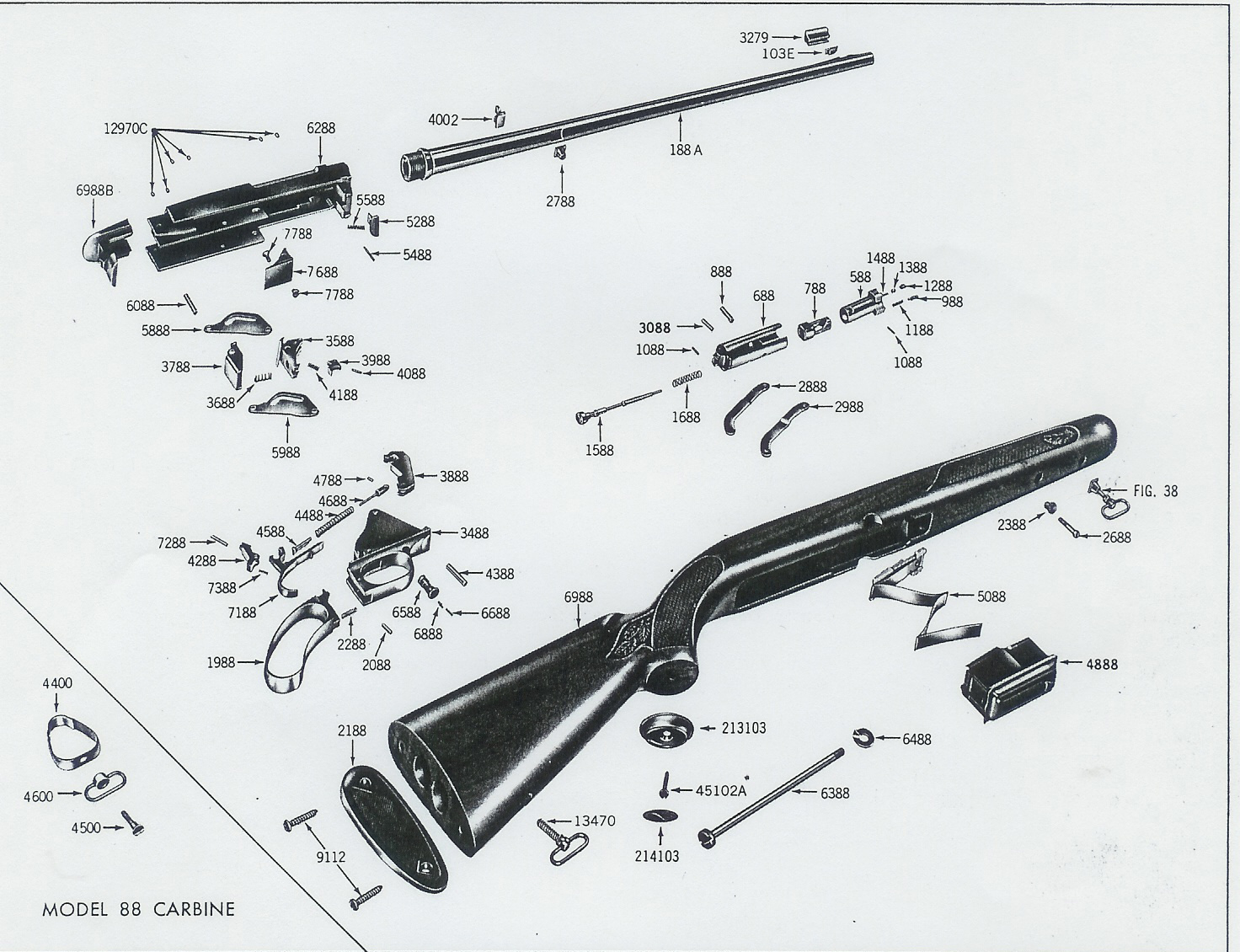 The above illustration taken from original factory parts list dated 1958


The parts listed below are for your identification purposes only.
The author of this website DOES NOT have any parts.
188AB
Barrel with Receiver, Rifle 243 Winchester
4088
Hammer Catch Pin
288AB
Barrel with Receiver, Rifle 308 Winchester
4188
Hammer Catch Spring
388AB
Barrel with Receiver, Rifle 358 Winchester
4288
Hammer Lock
488
Bolt Complete
4388
Hammer Pin
588
Bolt Stripped
4488
Hammer Spring
688
Bolt Sleeve
4588
Hammer Spring Guide
788
Bolt Sleeve Lock
4688
Hammer Spring Guide Rod
888
Bolt Sleeve Lock Pin
4788
Hammer Spring Guide Rod Pin
2188
Butt Plate
4888
Magazine Complete, (4 cartridges) 243, 308
9112
Butt Plate Screw (2 required)
4888A
Magazine Complete, (3 cartridges) 284
988
Ejector
Magazine Follower Assy, w/spring 243, 308
1088
Ejector Pin, Firing Pin Retaining Pin
Magazine Follower Assy, w/spring 284
1188
Ejector Spring
5288
Magazine Lock
1288
Extractor, (specify serial number)
5388
Magazine Housing
1388
Extractor Plunger
5488
Magazine Lock Pin
1488

Extractor Spring
5888
Magazine Lock Spring

1588
Firing Pin
213102
Pistol Grip Cap
1688
Firing Pin Spring
214102
Pistol Grip Cap Insert
1988
Finger Lever
45102A
Pistol Grip Cap Screw
2088
Finger Lever Pin
5888
Rear Link LH
2288
Finger Lever Spring
5988
Rear Link RH
2388
Forearm Escutcheon
6088
Rear Link Pin
Fig 38
Forearm Swivel Complete
4002
Rear Sight, Lyman #16A
2688
Forearm Screw
6288
Receiver
2788
Forearm Stud
7688
Receiver Spacer
2888
Front Link LH
7788
Receiver Spacer Screws (2 required)
2988
Front Link RH
6388
Recoil Block Screw
3088
Front LinkPin
6488
Recoil Block Screw Washer
103E
Front Sight
6588
Safety
103H
Front Sight, (.260 high 284 Winc)
6688
Safety Spring
3279
Front Sight Cover
6888
Safety Spring Plunger
12970C
Telescope Sight Base Plug Screw (6 required)
3259
Sling Strap, 1"
3488
Guard
6988
Stock with Butt Plate & 2 Screws, (rifle)

(NOTE)

3588
Guard Latch
6988B
Recoil Block
3688
Guard Latch Spring
13470
Stock Swivel Bow, 1"
3788
Guard Latch Spring Abutment
7188
Trigger
3888
Hammer
7288
Trigger Pin
3988
Hammer Catch
7388
Trigger Spring

Model 88A & 88H, Rifle & Carbine, Same as regular 88 except as Follows

4400
Barrel Band, Carbine
1288A
Extractor (specify serial number)
200
Bolt Complete
1988A
Finger Lever Guard Assembly
300
Bolt
1300
Firing Pin
400
Bolt Sleeve
1400
Firing Pin Spring
788A
Bolt Sleeve Lock
4500
Forearm Screw, Carbine
700
Bolt Sleeve Pin
4600
Forearm Swivel, Carbine
900
Ejector (2) each
3500
Operating Slide Pin
1000
Ejector Pin
6288A
Receiver
1100
Ejector Spring (2) each
7588A
Stock with Butt Plate, Carbine (rifle)
.
.
.
.
NOTE Guns with serial numbers below 82,900 require new style recoil block


Copyright © 2005 - 2015 LeeRoy Wisner All Rights Reserved

Back to Ramblings
Originated 11-03-2005 Last updated 12-19-2014
to contact the author click here