Winchester Models 67 & 67A


Actual load times may take a while as these scanned pictures may be large, & depending on the speed of your computer & server


The drawings listed below are scanned off existing factory catalogs, or existing books
These Illustrated parts Drawings are shown only to help you identify needed parts, they ARE NOT parts that are made or supplied by the host of this website

Most of these illustrations will be from factory catalogs, however some are taken from Frank de Haas's Single Shot Rifle book & are for identification only, & ARE NOT factory part numbers unless identified as such. This is important as about all obsolete parts suppliers use ONLY factory or closely associated numbers where ever possible so everyone is on the same page.
Note, for some of the older firearms, many over 100 years old, the factories never used what we now know as assembly drawings, but just views of many of the component parts & possibly randomly placed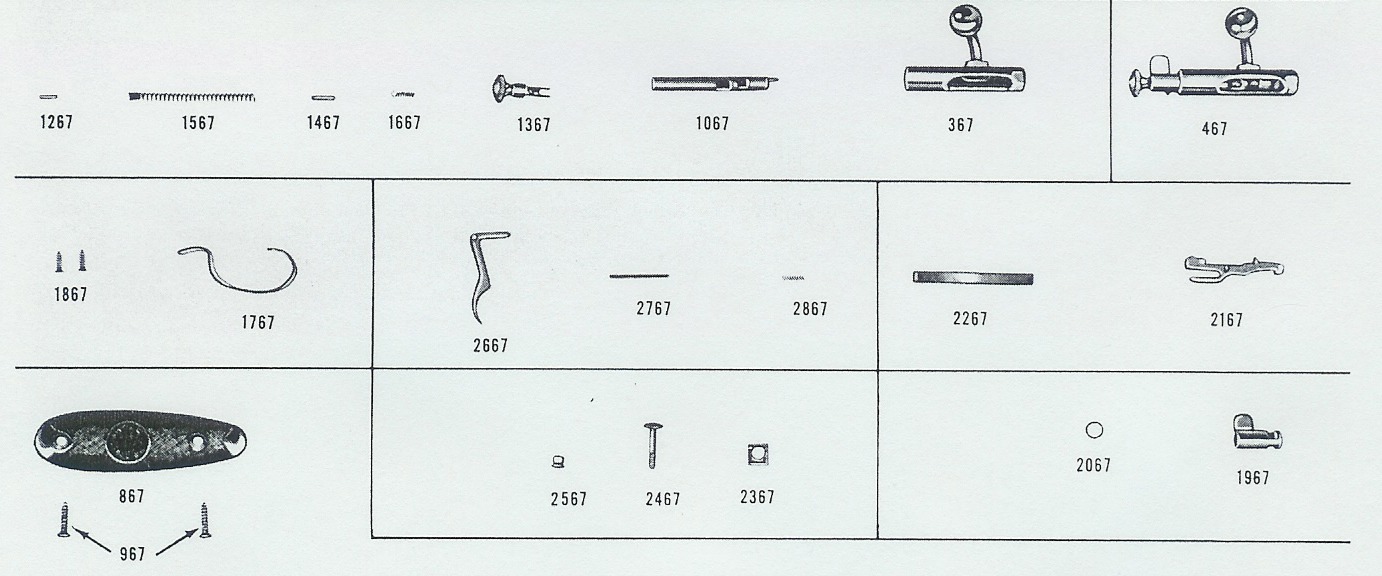 The above firearm originated from a model 60 which had no safety lock, which then evolved as the model 67, which had a slimmer stock. The model 68 was basically the same as the 67A, except it utilized a economy peep sight inserted in a barrel dovetail that was way to the rear over the chamber.
The parts listed below are for your identification purposes only.
The author of this website DOES NOT have any parts.
167
Barrel, Standard (27")
2067
Safety Lock Friction Spring
167C
Barrel, Youth Rifle (20")
2167
Sear & Extractor
367
Bolt with Handle
2267
Sear Spring, Old Style, (shown)
467
Bolt Complete
2267A
Sear Spring, New Style, (with large hole)
567
Bolt retaining Spring
2367A
Stock Stud
1067
Firing Pin
2467
Stock Stud Screw
1167

Firing Pin Complete

2567
Stock Stud Escutcheon
1267
Firing Pin Guide Pin
2667
Trigger
1367
Firing Pin Head
2767
Trigger Pin
1467
Firing Pin Head Pin
2867
Trigger Spring
1567
Firing Pin Spring & Guide
2967
Front Sight, 75C
3167
Rear Sight 32B with 2C Elevator
1667
Firing Pin Retracting Spring
2C
Rear Sight Elevator, (low)
1767
Guard Bow
2CH
Rear Sight Elevator, (high)
1867
Guard Bow Screw (2 required)
.
.
1967

Copyright © 2004 - 2015 LeeRoy Wisner with credit given for original illustrations. All Rights Reserved

Back to Ramblings


Originated 04-14-04 Last updated 12-19-2014
contact the author