Winchester Model 1885 "High Wall"


Actual load times may take a while as these scanned pictures may be large, & depending on the speed of your computer & server


The drawings listed below are scanned off existing factory catalogs, or existing books
These Illustrated parts Drawings are shown only to help you identify needed parts, they ARE NOT parts that are made or supplied by the host of this website

Most of these illustrations will be from factory catalogs, however some are taken from Frank de Haas's Single Shot Rifle book & are for identification only, & ARE NOT factory part numbers unless identified as such. This is important as about all obsolete parts suppliers use ONLY factory or closely associated numbers where ever possible so everyone is on the same page.
Note, for some of the older firearms, many over 100 years old, the factories never used what we now know as assembly drawings, but just views of many of the component parts & possibly randomly placed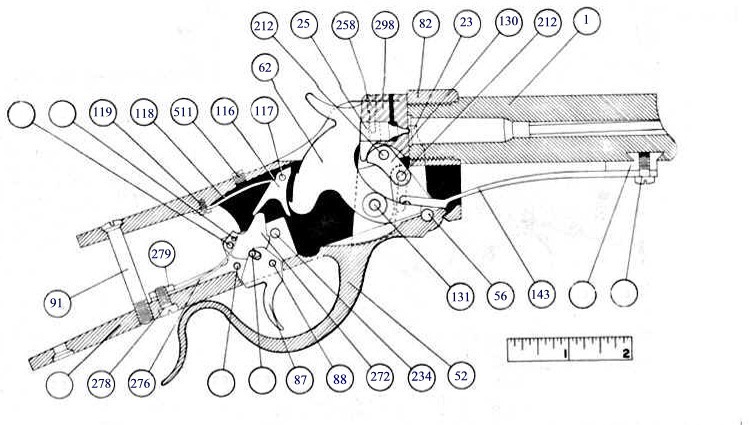 The Above illustration taken from Frank de Haas Single Shot Rifles & Actions book, but the numbers HAVE BEEN CHANGED to match factory numbers.

The numbers on this illustration reflect all Winchester numbers that utilize the last 2 designating the model number of the firearm. So, a #52 here equals Winchester #5285. There are basically 3 different variations of this firearm, (1) the Hi Wall, (2) the Low Wall, & the Windor Musket.
The omitted numbers are in question, at least temporally, as there was never a factory exploded view like this & old numbers are hard to track down.


The parts listed below are for your identification purposes only.
The author of this website DOES NOT have any parts.
1 thru 11
Barrel
27485
Knock-Off Stop Pin
29885
Breech Block
27585
Knock-Off Operating Pin
2385
Extractor, (specify caliber)
27685
Knock-Off Spring
5285
Finger Lever
27785
Knock-Off Spring Pin
5685
Finger lever pin
27885
Knock-Off Spring Screw
5785
Finger Lever Pin Stop Screw
27985
Knock-Off Spring Screw Nut
27085
Finger Lever Plunger
.
Lower Tang
27185
Finger Lever Plunger Spring
14485
Lower Tang Screw (wood screw)
2585-B
Firing Pin, Black Powder (.122 dia tip)
13085
Link
2585-S
Firing Pin, Smokeless Powder (.074 dia tip)
21285-S
Link Pin, (short)
2585-RF
Firing Pin, 22 Rim Fire
21285-L
Link Pin, (long)
25885
Firing Pin Stop Screw
51185
Peep Sight Plug Screw
6385-F
Hammer O/S (for flat leaf mainspring type)
8285
Receiver with Tang
6385-C
Hammer N/S (for rat-trap coil mainspring type)
23485
Side Tang Screws (2 required)
44085
Hammer Fly
11685
Sear
44185

Hammer Fly Pin
11785
Sear Pin

13185
Hammer Pin
11885
Sear Spring
14385-F
Hammer Spring, (flat mainspring)
11985
Sear Spring Screw
14385-C
Hammer Spring (rat-trap coil mainspring)
8785
Trigger
27285
Knock-Off
8885
Trigger Pin
27385
Knock-Off Pin
9185
Upper Tang Screw
.
.
.
.

Copyright © 2004 - 2015 LeeRoy Wisner with credit given for original illustrations. All Rights Reserved

Back to Ramblings


Originated 11-17-05 Last updated 12-19-2014
contact the author