Stevens Visible Loading
Model 70 & 71


The illustration shown below was scanned off a Stevens parts book, showing factory part numbers. This is important as about all obsolete parts suppliers use ONLY factory or closely associated numbers where ever possible so everyone is on the same page.
Note, for some of the older firearms, many over 100 years old, the factories never used what we now know as assembly drawings, but just views of many of the component parts & possibly randomly placed as seen below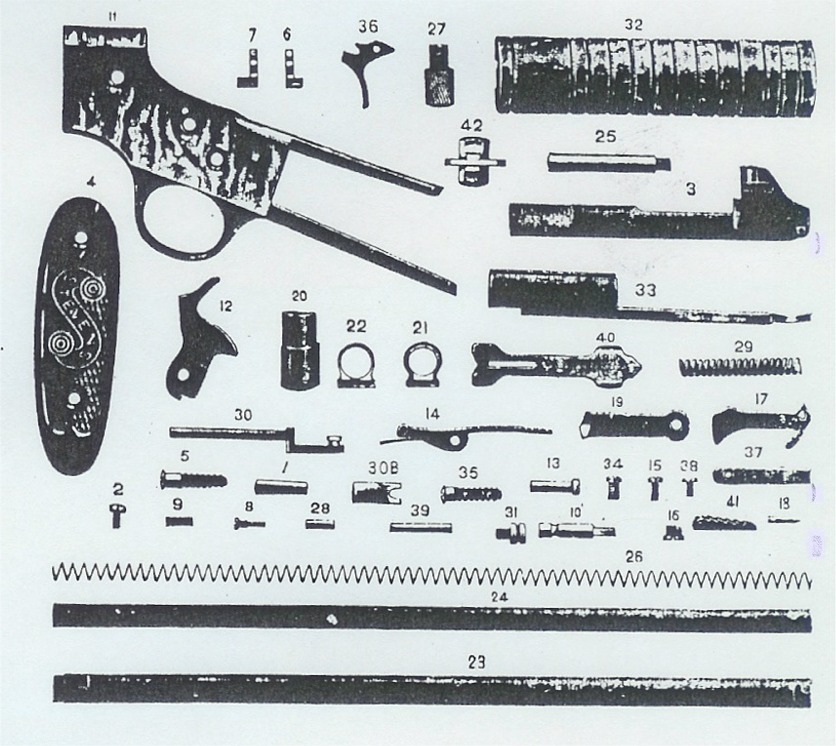 The above illustration taken from an original Stevens parts list

The parts listed below are for your identification purposes only.
The author of this website DOES NOT have any parts.
| | | | |
| --- | --- | --- | --- |
| 1 | Action Pin | 19 | Locking Cam |
| 2 | Action Pin Screw | 20 | Locking Cam Sleeve |
| 2C | Barrel without sights #70 | 21 | Magazine Mount, Front |
| 2D | Barrel with sights #71 | 22 | Magazine Mount, Rear |
| 3 | Breech Block | 23 | Magazine Tube, Outside |
| 4 | Butt Plate | 24 | Magazine Tube Assembly |
| 5 | Butt Plate Screw | 29 | Mainspring |
| 5A | Dummy Screw | 30 | Mainspring Plunger |
| 6 | Extractor, RH | 30A | Mainspring Screw |
| 7 | Extractor, LH | 30B | Mainspring Plunger Seat |
| 8 | Extractor Screw | 31A | Stock & But plate #70 |
| 9 | Extractor Spring | 31B | Stock & But plate #71 |
| 9A | Extractor Spring Pin | 32 | Slide Handle Wood Only |
| 10 | Firing Pin | 33 | Slide Handle Bar |
| 11 | Frame | 34 | Slide Handle Screw |
| 12 | Hammer | 34A | Slide Handle Escutcheon |
| 13 | Hammer Screw Nut | 35 | Tang Screw |
| 14 | Hammer Lock Assembly, with Spring | 36 | Trigger |
| 14A | Hammer Lock Spring | 37 | Trigger Spring |
| 14B | Hammer Lock Spring N/S | 38 | Trigger Spring Screw |
| 15 | Hammer Lock Screw | 39 | Trigger Pin |
| 16 | Hammer Lock Dummy Screw | 40 | Sporting Rear Sight |
| 17 | Lifter | 41 | Sporting Rear Sight Step |
| 18 | Lifter Pin | 42 | Front Sight. Gold Bead |
,
Copyright © 2004 - 2015 LeeRoy Wisner with credit given for original illustrations. All Rights Reserved
Originated 10-23-05 Last updated 12-22-2014
Contact the author