Savage / Stevens model 94
94B, 94C, 94BT, 107B,107C, 107BT
12, 16. 20, 28, gauge & 410
The illustration shown below was scanned off a Savage factory parts list, using factory reference numbers, which are converted to factory part numbers. This is important as about all obsolete parts suppliers use ONLY factory or closely associated numbers where ever possible so everyone is on the same page.
Note, for some of the older firearms, many over 100 years old, the factories never used what we now know as assembly drawings, but just views of many of the component parts & possibly randomly placed
as seen below
The parts listed below are for your identification purposes only.
The author of this website DOES NOT have any parts.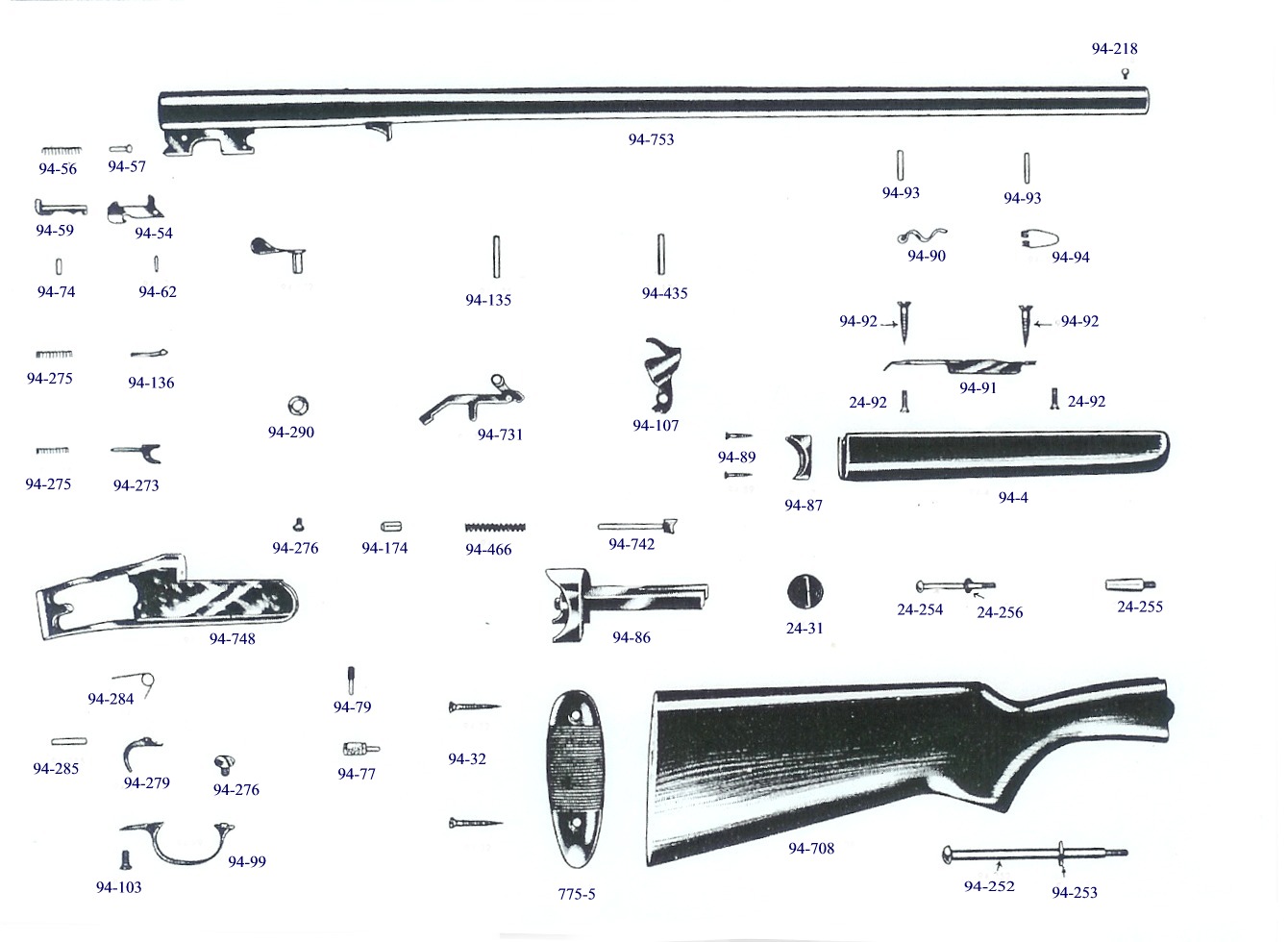 The illustrated parts shown here, are from original factory parts list of about 1950 & use factory party numbers
94-4
Fore-end, Wood only, Walnut, (specify ga.)

94-99
Trigger Guard
775-4
Butt Plate
94-103
Trigger Guard Screw Rear
24-31
Butt Plate Screw (2 required)
94-276
Trigger Guard Screw Front / Top Snap Screw
94-54
Ejector Hook
94-107

Hammer

94-56
Ejector Spring
94-135
Hammer / Locking Bolt Pin
94-57
Ejector Starter Pin
94-136
Locking Bolt Plunger
94-59
Extractor, (unfitted, long)
94-166
Mainspring
94-59J
Extractor, 12 ga.
94-174
Mainspring Plunger Seat
94-59K
Extractor, 16ga.
94-218
Front Sight
94-59M
Extractor, 20 ga.
94-252
Stock Bolt, for Wood Stock
94-59N
Extractor, 410
94-253
Stock Bolt Washer, for Wood Stock
94-62
Extractor Lever Pin
94-272
Top Snap
94-74
Extractor Stop Pin
94-273
Top Snap Plunger
94-77L
Firing Pin, (large tip, .103 dia)
94-275
Top Snap Plunger Spring
94-77S
Firing Pin, (small tip, .085 dia)
94-276
Top Snap Screw
94-79
Firing Pin Screw
94-279
Trigger

94-86

Fore-end Iron (obsolete)
94-284
Trigger Spring

94-87

Fore-end Iron Head
94-285
Trigger Pin

94-89

Fore-end Iron Head Screw (2 required)
94-290
Top Snap Sleeve

94-90

Fore-end Spring
94-708
Butt stock with butt plate, (Walnut)

94-91

Fore-end Spring Housing
94-731
Locking Bolt Assembly (complete)

94-92

Fore-end Spring Housing Screw (2 required)
94-742
Mainspring Plunger Assembly

94-93

Fore-end Spring Pin
94-748
Frame

94-94

Fore-end Spring Spring
94-753
Barrel With Sight, (specify Ga., length & choke)

94-95

Fore-end Spring Spring Pin
.
.
Note that extractors for guns made prior to 1950 were .435 wide at the top, while the later ones were .308.

Copyright © 2005 - 2015 LeeRoy Wisner with credit given for original illustrations. All Rights Reserved

Back to Ramblings


Originated 11-03-2005 Last updated 12-21-2014
Contact the author