Savage / Stevens Pump Shotguns

The illustration shown below was scanned off a Savage factory parts list, using factory reference numbers, which are converted to factory part numbers. This is important as about all obsolete parts suppliers use ONLY factory or closely associated numbers where ever possible so everyone is on the same page.
Note, for some of the older firearms, many over 100 years old, the factories never used what we now know as assembly drawings, but just views of many of the component parts & possibly randomly placed as seen below


The parts listed below are for your identification purposes only.
The author of this website DOES NOT have any parts.
There was a previous model, the 520/560 which was a totally different model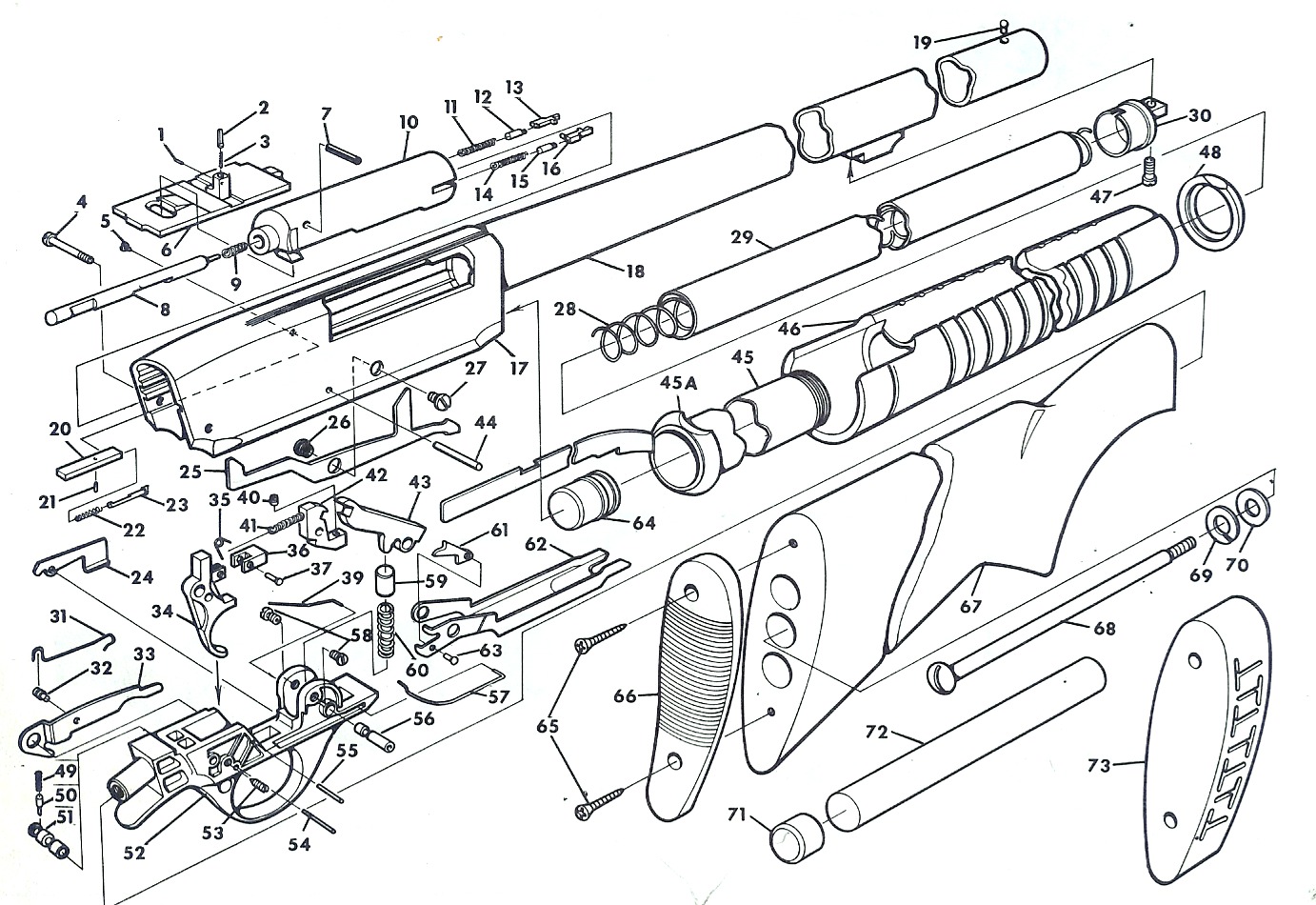 The above illustration is for a Stevens 67D series

This firearm series had many changes reflected by different series. The basic gun was the Savage model 30 which was more of a deluxe firearm usually utilizing a ventilated rib, takedown barrels & walnut wood. The Stevens / Springfield guns usually were plain solid (non removable) barrels & had birch wood. The early models had a push button safety behind the trigger, (as seen above) while the later series utilized a top tang slider safety button (as seen below). It is about impossible to define all the variations in the small space available here. Original firing pins were a single part, while the later ones used a 2 piece unit. Operating slide handles & corresponding bars were changed about 3 times. This series of guns were produced from 1958 to 1989.
Since most of these parts are now long obsolete, the parts listed below are what are currently available as aftermarket parts
Reference




#

Part number
Nomenclature
5
77-292
Ejector Screw
8
77N-77
Firing Pin
11
820-67L
Extractor Plunger, LH
12
124-68L
Extractor Spring, LH (weaker than RH spring)
13
820-59L
Extractor, LH
14
77-67R
Extractor Plunger, RH
15
124-68R

Extractor Spring, RH

16
77-59R
Extractor, RH
20
A820-53W/S
Ejector Assembly (with screw) includes #5, 20,21,22,& 23
21
820-55
Ejector Pin
22
820-56
Ejector Spring
23
820-515
Ejector Plunger
26
77-574
Cartridge Stop Pivot Nut
27
77-573
Cartridge Stop Pivot Screw
47
520A-354
Magazine Plug Screw
| | |
| --- | --- |
| Savage 30 J or Stevens 67 C trigger unit (tang safety) | Savage 30 J barrel takedown unit |
| | |
This Page Under Construction
Copyright © 2005 - 2015 LeeRoy Wisner with credit given for original illustrations. All Rights Reserved

Back to Ramblings


Originated 11-15-2005 Last updated 12-21-2014
Contact the author