High Standard External Hammer Pistols
Models HD, HB, etc.
Actual load times may take a while as these scanned pictures may be large, & depending on the speed of your computer & server

The parts listed below are for your identification purposes only.
The author of this website DOES NOT have any parts.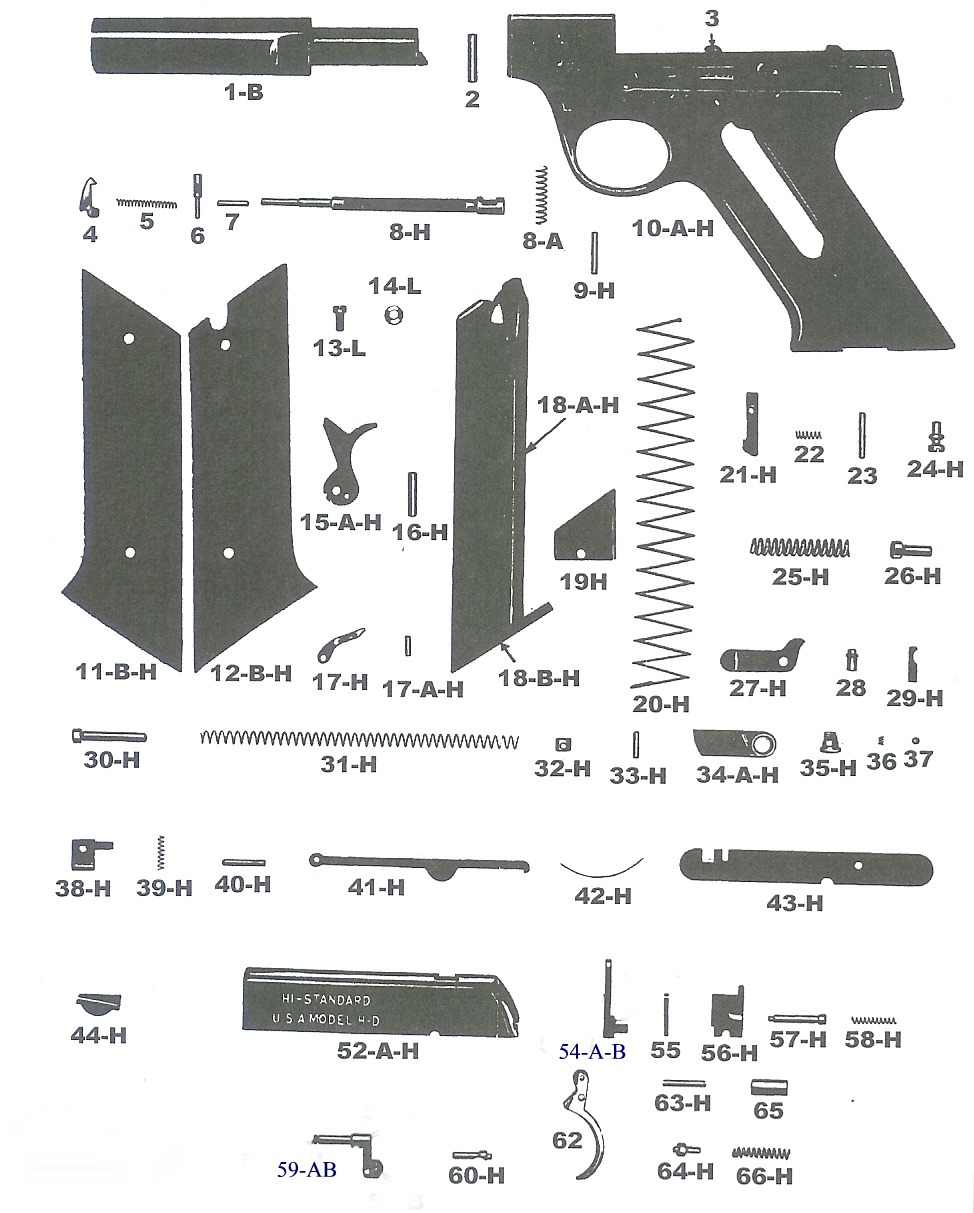 Part numbers listed above & below are factory part numbers as shown in this factory 1959 illustration.
There are variations on some models as to 2 types of hammers & sears. Also the HB utilizes the bobbed off frame, so ?? It appears that any part numbers with an H suffix is specifically for the hammer type guns, plain numbers should be used on both the internal & external guns.
| | | | |
| --- | --- | --- | --- |
| 1- B | Barrel | 28 | Pick-up spring button |
| 2 | Barrel lock pin | 29-H | Pick-up spring screw |
| 3 | Ejector | 30-H | Retracting rod |
| 4 | Extractor | 31-H | Retracting rod spring |
| 5 | Extractor spring | 32-H | Retracting rod spring plug |
| 6 | Extractor plunger | 33-H | Retracting rod spring plug pin |
| 7 | Extractor retaining pin | 34-AH | Safety assembly |
| 8-A | Firing Pin spring | 35-H | Safety screw |
| 8-H | Firing Pin | 36 | Safety spring |
| 9-H | Firing Pin retaining pin | 37 | Safety ball |
| 10-AH | Grip Frame | 38-H-1 | Sear, (type 1) has spring hole |
| 11-BH | Grip, LH | 38-H-2 | Sear, (type 2) no spring hole |
| 12-BH | Grip, RH | 39-H | Sear spring |
| 13-L | Grip screw (4 required) | 40-H | Sear pin |
| 14-L | Grip Escutcheon (4 required) | 41-H | Sear bar |

Type 1 sear must mate with type 1 hammer, To see differences CLICK HERE


Copyright © 2005- 2015 LeeRoy Wisner with credit given for original illustrations. All Rights Reserved

Back to Ramblings


Originated 06-25-2005 Last updated 12-19-2014
Contact the author