Colt "S" Series Woodsman Post-War
Hammerless, Caliber 22 LR Semi-automatic
Actual load times may take a while as these scanned pictures may be large, & depending on the speed of your computer & server
The parts listed below are for your identification purposes only.
The author of this website DOES NOT have any parts.
The illustration below shows a Post-War type 3, Match Target post 1955, with Arco rear sight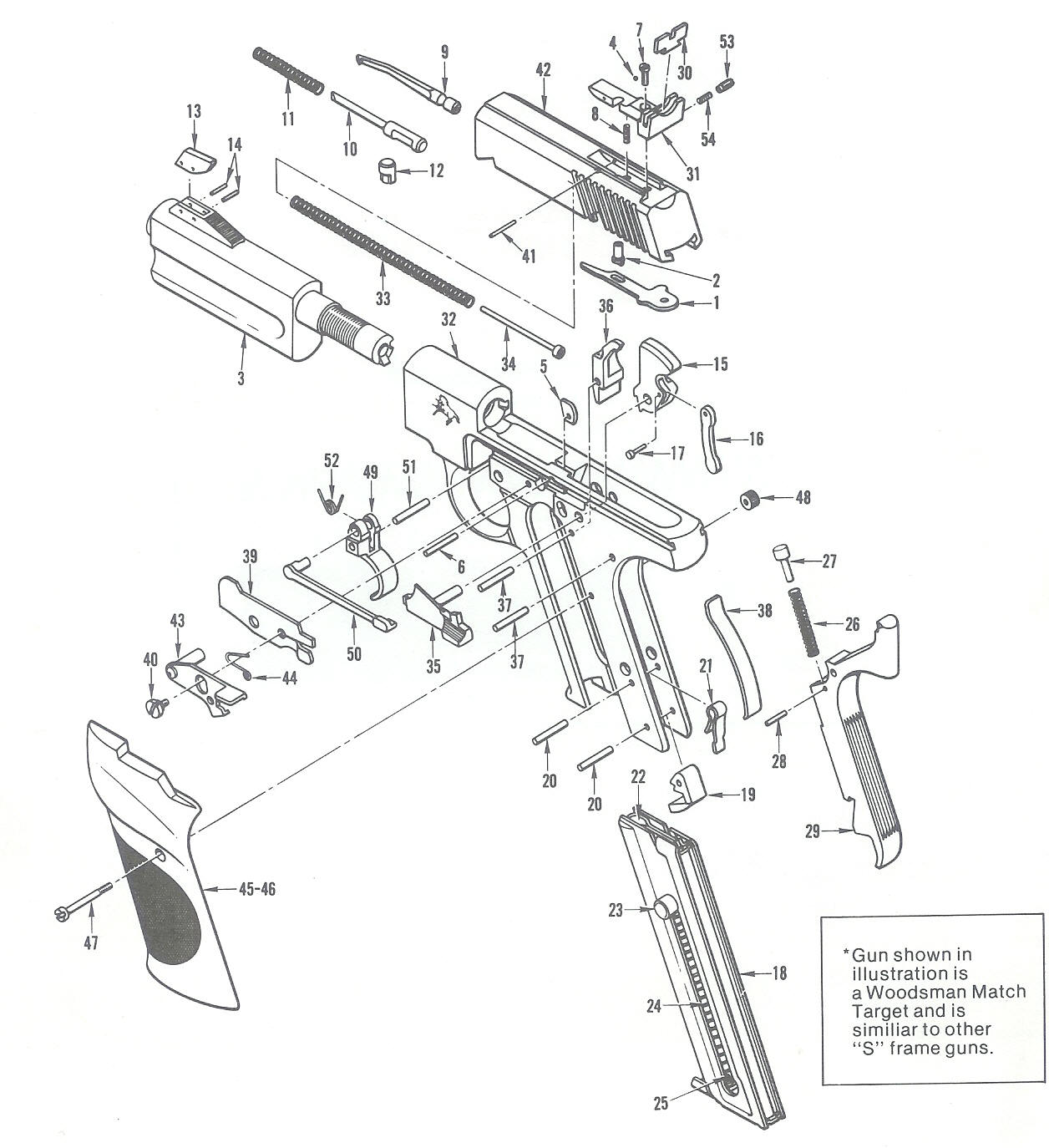 The above illustration was taken from 1979 Colt parts manual
There are many different versions of these guns, even in the post-war series, as the slides were different using the 3 different rear sights, the ejector/magazine disconnect was eliminated after 1955, the later guns had a magazine catch on the bottom of the frame as shown above. There were 4 1/2" & 6" barrels available in sport, target & match target versions. Grips were changed from Bakelite, to plastic & then to wood. The 1948 -1953 Woodsman utilized the Coltmaster rear sight, while after that the Woodsman used thee Arco sight. The early March Target guns used the Arco, while the later ones had Elliason rear sights. The Targetsman had it's own economy adjustable rear sight. The Challenger & Huntsman were economy versions with fixed sights. These 3 used most of the parts of the internal parts of the Woodsman (being the same), except the barrel, slide, slide lock & magazine latches. All the post War versions had LH barrel threads.


This illustration shows the differences in parts for guns from 1948 to 1955
Magazine Disconnector & Magazine Latch
Coltmaster Rear Sight to 1952

The above illustration was taken from NRA Illustrated Firearms Assembly Handbook, Volume II with their reference numbers shown

The abbreviations in the header bar below, Spt/Tgt mean they are specific for the 4 1/2" Sportsman, & the 6" Target, while MT means the heavy barrel Match Target, & C/H equates to the Challenger or Huntsman series. Left out is the Targetsman series because of space constraints & it also being the latest & smallest number made with it being basically a Huntsman with a economical adjustable rear sight.

All postwar barrel threads are left hands.


| | | | | | | | | | | | |
| --- | --- | --- | --- | --- | --- | --- | --- | --- | --- | --- | --- |
| # | Part# | Nomenclature | Spt/Tgt | MT | C/H | # | Part# | Nomenclature | Spt/Tgt | MT | C/H |
Copyright © 2005- 2015 LeeRoy Wisner with credit given for original illustrations. All Rights Reserved

Back to Ramblings


Originated 06-25-2005 Last updated 12-19-2014
Contact the author